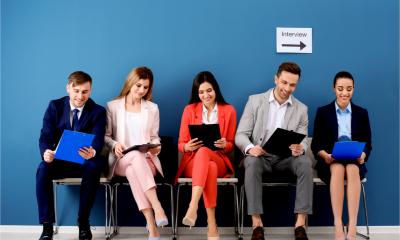 Build your team with confidence; our hiring checklist covers everything from advertising vacancies and conducting interviews to checking credentials and managing inductions
Recruiting the right people is essential for business success. Skills, experience and attitude are important but the key task is to find the candidate that will fit right in with the rest of your team and help deliver your business goals.
First steps in recruiting
Identify areas in your business where you lack key skills or where employees have left or are about to leave.
Use your business plan to inform your hiring strategy, especially if you plan to expand or diversify.
Draft a job description, including key tasks and responsibilities; specify who that person will report to.
Decide what you are looking for - people skills or valuable contacts may be just as important as qualifications and experience.
Consider whether using a contractor or freelancer would be more cost-effective; also consider whether the post should be full-time or part-time.
Benchmark salaries in your industry; check recruitment websites and salary surveys; offer equal pay for work of equal value to avoid discrimination.
Before you look outside the business, assess opportunities to train and promote your existing staff.
Hiring temporary staff can be a good way to get to know employees before offering them permanent positions.
Build relationships with local schools, colleges and universities to attract potential trainees.
Attracting candidates
Consider where to advertise - this could include online recruitment sites, trade magazines, local or national newspapers or free listings websites like Gumtree; you could also use an agency with experience in your sector.
Don't forget to promote the job opportunity on your website and flag it up on social media.
Use your network of contacts to find new talent; LinkedIn is widely used as an online recruitment tool.
Prepare your job ad; explain who you are, what the role offers, what you are looking for, location, salary, how to apply and the closing date.
Decide whether you want applicants to compete an application form or simply send a CV and covering letter.
Ignore personal details such as age, gender, race or marital status in order to avoid discrimination.
Decide what you are looking for in a new recruit and rate the relative importance of skills, qualifications, attitude and experience before making a short list.
Consider screening applicants with a short phone interview.
Deal with applicants promptly and send polite rejection letters to those that didn't make it.
Keep all applications on file.
Holding job interviews
Set questions in advance; you could also prepare a skills test for candidates.
Use two or more interviewers; involve key individuals that the candidate would work with.
Consider interviewing in batches to make it easier to compare candidates.
Ask candidates whether they need any special arrangements because of a disability.
On the day, make each candidate feel at ease, tell them about the job and the company.
Use open-ended questions to encourage the candidate to talk; let them show you what they know about your business and invite them to ask questions as well.
Look for social intelligence and assess whether the candidate would make a good team player; ask about their ambitions and motivation.
Take notes during the interview but remember that interviewees have the right to see the information you hold on them, including your notes.
At the end of the interview, tell the candidate what further steps will have to be taken before you make your final decision; conduct second interviews if necessary.
Avoid discriminatory requirements, inappropriate questions or prejudiced evaluations.
Making an offer
Send an offer letter to your preferred candidate; give them details of the salary, other benefits and the length of any probation period.
Tell them if the offer is subject to any conditions, such as a reference check.
Before checking references with a current employer, confirm you have the applicant's permission.
Ask the referee for written details of the candidate's responsibilities and performance and make sure it matches what they claim on their CV.
Get in touch with key referees by phone; most people won't say anything negative unless specifically asked.
Take a look at the candidate's social media profiles; it will show you how they present themselves to the outside world.
Check the candidate is legally entitled to work in the UK.
Staff inductions
Tell your team when the new recruit is starting and what they'll be doing.
Appoint a mentor or key contact for the employee to give them informal support.
Brief other colleagues that will be part of the induction process.
Consider whether the new recruit needs any training to bring them up to speed.
Prepare a workspace and any necessary equipment; set up their computer, passwords, phone and email.
Show them how your communication systems work.
Introduce the new recruit to the rest of the team and give them a short tour so they know where everything is.
Provide a company handbook with workplace rules, policies and guidance on health and safety.
Brief them on the business, telling them about your products and services, key customers, business culture and strategic goals.
Give them key information on their employment package, including pay and holiday arrangements.
Clarify their role, any targets they have to meet and the standards you expect from them.
Hold informal progress reviews in the first few weeks to ensure that they are settling in to the role with confidence.
Know the law
It is illegal to discriminate on the basis of race, sex, sexual orientation, disability, gender, pregnancy or maternity, marital or civil partnership status, religion, philosophical belief or age.
All interviewers must be aware of the questions that can be asked at interview and those that are unlawful.
Be aware that a job candidate can take an employer to employment tribunal because of legal breaches that have taken place at any stage in the hiring process.