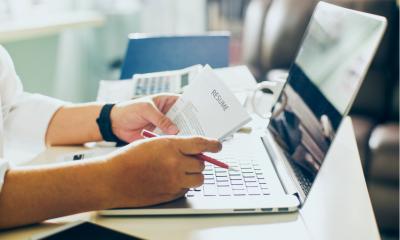 CVs play a key role in the recruitment process, by helping employers to assess and rank applicants' experience, skills and key achievements. But they can reveal much more about a candidate - such as how they might fit into the culture of your business. What should you look for when assessing CVs?
Discrimination in recruitment
Firstly, employers mustn't discriminate against job applicants based on age or any other unjustifiable criteria, warns Stacey Mead of The HR Dept, which provides HR advice to UK small business owners.
"You should assess CVs objectively, focusing on the skills, experience and achievements that would enable someone to perform the role successfully," she recommends.
Judging a candidate unfairly because of factors such as their age, race or gender ('protected characteristics') could land you in legal hot water.
Matching candidates to your job description
Mead recommends that small business owners should have the specific requirements of the job to hand when assessing candidate CVs.
What's more, having someone else in the business provide a second opinion, especially if they will be managing the new recruit, is a good idea. "It can help if you're not entirely sure whether to invite someone for interview or not." says Mead.
"Base your decisions on clear evidence within their CV that someone has the skills, experience and attributes for the role. Whether they're likely to fit in with the culture of your business is also a key consideration - but that can be explored at interview."

Create watertight, lawyer-approved employment contracts and documents in minutes.
Customise documents to your specific needs and start growing your team.
Assessing gaps in a candidate's CV
Mead believes career breaks shouldn't put you off. "They happen for various valid reasons, including people having families or wanting to take time out to travel and gain other experience.
"Often there are interesting stories to tell, which candidates can tell you about at interview."
Whatever the role, employers need employees with basic attributes such as reliability, flexibility and a desire to fit in and succeed - so you should look for proof of these when assessing CVs.
What candidate hobbies reveal
Someone's leisure interests can also reveal much, says Mead. "Think about how the skills they've gained or are learning will help them in the role."
This can be obvious, such as a Sunday league football coach who's applying to run a sales team. But it could be subtler - for example, a hobby painting watercolours may indicate patience and attention to detail.
"Another positive sign is that someone has built something, such as starting a society or organisation within their community. This can show that people are enthusiastic and highly motivated, with good organisational skills, who want to achieve good things. Small businesses need self-starters."
Recruiting for a small business
The reality of working for a small firm is usually entirely different to working for a large organisation. "Job roles can be more wide-ranging and fluid, which means it's not for everyone," Mead concedes.
"However, don't assume that someone who's spent their career working for larger organisations won't fit in. There can be many reasons why an applicant might want to leave the corporate world behind by joining your small business.
"Again, look for evidence of relevant skills and experience in their CV, and be honest about the realities of the role at interview. If you believe that a person has the experience, skills and knowledge, you'll have to make a judgement about whether they're likely to fit in."
Does CV presentation matter?
Mead says a CV should neatly summarise all relevant career information, and be nicely laid out. There shouldn't be any sloppy spelling mistakes or jokey email addresses, she adds. "If someone can't present themselves in a professional way on their CV, it can say a lot about them.
"Applicants should want to make the best possible impression. Outside the creative industries, you should expect a standard, professional-looking, well-written two-page CV.
"Cover letters are important, too, because they enable applicants to briefly summarise why they believe they're suitable for this specific role."
Assessing the cover letter
Olly Culverhouse agrees with Mead when it comes to cover letters. He owns Signable, a company with ten employees that provides e-signature software for businesses.
Culverhouse says: "The cover letter says so much about someone's personality, which allows you to get a better idea of who they are whether they're likely to fit in. Their CV, basically, just shows whether they have the experience we need."
If a letter consists of information simply copied and pasted from a jobs website, Culverhouse says it doesn't make a good first impression on him.
"Applicants should address key points in your job description. Their cover letter should engage you, fill you with intrigue and make you want to read their CV. The best ones make you want to interview an applicant without even looking at their CV."
Inviting the candidate to interview
Finally, an interview allows you to address any gaps in a promising-looking candidate's CV and cover letter, and form a more complete picture.
"CVs are important because they enable you to save time and shortlist those who are best-placed to perform the role", Culverhouse says.
"But interviews are crucial, because they enable you to find out much more about someone - their personality, culture and values. When you're running a small business, it's really difficult having to manage people who don't fit in."