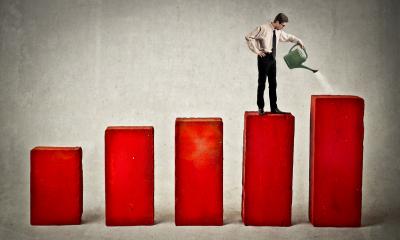 Unless you're quite happy just ticking over, it is likely that you will be looking for ways to develop and grow your business. These steps can set you off in the right direction.
Assess your business plan regularly. This enables you to measure your progress and test your development strategy. Are you achieving your goals?
Consider where you want to be this time next year, in three years and in five years' time. Decide how you'll get there. Set new objectives and growth strategies, if necessary.
Are your products/services still in demand? How could you enhance them? Perhaps your competitors are leaving you behind.
Conduct fresh market research. It doesn't have to be expensive or complex. Simply chatting to customers can reveal much valuable information.
Reassess your prices. It might be time to put them up.
Examine your cash flow projections for the year ahead. Are there any potential problems that could hinder your ambitions or threaten your survival?
Try to sell more to existing customers: it's cheaper and easier than selling to new ones. Could you extend your product range or sell bundled goods?
Ask customers how your business could better meet their needs. Add value to the relationship. Always try to 'upsell' – but subtlety is advised.
Think about which new customers you should target and how. Set monthly new sales targets and track your progress. Too many businesses rely too heavily on a few loyal customers, which is dangerous. Each year, some of your customers will drop off.
Learn which marketing methods work and those that don't. Tactics such as introductory offers can help to attract new customers, but ensuring they remain loyal is a massive challenge.
Consider alternative sales channels. Most businesses focus on one or two sales channels, but using others could make all the difference.
Review whether you could start selling online, if you're not already, to reach consumers in other areas of the UK and overseas.
Could you turn your business into a franchise or licence your products to other businesses?
Review your website. Does it represent your business effectively? If not, think about getting a new one.
Consider your use of social media marketing. It is one of the best ways to promote many businesses. Twitter, Facebook and other social media sites could help you to attract, engage with and retain customers.
Even the most committed business owner can become jaded. Step back and pause for thought. Try to build new relationships with people who can refresh your thinking and maybe even provide new commercial opportunities.
Consider if there are any factors that are restricting your potential. Does your brand need a refresh? Are your premises still fit for purpose? Are you getting by with old equipment or tech? Do you lack skills or experience in key areas.
Bring in new faces to breathe new life into your firm. Pick the right people and they can bring fresh ideas which could make yours a much more efficient and profitable business.
Consider talking to a mentor. Taking a business to the next level can be impossible if you lack experience or knowledge. A mentor might be able to help, or a consultant might be able to manage a particular business requirement (eg marketing).
Bring in external investment. Much will depend on the nature of your business, its potential and your willingness to relinquish control, but attracting external investment could allow your business to reach the next phase in your growth plans.
Can you work with other related or rival businesses to pool expertise, manufacturing capability or market knowledge and customer intelligence?