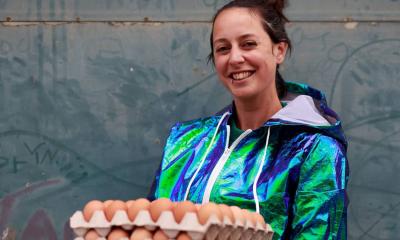 Small Business Britain is recognising some of the UK's most inspiring female entrepreneurs for the contribution they've made to their communities and to the economy during the pandemic.
As part of its annual f:Entrepreneur campaign, Small Business Britain is showcasing 100 trailblazing female entrepreneurs that lead small businesses alongside other responsibilities, including volunteering, mentoring and community support - activities that have been critical during the COVID-19 pandemic.
From beekeepers to PPE suppliers, this year's campaign celebrates inspiring and resilient female entrepreneurs that have flourished during the pandemic, with many still growing or starting new ventures.
Among this year's 100 is Georgina Burrows (pictured), who founded lockdown business Sussex Eggspress while her events business was on hold. Initially set up as an organic egg delivery service during the first lockdown, Sussex Eggspress now provides a range of local produce to over 500 customers' homes every week. As well as eggs, Georgina delivers honey, cheese, butter, cream, condiments and other fresh produce.
Other chosen entrepreneurs include Jane Weller, founder of Clear Expression Masks, making clear plastic masks that allow for lip-reading in medical settings. Another inspiring entrepreneur, Rhian Parry runs Workplace-Worksafe, a health and safety PPE company that was one of the approved key suppliers for Welsh companies.
Now in its fourth year, f:Entrepreneur #ialso100 was launched in 2017 to highlight female role models and inspire small businesses, through content, stories and events. It is led by Michelle Ovens, founder of Small Business Britain and director of Small Business Saturday UK.
"Congratulations to all the inspiring women chosen to join this year's #ialso100," said Michelle Ovens. "Despite the significant obstacles thrown at them in the last year, female entrepreneurship continues to grow and flourish. We need to continue, and increase, our support for these incredible women and celebrate their amazing strength and success in the face of huge challenges.
"We have seen so many women embracing change, generating and exploring new ideas, rallying around their communities and supporting their peers. This resilience is hugely valuable and will set them up for success as they will be at the very heart of the UK's recovery."
The campaign is sponsored by online banking provider Tide. Liza Haskell, Tide's chief administrative officer, said: "Research tells us that role models are hugely powerful in empowering women to start and grow their own businesses, meaning it's incredibly important that the stories of the inspirational women running brilliant businesses are told and shared."
Written by Rachel Miller.