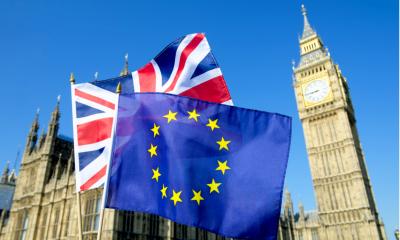 The Prime Minister's latest offer to allow MPs a vote on a second referendum if they back her EU Withdrawal Bill has been more warmly welcomed by the CBI than by many MPs.
Theresa May's "10-point new deal offer" is her most recent attempt to break the Brexit impasse. It also contains new guarantees on workers' rights, environmental protections and the Northern Irish border, as well as the prospect of a "customs compromise".
But Labour described it as a "rehash", while Tory Brexiteers were heavily critical, with more than 20 Conservatives who backed the deal last time already rejecting it. Appealing for compromise, the Prime Minister warned that a negotiated exit from the EU would be "dead in the water" if MPs rejected her plan.
Hate balancing your books?
Save time and hassle with a bank account from Countingup. It lets you automate tedious financial admin, so that you can focus on running your business.
CBI President, John Allan, who is also Chairman of Tesco plc and Barratt Developments plc, said Brexit uncertainty was creating an "ever-growing cost" and he called for MPs to back Mrs May's latest offer. Speaking at the CBI's annual dinner, he said Parliament should do "whatever it takes" to "resolve this mess."
Carolyn Fairbairn, CBI Director General, commented: "Brexit has left the economy stranded in no-man's land. The Prime Minister's offer provides a way forward, but only MPs can take it. Businesses urge them finally to find the spirit of compromise that has eluded them so far. Jobs and livelihoods depend on it."
Dr Adam Marshall, Director General of the British Chambers of Commerce, said: "Businesses need concrete outcomes to plan for the future. In the absence of parliamentary consensus on either the Withdrawal Agreement or any other proposition for the future, both businesses and investment remain in limbo."
He added: "Companies across the UK are frustrated, but most are still concerned about the prospect of a messy and disorderly exit. The date may have changed, but the practical questions businesses face remain the same. And the real-world impacts of parliamentary indecision and delay are growing every day."
Recently, following the breakdown of talks between the Conservatives and Labour that were meant to enable progress, National Chairman of the Federation of Small Businesses, Mike Cherry, said: "Nearly two months after we were supposed to leave the EU, we find ourselves no closer to a solution to this political mess.
"The breakdown of cross-party talks is just another chapter in what is becoming a litany of failures during the Brexit process. When small businesses asked for leadership, pragmatism and pace in delivering a pro-business deal, politicians responded by offering more of the same.
"More of the same just doesn't cut it for small firms anymore. They are the ones dealing with the realities of this mess – planning decisions cancelled, investment stalled and growth going backwards. Ongoing uncertainty is damaging the economy, holding back productivity and battering small-business confidence. We simply cannot see this continue through to the end of October."
Edwin Morgan, Interim Director General of the Institute of Directors, also commenting on the failure of cross-party talks, said: "This is a fresh disappointment heaped upon the pile of previous disappointments. With a parliamentary deadlock, seeking cross-party consensus was always a worthwhile endeavour – but it makes it all the more frustrating for business leaders to see the talks result in little more than precious time used up.
"We urge the Government to confirm their plans immediately and crucially before the recess. It's time to make a decision on the future of this country – we can't live in limbo forever. Politicians must remember that we're eating into potential negotiating time. Equally, no deal, which a clear majority of our members say would negatively impact their firms, is still on the table."