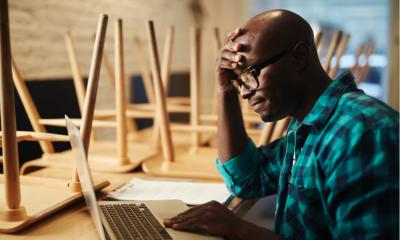 A raft of new surveys has found that alarming numbers of small businesses say they don't expect to survive the coronavirus crisis.
A poll of 1,200 small businesses who are clients of accountants and lawyers in the UK200Group has found that 30% are concerned that their business will not survive this crisis. Most of those polled (92%) said their business was either trading "as expected" or "better than expected" before the crisis.
Of those who feel they are at risk of failing, 80% are having problems getting finance. Many SMES said that banks were struggling due to a combination of lack of clarity on government schemes, increased demand and reduced resources due to the lockdown.
"Our concern is that many small and medium-sized businesses will simply run out of cash which will result in many very good small businesses failing," said Declan Swan, ceo of the UK200Group. "This is avoidable, however the grants and schemes that have been made available are not easily accessible or understood."
Funding Xchange - the online platform appointed by the government to help businesses declined for loans by their mainstream bank identify other lenders - has warned that the COVID-19 crisis is now hitting previously safe established businesses.
It has revealed that in the first two weeks after lockdown, vulnerable businesses were the predominant users of the referral process to access very small amounts of funding, with seven out of ten applicants requesting less than £15,000.
Since the start of April, however, more well-established businesses have been seeking finance. In April, 47% of businesses that have been referred to the Funding Xchange platform have traded for at least three years compared with 34% in March. Those now applying have better credit scores and a higher level of turnover than the early applicants, with half (47%) turning over in excess of £100,000.
Meanwhile a survey of more than 250 SMEs conducted by the Enterprise Investment Scheme Association (EISA) and Vala Capital has found that 71% of small firms say they won't survive six months without funding. It says equity funding for small businesses In the UK has collapsed by 70% since the outbreak of COVID-19 across all equity funding platforms. And it is warning that a staggering nine out of ten growth businesses needing investment now may disappear within 12 months if government fails to act.
Vala Capital is leading a campaign calling for the government to provide a £600m lifeline to small businesses through increased investor tax reliefs.
Prospects in the creative sector are looking especially bleak as 85% of creative agencies say they will run out of money before June 2020. Market Finance is warning that creative agencies face particular challenges because 72% of all UK businesses say they would freeze marketing spend to plug gaps in their cash flow. Its research reveals that four out of five businesses say revenues have fallen, on average, by 53% since the onset of lockdown (compared to this time in 2019).
Meanwhile, the latest research from freelancer body IPSE has found that 45% of self-employed workers fear they will not have enough money to cover basic costs like rent and bills despite government support. Overall, 66% say they are worried they will burn through their savings in the next three months.
Other key findings from the IPSE report are:
69% say that demand for their work has dropped and 53% say it has "decreased substantially";
60% of all freelancers say government support is not enough to sustain their business and their income through the crisis;
69% of freelancers working through limited companies say the support won't be enough.
On average, freelancers think that without work, their savings would last them 21 weeks. This is much lower for sole traders (13 weeks) compared to freelancers working through limited companies (27 weeks). One in ten freelancers (11%) also said they have no savings and another fifth (19%) think their savings will only cover them for up to a month.
Andy Chamberlain, IPSE director of policy, said: "This research shows that it is not just a few self-employed people falling through the cracks in the government support: right across the sector, freelancers are facing dire financial damage because of the coronavirus crisis."
Written by Rachel Miller.