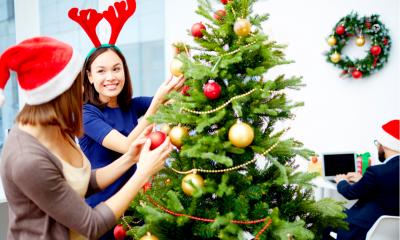 New research has found that employee wellbeing and engagement increases in workplaces with Christmas décor.
However, many companies don't bother with Christmas decorations even though they are appreciated by employees and customers alike.
A poll of 300 employees and managers by Ambius has found that one in six companies do not put up seasonal decorations in the office. However, 85% of employees say that seasonal décor has a positive impact on their mood at work. In addition, 90% of office managers and business owners report that festive seasonal décor boosts employee wellbeing.
Business managers said that "increased employee engagement" is the main benefit of seasonal décor in the workplace, while employees report that decorations make them feel "friendly", "happy" and "celebratory".
Other key findings include:
Three-quarters of office managers and business owners said they get positive comments and feedback on seasonal décor from customers;
70% of office managers and business owners believe that seasonal decorations are expected by customers;
Two-thirds of office managers and business owners envisage their company investing more in seasonal décor in the future;
And two-thirds of employees said that festive music would positively impact their seasonal experience in the office.
"The festive season clearly has a positive effect on morale for a vast majority of employees, which can be essential in maintaining motivation throughout the darker and colder winter months," said, Kenneth Freeman, head of innovation at Ambius.
"If done respectfully, a festive touch in the office, through Christmas trees or seasonal plants such as holly or poinsettias, can bring these benefits, while also enhancing team morale in the workplace. As these findings demonstrate, it can even enrich the relationship between the company and its customers or stakeholders."