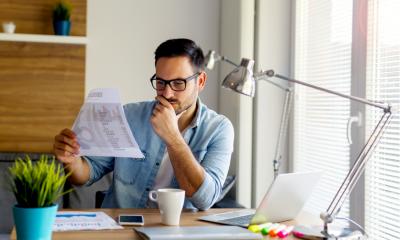 The latest research by IPSE reveals that UK freelancers saw a drop of over £4,000 in their average earnings in the first quarter of 2019.
Freelancers polled said confusion over Brexit (59%) and the government's fiscal policy (55%) were doing most to harm their businesses. Three-quarters of them (74%) expect their business costs to rise in the next year.
The quarterly Freelancer Confidence Index, published by IPSE (Association of Independent Professionals and the Self-Employed) and PeoplePerHour, measures business confidence, perceptions of economic conditions and other key trends in the freelance sector.
"Freelancers are clearly extremely frustrated with this Conservative government's chaotic management of Brexit and business. It should be a stark warning for the Tory leadership hopefuls," said Andy Chamberlain, IPSE's deputy director of policy.
"The 'party of small business' has done very little to understand or encourage the smallest firms or the future flexible workforce. Even beyond Brexit, we have seen only small steps on late payment, inertia on parental rights and outright hostility on tax.
"Freelancers are some of the most entrepreneurial and productive people in our economy and they are central to Britain's business success, whatever happens with Brexit. The new prime minister must show the self-employed that they back modern working practices and this £275bn sector."
Xenios Thrasyvoulou founder and ceo of PeoplePerHour said: "It's disheartening to hear from the freelance community just how little confidence they have in the coming quarter caused by a combination of Brexit factors and the government's approach to their policies for freelancers and taxes."
These worrying findings are echoed in new research published by Hitachi Capital Business Finance which has found that the proportion of UK small businesses predicting growth for the next three months has fallen to 34% - the lowest level for eight successive quarters.
The Hitachi Capital figures also show that sole traders are least confident in their business outlook - only 28% predicted net growth for the period to 30 June, compared to 46% for larger SMEs with 10-50 employees. Similarly, sole traders were almost twice as likely to predict contraction than larger SMEs (19% vs 11%).
Written by Rachel Miller.