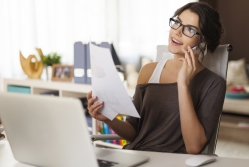 The self-employed labour market is expanding fast and, if growth rates continue, half the working population could be freelance within five years, according to new data.
A survey by PeoplePerHour has shown that the self-employed segment of the labour market in both the UK and USA is growing at a rate of 3.5% per year - faster than any other sector. Should this growth continue for the next five years, researchers predict that half of the working population could be self-employed freelancers by 2020.
The survey also suggests that small businesses that hire freelancers instead of full-time employees could save £6,297.17 per annum. The survey shows that the average waste or spare capacity for each employee in a SMEs is 1.9 hours per day.
The research also highlights the emergence of "hyper-specialists", expert freelancers offering increasingly niche services. These specialists, it says, have allowed businesses to divide work into component parts that can then be subcontracted.
The research identifies a number of key drivers behind the shift from employment to self-employment, including "the availability of ubiquitous and inexpensive computing power, sophisticated applications and cloud-based services".
A new "on demand" culture is also a key factor in the way businesses work with freelance suppliers, say the researchers.
Xenios Thrasyvoulou, ceo of PeoplePerHour, said: "The self-employed workforce is growing by the day, and on-demand services are being required more and more. Speed and accessibility are today's buzzwords and it's no different when making recruitment decisions. It is literally a whole new economy in the making. It's the future."
More on this topic: