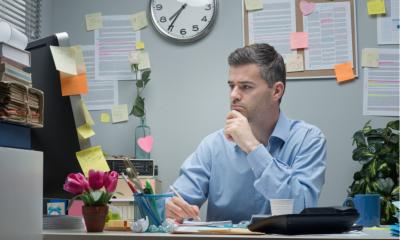 Three new surveys of British workers have focused on the different ways that work can affect employee happiness - from age discrimination to poor leadership.
A survey of UK workers in 122 workplaces has found that many employers are focusing their attention on the needs of millennial workers and not providing enough support or opportunities for older employees.
The poll by Cheeky Munkey found that 52% of over-35s feel undervalued in their current role and say they have a lot more to offer to their employers. This is particularly true for men, with 64% of men over 35 feeling under-used, compared with 42% of women.
One in four workers (26%) aged over 35 said they had experienced age discrimination in the workplace and 36% said their age was a disadvantage during the interview stage.
Over-50s are set to make up one-third of the UK's workforce by 2020. However, 61% of the over-35s polled had received no workplace training in the past year, rising to 76% for those aged 55-64.
Meanwhile, a new poll of 1,444 UK workers across a wide range of sectors by Jobrapido has found that 36% are planning to leave their company "imminently" because their boss does not inspire them, fails to listen to them or has not given them a clear career structure. Two-thirds say they plan to leave within 12 months.
Rob Brouwer, ceo of Jobrapido, said: "There is clearly a need for bosses, line managers and HR departments to pay even more attention to the need not only to attract the best talents on the market but, once on board, to look at all the ways to engage and retain them ? no boss or line manager should think they are above learning new skills if it can help to bolster the company spirit and retain talent."
Also this week, another survey has investigated the extent to which work can put a strain on relationships. WMB Logistics polled almost 3,000 retired Brits and asked them how their working lives had affected their personal relationships, particularly with their partners.
The findings show that almost one-third of those polled (31%) said their career had been a contributing factor in the breakdown of a long-term relationship or marriage during their working lives.
In addition, 89% of retirees said that issues relating to their careers had affected their day-to-day lives outside the workplace, with "a pressure to hit targets" (29%), "long/unsociable working hours" (24%) and "poor relationships with co-workers" (16%) emerging as the biggest problems.
Written by Rachel Miller.