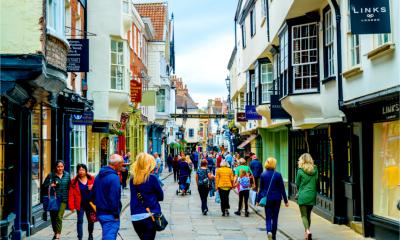 A new study has identified the UK cities where women have the best chance of starting a successful business.
Payments provider Dojo has analysed data from the past year to find the best UK cities for starting a business and specifically those places that give female entrepreneurs the best chance of success.
York is the best city in the UK for female entrepreneurs according to the research, closely followed by Wakefield, Stoke-on-Trent and Sunderland.
The study has focused on six key metrics in order to identify cities with the best working conditions for women to start a business: five-year business survival rates, the cost of living, average weekly pay, the number of female employees, the number of female business owners and the gender pay gap.
The findings show that the ten best cities overall for women business owners are: York, Wakefield, Stoke-on-Trent, Sunderland, Wolverhampton, Southampton, Plymouth, Perth, Hereford and Peterborough.
York takes the top spot, with 9% of female bosses and 66% of women in work. It has the third highest five-year business survival rate at 48% and several women-only networking groups such as York Women Mean Business.
In second place, Wakefield has 5% of female bosses and 66% of women are in work. It scored second place in both categories of the best places to start a business as a woman and the best place to start a business overall. Like York, the city has several networking opportunities for women, including Wakefield Women's Business Club.
Written by Rachel Miller.