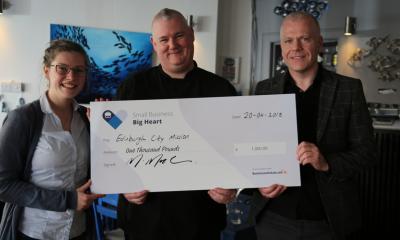 The Small Business Big Heart Awards recognise the many ways that the UK's small business community helps individuals and charitable causes.
Now in its third year, the 2019 Small Business Big Heart Awards organised by BusinessesForSale.com is free to enter and offers a prize of £1,000 that the winner can donate to a charity of their choice.
Last year's Gold Prize winner (pictured) was Edinburgh's Kilted Lobster Restaurant, selected for providing gourmet dining experiences to the homeless and to families not used to dining out owing to the special needs of one or more in their number. The restaurant also helps those without access to education to train and find work.
Rufus Bazley, marketing director at BusinessesForSale.com, said: "Every year the number of businesses applying grows ? the applications are all incredibly moving and choosing an overall winner is never easy, but once we have it's great to meet the winners and hear first-hand about their incredible work."
Thinking of selling your business?
Millions of buyers visit BusinessesForSale.com each month. Sell online and forget commission - no hidden fees or nasty surprises.
Research conducted by BusinessesForSale.com has found that 72% of small businesses support good causes, many of them local. Nine in ten of these small firms support a local charity and 43% help community projects and organisations.
"Our own research shows how important the small business community is in terms of the support it delivers to small, low-profile charities in their localities," said Bazley. "And we know the motivation to help is not a cynical marketing ploy but a sincere desire to make a difference."
Entries to the 2019 Small Business Big Hearts Awards close on 17 May.
Written by Rachel Miller.