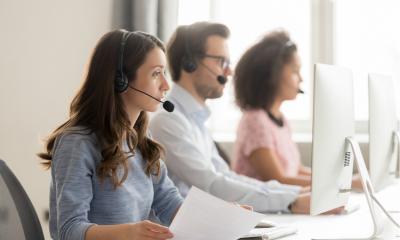 Cloud services, the rollout of 5G and advances in broadband are driving up small business spending on telecoms, according to a new report.
A poll of 208 workers, self-employed individuals and small business owners conducted by Consumer Intelligence on behalf of broadband ISP Onecom has found that the average SME business spent £2,052 a year on telecommunications services last year (up by around 40% from Ofcom's £1,400 figure in 2016).
Onecom says the increase has been largely driven by the need for SMEs to keep pace with new emerging digital services, such as cloud, the Internet of Things (IoT), advances in fibre optic ethernet and broadband communications and the roll-out of 5G mobile.
Nearly two-thirds of those polled (65%) said they are considering switching services over the next 12 months. Many small firms are reporting that the service they currently receive is "poor", including 13% of those with fixed lines, 10% with mobile contracts and 8% with internet connections.
However, data from Ofcom suggests that only around 10-15% of small business customers actually go through with switching services each year.
Even so, the poll findings reveal that overall, 75% of respondents are considering upgrading their services in the next 12 months. These potential upgrade plans include:
5G mobile service (35%);
Fibre broadband (31%);
Any fixed broadband (24%);
Fixed line (22%).
"The importance of telecoms to the success of an organisation has never been greater, and with the roll-out of 5G alongside the planned increase in investment in super-fast broadband, it is only set to get bigger," said Onecom ceo Ben Dowd.
Written by Rachel Miller.