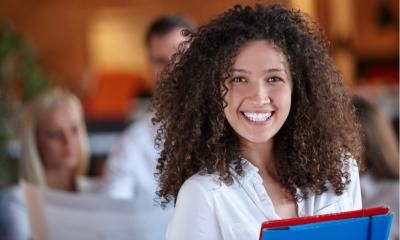 Doing meaningful work is the most important factor that affects an employee's happiness at work, according to new research.
Wrike has surveyed 1,000 workers each in the UK, US, France and Germany on issues related to work culture, compensation and collaboration. The findings show that work happiness is not all about money, with 54% of those polled saying they have taken a pay cut to take a job that made them happier.
Globally, more men (50%) than women (37%) have taken a pay cut to accept a job that made them happier. When it comes to general job happiness, 71% of Americans are mostly happy, compared to 70% of Germans, 65% of Brits and 54% of the French.
The happiest employees report that diversity is above average in their workplace and say "doing meaningful work" is the most critical factor in their happiness, ranking higher than compensation. In the UK, the happiest employees rank office location as the second most crucial factor in their happiness at work, after "doing meaningful work".
Amplify your business with TheMusicLicence!
Music has the power to enhance your business and create a more collaborative and welcoming environment.
The report has also found that happiness and productivity are heavily linked, with 91% of elated employees saying they are "very productive" at work.
"The nature of work is changing and with it, employers must also evolve their strategies for building happy and engaged workforces," said Megan Barbier, Wrike vice president of people operations.
"It's time to update our assumptions on what drives happiness so that businesses can truly invest in what matters most to their employees. That requires building an environment where teams can collaborate effectively, regardless of location, to complete work that has meaning and resonates with their values."
Portia Hickey, chartered business psychologist, said: "One especially striking finding from Wrike's Happiness Index is that over half of UK full-time employees have taken a pay cut to accept a job that made them happier. This should serve as a wake-up call for employers - if your staff aren't happy, they will consider going elsewhere, no matter how much you pay them."
The full results of the survey have been published in a report, From Positivity to Productivity: Exposing the Truth Behind Workplace Happiness.
Written by Rachel Miller.