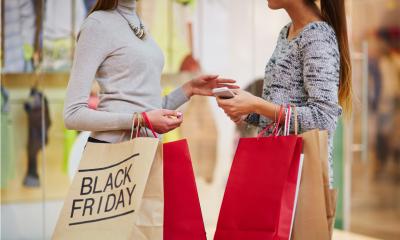 A new survey has found that UK shoppers will spend an average of £90 each during this year's Black Friday retail sales event.
Altogether, consumers are expected to splash out £4.7bn on Black Friday, with almost half of this expected to be spent online, according to research conducted by Censuswide for Salmon.
Black Friday takes place this year on 23 November. Nearly a quarter (22%) of shoppers polled said they would bring forward their Christmas shopping this year to take advantage of the event. Consumers are set to spend 16% of their total Christmas budget on the day; this figure rises to 28% for 16-24 year-olds.
The survey of 2,000 UK consumers reveals that those in the 25-34 age range will be spending more than anyone else (£154 on average compared to £90 for all consumers). Men will also spend 34% more than women on average; however, women are more likely to spend their money online.
Londoners are expected to spend the most of any UK region on Black Friday (£141), while shoppers in Norwich will be spending £40.50 on the day.
"The Black Friday steam train looks set to pick up even more speed this year, with many consumers even looking to do their Christmas shopping during the November sales period," said James Webster, head of managed services and peak trading expert at Salmon.
"Black Friday is now a highlight in many consumers' calendars - but in an increasingly online and competitive retail world, it's not only the deal that gets consumers through the door - it's the experience and service they receive throughout the entire sales process. Brands, retailers and marketplaces have to be as smart and agile as the consumers they're selling to."
Last year saw record levels of online sales, with a continued shift towards mobile commerce. Webster said: "It's important for ecommerce companies of all types to ensure they're offering a sophisticated, yet easy, customer experience that spans all channels and platforms. It's all well and good for retailers to start their Black Friday deals early, but if they don't have the proper peak operations system in place to cope with the demand, they'll likely be left in the wake of bigger fish like Amazon, who have historically focused heavily on the Black Friday period."