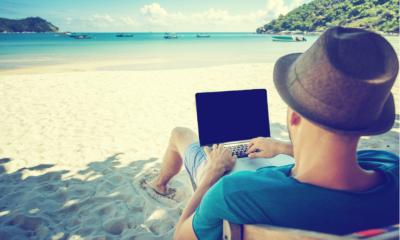 Taking time off improves freelancers' performance as well as their work-life balance, a new study has found.
The research, conducted by the Association of Independent Professionals and the Self-Employed (IPSE), has found that almost two-thirds (63%) of freelancers said taking a holiday improves their work performance. Key aspects that improved after a break included productivity, energy, creativity and confidence.
The findings show that the average freelancer takes 24 days of annual leave - four days less than the statutory minimum for employees. However, 33% take 25 days off or more, while one in seven (13%) take 40 days off or more. At the bottom end of the scale, one in ten took no days off last year.
However, the findings also show that freelancers are feeling the strain of the "always-on" culture, with four out of five (78%) admitting to working while on holiday. Over half (58%) said they reply to work emails while away and more than a third (37%) said they take work calls. In addition, 28% work remotely while they're on holiday.
IPSE says these figures are concerning because time off can help freelancers' wellbeing. Nearly two-thirds (59%) of those polled said it improved their work-life balance, while 44% said it improved their relationships.
"What's clear from this research is that there is a real business case for freelancers taking more holiday," said Chloé Jepps, IPSE's head of research. "Two-thirds of freelancers say taking time away from their work actually improves it. It's a sharp rebuttal to the idea that never stopping and being always on is more productive.
"Freelancers must be encouraged to take more time off not only for their businesses' sake, but also for the sake of their wellbeing and personal lives. Our research clearly shows that taking more leave helps freelancers combat stress and anxiety - and build up their personal relationships."
Also this week, research by Iwoca has found that 37% of SME owners took no more than 15 days of annual leave in the last calendar year, significantly below the statutory 28-day entitlement for employees. However, 22% of SME owners took at least 36 days off last year.
But more than one in five (21%) respondents in the 1,000-strong survey said they would consider cutting their holiday short if they thought they were "not meeting the needs of their clients", while concerns about missing business opportunities were also common.
Written by Rachel Miller.