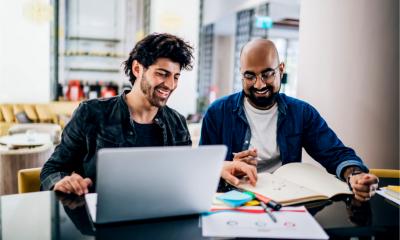 Whether you set up as a sole trader or a company, registering your business name is a key part of complying with regulations, establishing your brand and protecting your business for the long term
Choosing a business name can be a fun part of setting up a business but it is not without its challenges. Before you commit to a business name, you'll need to check if anyone is already using that name or something very similar. It's also important to do a trade mark check to make sure no-one has trade marked your business name already; even if they are not registered as a company this could cause problems in the future. Finally, you need to ensure that your business name is available as a domain name so you can get the web and email addresses that you need.
Many would-be business owners worry about registering a business name. If you incorporate (ie form a private limited company), you cannot register a business name that is already in use. Furthermore, only private limited companies can use the term Limited or Ltd in their names. You can use the Companies House name availability checker to make sure the company name you have chosen is available.
Before you register a company name with Companies House, you must also ensure that your business name complies with government rules. Some words cannot be used unless you've been granted official permission. These include words suggesting the business is of: national importance (eg British); special status (eg association); a particular function (eg trust) or a specialist activity (eg health centre). Never use swear words or other terms that might offend.
Sole traders or those in partnerships have the option to trade under their personal names or trade under a business name but they don't need to register the name with Companies House. However, if your business name causes customers to confuse your business with another you could be guilty of "passing off", which is an offence. It is far better to make your business name distinct - search for your preferred business name online to see if there are others using a name like yours.
How to register a limited company
You can register your company with Companies House online, by post, using an agent or using third-party software.
You'll need three pieces of personal information about yourself and your shareholders, such as National Insurance number, passport number or mother's maiden name. You will also need to appoint at least one director and their name and address will be published on the Companies House website.
You need three documents to register a company:
Once you're registered your company, you'll get a Certificate of Incorporation with your company number on it and the date of its formation. Online registration takes 24 hours and costs £12; postal applications take up to ten days and cost £40. You can use the company registration process to register for Corporation Tax and PAYE at the same time.
How to register your business as a sole trader
There's no need to register your business with Companies House if you are self-employed but you will have to register with HMRC; all you need is your National Insurance number. If you are setting up a partnership, you have to register a nominated partner with HMRC who will be responsible for completing the company tax returns. If you are a contractor or a subcontractor in the building trade, you'll also need to register for the Construction Industry Scheme (CIS).
How to register your business name as a trade mark
Registering your business name as a trade mark is not a legal requirement, but it's a good way to protect your business name. When you register your trade mark, you'll be able to put the R symbol next to your brand - to show that it's yours and warn others against using it. It also means you can take legal action against anyone who uses your brand without your permission.
You can search for trade marks on the UK Intellectual Property Office's (UKIPO) website. A trade mark can be a business name, brand name, word, logo or colour or a combination of these.
Registering for a trade mark with the UKIPO can take a few months. You'll need a unique name for your business; you can't trade mark generic words, such as plumber or accountant. Making up a brand name - such as Ikea or Google - can be a good way to create a distinct business name that can be trade marked.
When you register your business name as a trade mark you'll have to choose the class or classes of goods or services you operate in - such as vehicles, alcoholic beverages or education - from a list of 45 classes known as the Nice Classification. Your trade mark will only be protected within the sectors you select.
The trade mark application process allows time for objections. The UKIPO may have concerns about how distinctive your trade mark is. Applications are also published to allow anyone to object, for instance if they have a similar business name. A registered trademark lasts for ten years. If you want to make any changes to your trade mark you'll have to make a new application.
How to register a domain name for your business
A domain name is the main part of your website address, eg www.yourbusinessname.co.uk. Securing the right domain name will help your business to get established online. A great domain name (like any business name) is easy to remember and easy to spell. If your chosen business name is available as a domain then that's great news; if it isn't you may need to find a more distinct business name. Once you've found a domain name that works for your business, you'll be able to use it for both your email and web addresses.
You'll also need to choose your Top Level Domain (TLD). This is the last part of your web address such as .com (good for businesses that operate internationally) or .co.uk (best for UK businesses with a local customer base).
It's easy to buy a domain name from a domain name registrar such as 123-Reg, Names.co.uk or GoDaddy. You can check the availability of your chosen domain on these websites and shop around for the best prices. When you buy a domain name you are paying for the rights to use the domain for a fixed period of time. Bear in mind that prices can be extremely reasonable when you first register but may go up over time.