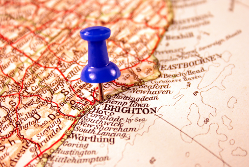 There are several types of addresses associated with limited company formation, some are legally required, and others that are optional. Discover the differences between your various business addresses
The most important business addresses are the registered office and the service address, both of which Companies House request during the incorporation process. Directors must also provide their residential address, but this information will remain private unless a home address is used for registered office or service address purposes.
Regarding optional company addresses: you may also use a SAIL address, a business address and a trading address. They all sound like 'much of a muchness', but they serve very different purposes.
Registered office
This is the official 'headquarters' of a limited company. Details are placed on public record and are primarily used to receive mail from Companies House and HMRC, as well as being the required inspection location for statutory company records.
Any type of physical postal address can be used, with the exception of a PO Box number, as long as the address is located in the same jurisdiction in which the company has been incorporated (England/Wales, Scotland or Northern Ireland).
Residential addresses are permitted but, due to public disclosure of this information, non-residential addresses are more suitable in terms of privacy and professionalism.
Directors' service address
This is the official contact address for company directors, to where their statutory mail is delivered. It can be any physical postal address in the UK or overseas. Residential addresses can be used but, again, this information will be available in the public domain.
SAIL address
A SAIL (single alternative inspection location) address is an optional address where a company can keep some or all of its statutory records for inspection purposes. This can be ideal if your registered office is not conveniently placed for inspection purposes or you use your home address as a registered office and you don't want strangers coming into your house. It's usually just HMRC that asks to inspect company records but, nevertheless, you may not want to open your front door to anyone wishing to inspect your official records.
Business address
This is a professional contact address that you can give to clients, suppliers, service providers, banks and other contacts. You can use any address you like, in fact, you can have multiple business addresses if you want to establish and grow your business in different parts of the UK or overseas. Unlike a registered office, a business address doesn't have to geographically restrict your company to one place.
Trading address
This is exactly what you think it is – the place where your main business activities are conducted. It's also where most businesses keep their stock, equipment and assets. There is no need to disclose this address to anyone, unless it is the same as one of the aforementioned company addresses. 
With thanks to Graeme Donnelly, CEO of company formation agents 1st Formations Ltd. You can follow 1st Formations on Twitter.