The right mentor could be a valuable asset for your business — a source of expertise, experience and support. Above all, a business mentor provides a fresh perspective. Rachel Miller talks to three business owners that have benefited from working with a mentor.
Any business can benefit from having a mentor — from start-ups to established firms that are stuck in a rut.
In fact, when you examine the advantages of using a business mentor, you start to wonder why all small firms don't have one. The right mentor can provide fresh insight and they bring the wealth of experience they have accumulated running businesses of their own.
And the good news is that, thanks to the Government's Get Mentoring initiative, there are now thousands of volunteer business mentors in the UK who are keen to pass on their business expertise. The best place to start is the Mentors Me website.
Here, three businesses tell us about their experiences of using a mentor:
Systemagic
"Nick was able to share his experiences and give us specific tailored advice — it was not just coaching by numbers."
Company: Systemagic is a business IT support firm based in Bath and aimed at SMEs of all sizes. There are eight people in the business, led by managing director James Eades.
Mentor: Nick Shaw
How they met: Introduced as part of the GrowthAccelerator scheme [now closed].
How did the mentoring come about?

James: "I heard about GrowthAccelerator through someone that runs a local technology business. We signed up to the scheme in October 2012. We have been growing year on year but we wanted to speed up our growth and maximise our potential."
Who was your mentor?
"Nick Shaw. We were given a choice of mentors and looked at a few CVs but his stood out because he has set up, run and sold a number of technology businesses. To have someone that has been there and done it in your sector is invaluable."
What did you want from a mentor?
"I went into the process thinking I needed help with sales and marketing. But what we found was that we needed to clarify some fundamentals — what we were selling, who we were selling to and why they should choose us. We spent time analysing our customer base. It highlighted how strong we were in three sectors — charities, luxury private hotels and design-oriented firms. We knew who our customers were but we hadn't appreciated just how strongly we were performing in those particular sectors."
What were the main outcomes of the mentoring process?
"As a direct result of the mentoring, we did something we have never done before — we launched a new product. Aimed at our hotel clients, it is a portable booking system that works on laptops and tablets that hotel staff can use even when they are away from reception. It's not something I would ever have thought of doing before.
"We also did some competitor analysis and figured out we were under-selling ourselves. We didn't want to raise prices across the board but we focused on the areas where we add most value and worked out what we can charge."
What have you learned personally?
"As a managing director, I was spending too much time in the wrong areas and now I delegate more and focus on areas where I can have the most impact on the business."
What makes a good mentor?
"Listening and understanding is important but it's also about giving real advice. Some mentors just ask questions and their method is to let you answer them yourself. I prefer Nick's approach where he was able to share his experiences and give us specific tailored advice — it was not just coaching by numbers."
What are your business goals now?
"Our target is to increase our turnover from £0.5million to £0.75million in three years and that should be achievable if we put everything we have learned into practice. Now we understand where the business is going and most of all how to get there."
What did the mentor process do for you?
"It gave us clarity about our opportunities for growth, a different mindset within the business, more focus on growth and the sense of being supported."
Manna from Devon
"We were trying to decide whether to open a bakery. The best thing about Ann was that she had previously set up and run and sold her own successful bakery as a going concern. The match couldn't have been better."
Company: Manna from Devon is an award-winning cookery school in South Devon owned and run by Holly and David Jones.
Mentor: Ann Osmond
How they met: Via Business Mentors South West.
Why did you want a mentor?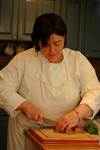 Holly: "We were uncertain about the next stage for our business. We were trying to decide whether to open a bakery. In the end, the time wasn't right although it is still something we are thinking about. But to help us decide, we wanted input from a mentor. Ann Osmond is a business mentor from HSBC. But the best thing about Ann was that she had previously set up and run and sold her own successful bakery as a going concern. The match couldn't have been better."
How did the process work?
"We had a four-hour meeting followed by regular phone calls. Ann quickly got a handle on who we are and what we are all about. The focus was entirely on our business and her expert independent scrutiny really helped us."
What was the outcome of the mentoring?
"Instead of opening the bakery, we have decided to grow our cookery school business and this year we have opened a second teaching kitchen so we can double the number of people we can take. We are also working on rebuilding our website and enabling customers to book online."
Had you used mentors before?

David: "We've also benefited from working with a mentor who helped us with our IT. This was a paid-for arrangement but it was incredibly valuable. I am quite IT-savvy but working with a real expert provided fantastic insights and gave us an amazing leap forward. By doing some analysis with our mentor, we found that while all the activity on Facebook was good for creating a community, it was the traffic from Google that was actually leading to sales. So the process showed us where to focus our time and money."
Holly: "We also have an ongoing mentor in the form of a friend who has run several small businesses. It's not a formal arrangement, but we often consult him about the business over a glass of wine. We would certainly recommend mentoring to other small developing companies."
Bobskis
"We have really benefited from Bob's experience and the lessons he has already learned in his own businesses."
Company: Husband and wife team Elly Reeve and Keith Handy describe their product — Bobskis — as "sledges reinvented". Fast, flexible and great for stunts, the product was launched in 2012 and has been featured on TV's the Gadget Show.
Mentor: Bob Moore
How they met: Via Let's Do Mentoring, managed by the North Staffs Chamber Project Team
Why did you approach a mentor?
Elly: "We realised from the outset that there were gaps in our knowledge. We had no experience on the retail side and in bringing a consumer product to market."
How has your mentor helped your business?
"Bob has provided us with an external sounding board. He has a lot of experience in business — he runs a company called MCL — and his experience in manufacturing has been particularly valuable. It's like having a critical friend who asks us challenging questions. He has also been able to help us with specific areas such as exporting. We have really benefited from his experience and the lessons he has already learned in his own business."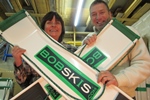 A product called Bobskis and a mentor named Bob. Any connection?
"It's a complete coincidence!"
Has he helped with any specific areas?
"Bob has helped us with all aspects of our business — from packaging and manufacturing to refining our sales pitch and exporting."
Is Bob still involved?
"We are still in touch but it's on a more informal basis. We give him regular updates and he is always there for us if we need to chat to him about a business issue over a coffee. He has given us a lasting legacy."
And what's the final verdict?
"I don't think we would be where we are now without Bob. It has been really helpful to us to have someone with his experience to support us. This is not theoretical business, it's someone who has been there and done that, and it gives a completely different quality to his understanding of our position."
More on this topic: