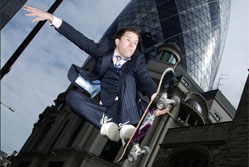 Not many people have been in the Guinness Book of World Records and established their own business. Adam King is still trying to be a world-beater, but this time his mind is firmly fixed upon his successful bespoke tailoring business, King & Allen. Mark Williams goes for a fitting
If it hadn't been for breaking a world record, Adam King and Jake Allen might never have started their hugely successful bespoke tailoring business King & Allen.
After graduating from Birmingham University, where he met Jake through a mutual love of snowboarding, Adam worked as an agent for an Italian furniture company, before managing a high-end furniture shop. "I wasn't satisfied, so in 2002 I decided I wanted a change of career. At the same time I happened to apply to a new extreme sports channel to take part in a publicity stunt - just for fun. They had more than 40,000 applicants, but I got through," Adam recalls.
"They set up a glass room outdoors in Covent Garden and with two other contestants I had to watch TV non-stop. The aim was to break the Guinness World Record. I managed to win by hanging on for 48 hours. The prize was £10,000, which I used to go travelling."
Seed of an idea
In Whistler in the Canadian Rockies, Adam met up with Jake. "He was about to head off east, I was planning to head west. We chatted about what we'd do when we returned to the UK and decided to start a business together. We agreed to look out for good ideas while travelling."
On Bondi Beach in December 2003 the pair met up again. Adam explains: "We compared notes we'd each written on scraps of paper. The best? Jake had had a suit made in Thailand - and it was rubbish, to be fair - but cheaper than anything you'd get in the UK, and the idea was there. If we could improve the quality, maintain an attractive price and provide a bespoke service, we were confident we could succeed."
The pair went off to finish their respective journeys. "I went to South East Asia and tried to source tailors. I interviewed more than 100 until I found the right one. We still work with him today - he's fantastic. Quality underpins what we do, so finding the right suppliers was vital."
Adam was born in Guildford in 1976 and grew up in nearby Cobham in Surrey. He enjoyed life as a boarder at Bradfield College in Berkshire. "The teachers were good at nurturing natural talent, they didn't force you down an academic route. My parents didn't try to do that either."
Hey Jude
One of Adam's childhood ambitions was to be an actor. "I was in the National Youth Music Theatre - a few years below Jude Law actually. I bumped into him a few years later - he's been slightly more successful than I have," he laughs.
Adam's mum was a teacher and dad was a broker. "His one piece of advice was 'Don't end up working in the City - you'll hate it'. I don't have a 'City job', but, ironically, I spend a lot of time in the Square Mile seeing customers."
Adam and Jake arrived back in the UK in March 2004, set up a website and "got on the phone to the only two markets we knew - public schoolboys and students". They called their business Just Black Tie and sold bespoke suits for graduation balls priced at just £99.
"In the first year we turned over roughly £50,000, before closing Just Black Tie and opening King & Allen the following day. King & Allen focused on making business suits for people in the City, and in year two we turned over £125,000, year three £250,000 and the year after, £1 million, which was incredible. The recession hit in 2008 and although our sales didn't plummet, it was time for a rethink."
Savile Row quality
"We needed to move away from competing with M&S and Next in the affordable suits market, so we've spent the next two years training our tailors to follow guidelines to make a Savile Row quality tailored suit. Now we offer Savile Row quality for a fraction of the price."
King & Allen have a Tailoring Centre in Surbiton in Surrey and another in Wilmslow, Cheshire, to serve northern clients. For added customer convenience, Adam and Jake hire function rooms in Birmingham so that time-poor (but cash rich) office workers in the midlands can be measured up for suits. "They choose from thousands of cloths and design a suit from scratch, then pay their deposit; they have a fitting a few weeks later and soon receive their bespoke suit - it's easy. Word-of-mouth generates a lot of business for us."
Adam lives and still enjoys snowboarding and travelling. "I love living in London and all of the weird and wonderful things it offers." Does he dream of great wealth? "I'm not money-orientated," he counters. "We've invested most of the profits back into the business. I want to grow without sacrificing what makes us special. I'm really inspired by Innocent Drinks, that's what they've done. I'd also like to help other businesses, which is why I've become a Start Up Britain mentor."
Making business partnerships work is hard, but Adam says he and Jake remain good friends. "Our skills are complementary, which is great for the business. Sure, we have our occasional disagreements, but it's like a marriage, you have to perfect the art of falling out."
Adam's three tips
"Realise your limitations. If you can't do it, find someone who can. Don't let a lack of knowledge, experience or ability hold your business back"
"Keep a close eye on your costs. You should know where and why you spend every penny. And if you're not getting good value - explore your alternatives"
"Ignore all unsolicited approaches from ad sales people. Carefully plan your approach to marketing and advertising. In time you'll find out what methods work"