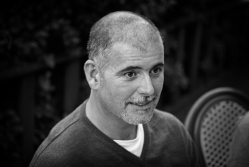 It's not easy to be a wedding photographer, even if you're as talented as Guy Hearn. Many couples seek to save money on photographs on their big day and the affordability and ease of use of digital cameras has created legions of 'all-the-gear-but-no-idea' snappers. As Guy explains to Mark Williams, value is more important than price
Hearn realised he had an eye for photography while studying film, photography and music at the University of Exeter. "I loved the course and got to spend a year in the US in Louisiana studying practical photography - that's where I really caught the bug." Crucially, after graduating, he bought his first professional camera (a Mamiya RB67 medium-format) following his first big commission, from i-D magazine.
Hard days Knight
Guy's big professional break came in 1994, when he became assistant to renowned British fashion photographer Nick Knight. "I was in the right place at the right time. I was working in a bar, met an old friend who was working with Nick's agent and he was looking for a new assistant. Three months of unpaid work later, I got the job," Hearn recalls.
Most assignments were in London and Paris. "Nick's exceptionally hardworking and dedicated, so we'd work 12-hour shifts." There have been some great parties, surely? "My partying was confined to my flat in London on rare days off," Hearn smiles.
"I did meet many famous people," he continues. "While my friends were getting the tube to work, I could be in a rose garden in Paris with Christy Turlington or sharing a sandwich with Linda Evangelista. My greatest moment was meeting Morrissey at his recording studio - that was in the first week working for Nick." Hearn's favourite trip was to the Florida Keys with US Vogue. "I spent all day in the sea operating lights and cameras - it was a swimwear shoot…."
Change of direction
Hearn was also winning commissions of his own from leading fashion and lifestyle magazines. "It was hard to get my foot in the door at first, but the more work I did the more I won." Ten years living in London working for an impressive roster of clients gave Hearn a superb portfolio, but the fashion world "just wasn't me", he admits.
He had also met and married wife Ali, and three children were to follow. "Back then I was living in London and getting two or three commissions a month, but having children meant I needed to be more financially secure. I wasn't fulfilled professionally, either.
"For some time, I'd been doing favours for friends by taking pictures of their weddings. I had more than ten years' photographic experience and people really loved the results. Soon I was getting enquiries from people I didn't know. Word-of-mouth is a powerful thing."
Business start up
Hearn started his wedding photography business in 2005. "I was still doing other commercial photography work for two years to make up my income. I never saw wedding photography as a quick fix or an easy way to earn money.
"To kick things off I did three weddings for free, but while doing them I picked up more bookings. I did ten weddings in my first year, 15 in my second and it kept growing. Now I do about 50 a year."
Did anything surprise him about running his own business? "The enormous amount of admin and customer care that a wedding photography business has to deal with surprised me. Still, only 20% of my working time is actually spent shooting weddings."
The key to good wedding photography, he says, is to: "Get in close; fill the frame; use your head and feet as well as your eyes. You've got to be able to get on well with people, too."
Hearn says his business hasn't been too badly affected by the explosion of digital camera-wielding 'point-and-press merchants' (amateur and professional). "The internet can be a dangerous place for brides. There are many so-called photographers using flashy websites and social media to disguise their lack of expertise. I'm not cheap. I have my prices and stick to them, but it's really about the quality of images and value for money I offer."
Guy's three key lessons
"When choosing what business to start, do what you feel is right rather than looking elsewhere for your inspiration"
"Be good to people. You don't have to be hardnosed to get ahead in business"
"Don't cut your prices to compete. If customers realise you are better than your competitors, you'll be able to charge more"