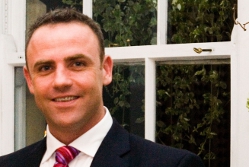 Many ex-service men and women go on to work in the police or prison service, but not Jason Didcott. As Mark Williams discovers, after 15 years in the Royal Navy, some joking around at college provided the inspiration for a unique new venture called Butlers in the Buff
Every year, some 24,000 people leave the British armed forces and many find the transition hard. A staggering 1,000 or so former servicemen and women are estimated to sleep rough on the streets of London every night (Source: BBC News). And according to the Ministry of Defence, 3% of prisoners (circa 2,500) once served in the military.
The news is not all bleak for those who once served their Queen and Country. The MoD reckons 96% of ex-military personnel find employment within six months, while all leavers can access resettlement and careers advice for up to two years.
Rare breed
Ex-servicemen and women who start their own business are a rare breed, however, Jason Didcott is one of them. The 41-year-old lives in Long Ashton, near Bristol. "As a kid in Gloucestershire I didn't know what I wanted to be," he confesses. "At 16 it was between the police and Royal Navy. The Navy won - I wanted to see the world."
After 12 months of training in naval airmanship, Jason specialised in the safe handling of aircraft in stations and on ships. Later, while based at RNAS Culdrose in Cornwall, he learned about aircraft crash rescue. "By late 1988, I was fully trained as an airman," he recalls. "My first naval air squadron was on HMS Gannet, stationed south of Glasgow. I worked on helicopters and our job was to look for submarines."
Jason loved the Navy. "It was good fun and I met a lot of good people. I served for 15 years - ten with the Royal Marines, including tours in Bosnia and Iraq. I volunteered for the first Gulf War and got a taste of the infantry, which I enjoyed, but eventually I just wanted to do something else - but not because I didn't like military life," he emphasises.
Shore leave
Some of Jason's friends went on to have successful careers away from the Navy, but many chose to take civilian jobs on military camps. He adds: "I didn't want to do that. I was 31 and still had the energy to do something different."
He planned to become a civil engineer and went back to college, which is where the roots of his current business - Butlers in the Buff (the 'Male Order Company') - lie. "Physically, I was in excellent shape. I was also doing building work here and there. A classmate was joking one day and said, 'You could earn more if you took your top off'. Everyone laughed, and then someone said I could earn even more if I stripped off.
"I replied, 'I don't think health and safety would allow it'. Then we started to think about what would be allowed and came to semi-naked butlering. Some of the girls jokily asked whether I'd do some for them, which I did, just for a laugh. Then I got requests from their friends and it grew from there."
Jason carried on going to Cardiff University, where he finished the first year of a civil engineering degree. "I was still doing semi-naked butlering occasionally - and the local evening paper wrote about me, which generated more bookings."
Business education
That summer, Jason took a driving job with a marquee company. "Not long after, their 'ops' manager left and I was offered the job. I was struggling at uni with some of the maths and living on so little income was really tough, so I took the full-time job. It was a baptism of fire, but I learnt a lot about business."
Aged 33, Jason couldn't fit it all in, so he asked some of his workmates to do some butlering. Those who agreed included William James, now a co-director of Butlers in the Buff. "Will took care of the organising of the butlering business, bookings, making sure the butlers arrived early, looked and acted professional - things we still insist on today. The thing I learnt from the events industry is when it's a party you don't get any second chances."
De-mob happy
Jason says he found leaving behind some aspects of military life quite difficult, but in other ways it was liberating. "Many of my ex-colleagues did go into the police and I understand why, but I wanted to do something different. I think I always had the necessary qualities to run a business - I just needed more self-confidence and a viable idea. Running the marquee company was key to my entrepreneurial training. I made mistakes, sure, but I had a lot of success, too."
Butlers in the Buff operates throughout the UK and now there is a franchise in Sydney, Australia, while another is about to be launched in Florida, USA. "I'm proud of how the business has grown," Jason beams. "I still work hard - and it couldn't have happened without the hard work of Will Jones and Stacey Lynn, my co-directors and partners." Together, the trio also runs Bristol-based Impress Public Relations, which was set up in 2005.
Naked ambition
Jason says Butlers in the Buff hasn't reached anywhere near its potential. "We can grow so much more in the UK. We're no longer just selling Butlers either, we now sell weekend packages for hen parties, and so on, and plan to set up franchises overseas wherever people can accept the idea for what it is - just a bit of harmless fun. It's not intended to be offensive; it's just a laugh, really," he concludes.
Jason's tips for other start-ups
"Keep on top of your accounts, but don't rely solely on your bookkeeper or accountant, if you use one. You've got to keep a close eye on your books"
"If you're planning to buy something for your business, only do it once you've made the money to pay for it"
"Don't be afraid to try launching your own business. It isn't rocket science"
This case study was first published in September 2010. Since then, Butlers in the Buff has established franchises in Australia, Canada, Florida and South Africa.