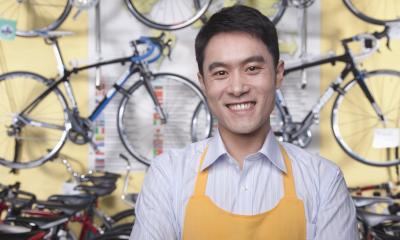 Cycling is enjoying a high profile, with media coverage boosting consumer demand for specialist equipment and tax breaks encouraging people to cycle to work. Our practical guide will help you start up and run your own bike shop.
Selling bicycles on eBay and Amazon
Selling online can be an excellent way of reaching new customers and boosting your sales. But setting up your own ecommerce website can be expensive and you may not be sure at the beginning whether the value of the sales you'll make online will justify the set-up costs.
As an alternative, trading on eBay or Amazon lets you get a feel for selling online but with much lower start up costs. And you may decide to keep on selling through eBay and Amazon even when you have your own online shop.
Getting started
You might already have your own personal eBay account that you use to buy items for yourself and to sell things that you don't need any more. But if you're trading as a business on eBay you're legally obliged to make it clear in your listings that you're a business seller. This means that you'll either need to register a new business account or upgrade your personal account to a business one. There's guidance in the eBay Seller Centre on the definition of 'trading' if you're not sure whether you need to register as a business seller.
Similarly, with Amazon you can use an existing account or create a new one when you register as a business seller.
If you're not already running a business and you intend to start selling things on eBay or Amazon - perhaps just in a small way to begin with - then you'll need to notify HM Revenue & Customs (HMRC) that you're trading. There's guidance on the Gov.uk website that gives an overview of what counts as trading and what counts as self employment. It also gives details of your tax and record keeping obligations.
Decide whether to have your own virtual bicycle 'shop'
Having your own virtual storefront will give your business a valuable online presence and will allow you to display all your products together in one place.
When you sign up to sell on eBay, you have the option of setting up an eBay Shop. This allows you to create your shop using an existing template or to customise it to your own design. You don't have to choose the eBay Shop option straight away - you may decide it's best to wait until your monthly sales build up to a certain level and then upgrade.
With Amazon, you'll automatically create your own storefront regardless of the package you choose. You won't be able to customise it very much but you will be able to add your name and logo and provide some information about your business.
How much does selling on Amazon and eBay cost?
Before you start selling on Amazon and eBay it's a good idea to find out how much you'll have to pay in fees. Depending on the items you sell and the method you choose for selling them, your total fees can be quite substantial. And while some of the fees you pay will be linked to the number of items you sell each month, others are likely to be fixed costs which you incur even if you don't sell anything.
Both eBay and Amazon give you the option of selling as a business seller without paying any fixed monthly fees, although it's usually more cost-effective to choose a subscription-based package unless you're only selling a small number of items each month.
The eBay website has a fee illustrator tool and a fee calculator that will help you compare the fees for different selling methods and get a good idea of how much your actual per-item selling fees are likely to be.
The Amazon website gives detailed fee guidance, including some examples of pricing for their subscription and non-subscription packages.
Managing your listings
Uploading your inventory to eBay or Amazon and managing your listings can be a time consuming task, particularly if you're planning to sell a large number of items.
Both eBay and Amazon offer useful listing tools, some of which are free and others that you'll have to pay for.
Promoting your items
Because there's such a huge number of items for sale on eBay and Amazon at any one time, it's very important that you do everything you can to stand out from the crowd.
Always make sure that your listings include accurate, spell-checked descriptions and that your photos and other images show the items that you're selling in the best possible light.
You might want to take it a step further and use the various marketing tools provided by eBay and Amazon such as search optimisation, cross-promotions and paid-for advertisements.
Your reputation
As an eBay or Amazon seller your online reputation is extremely important. All sellers have a feedback score based on actual customer feedback and this is the main measure that future customers will use to check that you are trustworthy and reliable.
So you'll want to keep your rating as high as possible by providing an excellent level of customer service and fast delivery at reasonable prices. Make sure you always respond promptly to customer queries, deal with returns efficiently and keep an eye on your stock levels to avoid your listings showing an item as being in stock when it has sold out.
Be aware that packing up orders and sending them out can be time consuming, but it's important to stay on top of the job to make sure that the right items get delivered in good time to the right people. Very many parcel delivery services now offer bulk shipping tools that integrate with your eBay or Amazon account and these can greatly simplify the process of arranging and tracking your deliveries.
If you're selling on Amazon you might also consider using the Fulfilment by Amazon service, where you send Amazon your inventory and they do all of the picking, packing and shipping as well as providing customer service.
More information
The eBay and Amazon websites have a great deal of useful guidance to help you get started as a business seller and to expand your business as demand for your products grows. Both also have lively seller community forums where experienced sellers are often happy to answer questions.
Research your target market
Estimating the number of customers
Once you have decided on the type of customer you will target (for example recreational cyclists, commuters, serious competitors, the parents of children or a mix of all of these) you need to estimate how many of these you'll be able to convert into active customers. Cycling is enjoyed by many different types of person and if you intend to stock a range of popular models and accessories your target market is potentially very wide. However, factors to bear in mind include:
the suitability of the local road network for commuting and road cycling
the suitability of the surrounding area for off-road cycling (the various mountain biking disciplines as well as cyclo-cross) and for BMX riding. The 2010s have seen a quite significant increase in the number of public and privately funded trail centres, bike parks and BMX tracks across the UK
the terrain - large hills may encourage mountain bikers and serious road riders but deter commuters
whether there is a stretch of the National Cycle Network nearby
the popularity of cycling locally - have a look if cycle lanes are busy and cycle racks are full
If you intend to specialise in a particular area of the market, it can be an excellent idea to become involved with the local cycling scene. Attend races and events and talk to participants to try to find out if local cyclists find it easy to obtain the equipment they need. Pay particular attention to the makes, styles and models that seem to be popular. Contact local clubs and event organisers. You could even organise your own event or get involved with existing events in some way, such as through sponsorship.
What competition will your bicycle shop face?
Once you have determined the extent of your market, you need to find out how well it is supplied.
A browse on Yell.com and other similar online directories will help to establish the number of specialist bicycle shops in your area. You could also look at local print directories. Don't forget that bicycles and some accessories are also available from many non-specialist retailers as well. These include sports shops, toy shops, department stores, the larger outlets of the multiple supermarkets, catalogue shops like Argos and even car accessory shops. These are usually aimed at the lower end of the market so the impact these competitors will have on your business will largely depend on the types of product that you're planning to stock.
Find out what your competitors are like:
are they large or small
do any specialise in a particular area of the market
do they offer a wide range of different types and brands of bicycles
what prices they charge
do any offer repairs and servicing, including specialist services like suspension fork and rear shock maintenance
how knowledgeable and helpful their staff are
whether their premises and fittings are modern and smart
is there a branch of Halfords, the national cycle superstore, or a Raleigh main dealer nearby
Make a note of the typical prices of some popular models and accessories.
Don't forget as well to make an estimate of the impact on your business of your online competitors. Many specialist cycle retailers now sell online, either exclusively or alongside their retail outlet. The dominant online retailers, such as Wiggle and Chain Reaction Cycles, offer a broad range of products and typically sell at discounted prices.
Why will customers buy bicycles and cycling equipment from your shop?
You'll want to make sure that plenty of customers will choose your shop rather than one of your competitors. Your market research might indicate that there is a gap in the market that your shop can fill. For example, perhaps no one in your area specialises in high-end competition road bicycles.
One of the independent's great strengths is in-depth knowledge. Most of the people working in specialist bicycle shops are cyclists themselves and are only too happy to discuss matters with customers and to offer advice. This is a service that some major non-specialist stores - and even the large online specialists - have difficulty in providing so it's important that you make sure your customers are aware of what you can offer. The premises-based retailer also benefits to a certain extent from being able to offer a fitting service so the customer chooses the right bike in the right size - something the online specialists aren't able to do - as well as from a trend among certain groups of cyclists to consciously support their local bike shop, even if the prices are a little higher than those charged elsewhere.
Research current cycling trends, plus legal and tax issues
Who will buy bicycles and cycling equipment from your shop?
Your typical customer will depend to a large extent on the focus of your shop. He or she might, for example, be a keen road cyclist, an off-road cycle racing competitor, a parent looking for a Christmas present, a serious commuter or someone after a budget priced model for everyday transport and recreational use. It may even be that you have a mix of all of these customer types. Doing some market research will help you to decide exactly who your key customers will be.
You may target specific groups of customers, for example students or club members, by offering special discounts. Discounting might also be used as a means of keeping a core of regular customers loyal or just as a way of attracting the bargain hunter. You might also decide to target local businesses keen to offer cycle to work schemes to their employees.
If you are an active member of the local cycling community you may find that you regularly offer discounts to a wide circle of friends and acquaintances. Although discounting promotes customer goodwill, don't forget that it also eats into your profits. Make sure that your staff know who they can give discounts to and how much discount they can give - otherwise some may be tempted to give unauthorised special prices to their friends.
Selling in-store finance
A bicycle is often an expensive purchase with high end road and mountain bikes costing in excess of £5,000 and (some 'halo' bikes closer to £10,000) and the increasingly popular e-bikes costing up to £15,000. Some customers may be unwilling or unable to pay for a new bicycle all in one go or would just prefer to spread the cost over several months.
You may want to offer credit to these customers through a specialist finance company. Several such companies exist and between them they offer a range of different in-store finance packages for retailers.
Some of the finance packages available which you might use to attract customers include:
card-based credit accounts
standard interest bearing credit
subsidised interest rate credit
interest free credit
deferred payment (buy now pay later) credit
When you sell something on finance you will have to fill in a credit application with the customer. Your finance company will then give a decision on whether to accept the application. All being well, the transaction will be completed quite quickly and you will receive payment for the goods from the finance company within a few days. You will usually also be paid commission. This is normally based on a percentage of the value of the sale and paid to you separately at the end of the month.
Most finance companies will expect you to meet certain requirements and standards before agreeing to do business with you. Some will only deal with businesses that have been trading for a certain minimum length of time, often two years.
Shop around when it comes to choosing which finance company you will deal with. Their terms and working practices vary. When choosing which one is best suited to your business, bear in mind the following:
what type of finance packages are most likely to appeal to your customers
how promptly will you receive payment from the finance company
how much commission are you offered
how quickly will your customers' credit applications be turned around
what level of back-up and support is available to you
You will need a consumer credit authorisation if you want to offer finance to your customers. This is obtained from the Financial Conduct Authority (FCA). You can get more information from the FCA website.
The Association of Cycle Traders (ACT) offers a retail finance package that is backed by the 'Ride it away' promotion. You can find out more on the ACT Smart website.
Decide what cycling products your shop will sell
Bicycle retailers typically stock some or all of:
new and used bicycles, including mountain bikes (for example cross-country, enduro, downhill and recreational), road bikes, folding bikes, electric bikes, tourers, racers, hybrids (half mountain bike, half road bike), BMX models and children's cycles
child seats, 'tag-a-longs' and child trailers
clothing (cycle sports and leisure) and helmets
spare parts, including replacement and upgrade components
tools and repair and maintenance accessories
add-on accessories, for example lights, cycle luggage, water bottles and customising products
related accessories, for example books, DVDs, energy bars and so on
Sales of bicycles make up about half of the value of retail sales in the cycle market, with the average price of a bicycle sold in the UK at just under £500. When deciding on what bicycles to stock, bear in mind that you can expect sales to fall into the following categories:
mountain bikes - about 30%
hybrids - 26%
children's bikes - 30%
serious road bikes - 10%
folding and other - 4%
Although the number of electric bicycles sold is still small, the market is growing quickly, with some 75,000 sold in 2016.
Some cycle shops have moved into other related areas. Examples of related goods sometimes stocked include mopeds and motorised scooters, skateboards and rollerskates, prams, buggies and strollers, toys, camping and outdoor leisure accessories and general sporting goods. Remember - you have a limited amount of shop space so you should try to stock only items for which there is strong demand.
You may decide to offer a bicycle repair service. Although you will probably charge your customers for servicing and repairs, you may find that they are unwilling to pay very much unless you're offering a specialist service like suspension fork/rear shock or hydraulic brake maintenance. Many cycle dealers see their workshop more as a way of generating customer goodwill than as a real source of income. Remember that you may need extra staff if you intend to offer a repair service and these will have to be trained and paid at a level which reflects their skills.
Bicycle hire is also a possibility. This may prove particularly successful if your shop is located in a tourist area or near to a popular cycle trail. However, bear in mind the extra cost of establishing and maintaining a hire fleet and the space required to store the bikes over night.
Seasonality
The bicycle trade is highly seasonal. Bicycles are traditionally a very popular Christmas present for children and some outlets make up to half of their yearly sales in the run up to Christmas. As cycling is mostly an outdoor sport, late spring and summer when the weather is more pleasant to be outside and there are longer daylight hours can also be a busy time - particularly if you offer accessories, new tyres, repairs and so on.
Make sure that you always have enough stock to meet demand during peak periods.
Buy an existing bicycle shop
You might decide to buy an existing bicycle shop rather than start your own venture from scratch. Buying a going concern can mean that:
the premises, fittings and equipment are already in place
some stock is included
a business website has already been set up - possibly ecommerce enabled - as have eBay and Amazon 'shops'
there are established customers
the business can generate income immediately
suppliers have been identified and relationships established with them
the business has a track record which can help if you are looking for finance
staff are already in place
However, look critically at any business that you are interested in to make sure that the price you negotiate with the seller is a fair one. Try to establish why the business is for sale - for example, is the owner keen to retire or is there another personal reason for selling up.
Your market research into the sector as a whole and the locality in particular will help you to establish whether or not the owner is selling because he or she can no longer generate enough income from the business. This may not necessarily deter you - many business people are confident that they can turn a failing business around. The important thing is to have established the current position so that the price you pay for the business is not too high.
Other matters to consider include:
the state of the premises, equipment and so on. Will you have to spend money refurbishing or replacing assets
the condition and age of any stock you are buying. Check this over carefully before agreeing a price - be aware that you are likely to have to discount bicycles that are last year's model (or older) to be able to sell them, by typically between 20% and 50%, possibly more where the manufacturer has gone out of business or stopped supplying their products to the UK market
existing staff rights
how to retain key personnel once you've taken over
does the business owe money that you will be responsible for
if you are paying for goodwill, to what extent does this depend on the skills and personality of the seller
Ask your accountant to look critically at the business accounts for the past three years and discuss with him or her the selling price in the light of what the accounts reveal. Make sure you budget for other professional fees such as legal fees and valuation and survey costs.