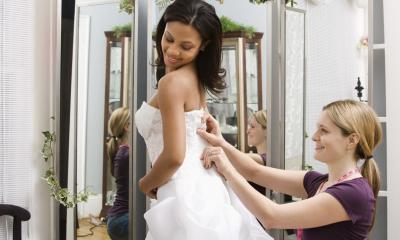 Bridal shops sell ready-made, made-to-measure and designer bridal gowns, as well as outfits for the rest of the wedding party. Wedding outfit hire may also be offered. Our practical guide will help you start up and run your own bridal shop.
Research your target market
Estimating demand for bridal wear in your area
It's very important to find out whether there is enough demand for a bridal wear retailer in your area. You should be aware that the sector is competitive because:
the number of people getting married each year has been falling for some time
the number of church weddings has fallen - people getting married in alternative venues often want non-traditional outfits to wear
many couples are getting married in exotic overseas locations, without as much ceremony as they might have had at home
the recent economic downturn affected how much people spend on wedding outfits and celebrations
there has been a huge rise in internet traders, some of which sell counterfeit or poor quality gowns
As a result the market has become saturated as too many suppliers compete for fewer and fewer brides. There are over 4,000 bridal wear retail outlets in the UK and you will be competing against:
other independent outlets
exclusive designer bridal wear companies
the bridal departments of department stores such as Debenhams
internet bridal shops and mail order companies - recently Asos launched a range of affordable bridal wear
home traders selling ends of line and ex-samples
the bridal collections offered by high street clothing retailers such as Monsoon and Phase Eight - and more recently, Dorothy Perkins
factory outlets, selling a large range of significantly discounted gowns
There has also been a trend towards buying secondhand or vintage wedding dresses from charity shops like Oxfam or online from auction sites like eBay - which means less demand for specialist bridal shops.
Check out the competition in your area to identify how many other outlets are already targeting the weddings market. A look on Yell.com will give you an idea of the number of existing outlets as well as an indication of the services they provide. Bear in mind that you may also be competing against bridal wear outlets which are some distance away but succeed in attracting customers from your area, because they offer a very specialised or good quality service. Ask around in related businesses, such as ladies clothes shops, to find out if certain bridal wear outlets are highly recommended. Then go and have a look to see why they are considered to be special.
Apply in minutes for at-home banking support designed for small businesses like yours. Enjoy banking on-the-go with zero monthly fees, 24/7 UK support and instant alerts when money comes in or goes out. Join Starling – voted Britain's Best Bank 4 years in a row.
Why will customers choose your bridal shop?
It's essential to make sure that enough customers will choose your bridal wear shop rather than existing outlets. Your market research might indicate that there is a gap in the market that you can fill. For example, perhaps no one in your area is offering a designer service, or sells a budget range of wedding dresses.
You'll probably want to stock exclusive ranges wherever possible - make sure that local competitors aren't already stocking the labels you hope to sell.
Reliability
People invest a great deal of time, money and emotion in the preparations for their wedding day and it is vitally important that your business does not let anyone down by failing to deliver the wedding dress on time. Some businesses only accept a certain number of commissions per season, to make sure they will be able to deliver on time. You will notice that many existing bridal wear shops refer to this in their advertising, highlighting the fact that they've been trading for a number of years and have always fulfilled orders on time. In order to win customers your new business must make it plain that you understand how important it is to be reliable. This has become even more important now that couples are arranging their weddings more quickly than in the past - and so aren't prepared to wait for a long time for a dress to be ready.
Check out future developments
The location of your outlet is very important and ideally there will be ample and easy parking nearby and also lots of passing trade. Consider checking that there are no plans to build new road systems, which would mean that traffic would bypass your shop, nor proposals to impose parking restrictions.
It might be helpful to be located near businesses such as florists, clothes shops, hairdressing and beauty salons so that you are very visible to potential customers.
Research current bridal trends, plus legal and tax issues
Decide what bridal wear and accessories you will sell
Your bridal wear ranges
If you plan to offer ready-to-wear bridal ranges you will stock samples of perhaps two to three hundred wedding dresses, in various sizes, produced by a variety of manufacturers/designers.
When a potential customer comes in, you will help her to select her 'dream dress', within her price range. You might decide to charge a consultation or appointment fee of around £30 for this service. Or you might only make a charge if the bride-to-be doesn't show up for the appointment.
It might take an hour or so for someone to try on between four and six different styles. Most ready-to-wear wedding dresses come in standard dress sizes, so after you have measured the customer you will place an order with the manufacturer for the appropriate size. It is likely to require some alteration, so that it fits perfectly, so it's important to make it clear to the customer whether or not the price includes alterations. The dress may take several months to arrive so it's vital to make sure that it will be ready in time for the wedding before you place the order. To cater for the growing number of couples who want to get married quickly you might consider holding in stock some popular ranges in the most requested sizes. Some bridal wear shops charge a 'rush cut fee' for orders placed less than three months before the wedding day.
You might decide to make a non-refundable charge if a customer asks you to reserve a particular gown that you've got in stock while she makes up her mind. If she places an order for the dress you would set the amount she's already paid against the cost of the outfit.
In order to cater for as many brides as possible your ranges might include:
traditional wedding gowns for younger brides in white, cream and ivory
more sophisticated outfits for older women, perhaps in a range of pastels, pale gold and even burgundy
wedding dresses suitable for overseas ceremonies in exotic locations - these need to be easy to pack. Floaty, lightweight fabrics are popular
warmer dresses suitable for winter weddings. Red is becoming more popular for winter weddings
vintage-inspired wedding dresses and accessories - for something different
lenghas, saris and salwar kameez suits for Asian brides. Although red, maroon and gold are the traditional Asian wedding colours, some brides are experimenting with colours such as cerise, cream or light blue
maternity wedding dresses
Bridal accessories
It is convenient for customers to put together their wedding outfit under one roof, so you might also sell:
lingerie, petticoats, basques, corsets and tights/stockings
shoes
headdresses, tiaras, veils
bags and gloves
jewellery
Some bridal wear outlets give away a free fabric garment bag with every wedding dress. Others sell special boxes in which to store the wedding dress safely after the ceremony, or in which to transport the dress if the wedding venue is overseas.
Second-hand and vintage bridal wear
You might decide to stock some once-worn designer wedding dresses, provided that they're in perfect condition. Some outlets stock original vintage wedding dresses and accessories for brides looking for something unique.
Other bridal items to sell
If you have the space you might decide to sell a wide range of clothes for the wedding party, such as:
mother of the bride outfits
adult bridesmaids' dresses
page boy and flower girl outfits
grooms' suits and accessories
evening wear, prom dresses and ball gowns
Think about other lines you could stock that would set you apart from your competitors - for example temporary white wedding tattoos.
Annual sales
New styles and fashions are introduced every year so you may want to have an annual sale (perhaps in the summer) during which you discount all your stock sample wedding gowns. You may need to get them dry-cleaned first if they have been tried on many times.
Seasonality
Although the main wedding season still takes place between April/May and September you are likely to take most orders at different times of the year. This is because there can be a lengthy period between ordering a wedding dress and receiving it back from the manufacturer - this can be between six and nine months. For example, someone getting married in June might order their wedding dress in November of the previous year so that it would arrive with plenty of time for any alterations to be made, if necessary. You would need to make sure that your stocks of bridal accessories are high during the wedding season and that you had seamstresses lined up to deal with last minute alterations. Of course, if you are planning to offer wedding outfit hire your services will be very much in demand between April and September.
Establish your customer profiles
Your market
Your market will consist of brides of all ages, together with other members of the wedding party such as the groom, mother of the bride and bridesmaids. In the past it was traditional for the bride's family to pay for the wedding dress but now you are likely to find that many brides pay for their dress themselves. Many are high earners who are prepared to pay quite a lot of money for a dress they really like.
Remember too that some of your customers may be older women who do not feel it would be appropriate to wear a traditional white wedding dress. It would make sense to also stock stylish and sophisticated alternatives, perhaps in a range of pastels. Many marriages these days are between people who have been married before and these customers may be looking for a completely different type of outfit, particularly if the wedding is not going to take place in a church or registry office.
Deposits for bridal dresses
Once your customer has selected her gown and placed a firm order it is likely that you will ask for a deposit before ordering the dress from the manufacturer or designer. Many bridal wear shops ask for a deposit of between 25% and 50% of the retail price of the gown. This is generally not returnable. Members of the Retail Bridalwear Association offer protection of customers' deposits under the Brides Protection Scheme.
Final payment
When the wedding dress is ready (perhaps some 12 to 16 weeks or so later) it will be sent to you for the customer to try on. In many cases it will need alteration in order to fit perfectly. You may charge for this separately or you may include it in the original price for the dress. Whichever course you choose, it's vital to make sure that your customer knows exactly what the price includes. Once all the alterations are completed to the customer's satisfaction you will request the final payment.
Cash or cheque
Your customers may pay you:
in cash
by cheque, debit or credit card
by electronic payment (for example trade customers which you supply on a regular basis might prefer this payment method)
You might also decide to offer credit facilities. For example, you might allow your customers to spread the cost over three to six months - once the full amount is paid you would then supply the order.
Trade customers
If you design and produce wedding gowns yourself you might consider supplying them to other bridal wear retailers. You would supply them with samples of your collections and make up the gown to the customer's individual measurements. It is commonplace to offer bridal wear retailers exclusivity within a certain radius so that they can benefit from having something unique with which to attract their customers. You would normally set a minimum number of lines that the retailer must stock, and also offer retailers a trade price. This is likely to be in the region of 50% or less of the retail price, although this is something to be agreed between you and the retailer.
Decide which bridal services to offer
As well as stocking a wide range of bridal gowns, accessories and other wedding items, you will probably also offer various services, for example:
an appointments system so that potential customers have your undivided attention while they try on different gowns. You might decide to make a small charge for this, which you later set against the cost of the wedding outfit your customer orders. You could consider offering appointments on Sundays as well as throughout the week
storage of delivered wedding gowns until close to the wedding day
hire of wedding outfits
shoe dyeing
wedding planning/organisation
wedding insurance
wedding list management
made-to-measure/designer gowns
fitting/alteration service - you might also offer this to customers who have been unable to try on their wedding dress before they paid for it, because they bought it from an online bridal retailer
sales of once-worn wedding dresses, on behalf of their owners
supply of wedding party accessories like personalised chocolates
You might also establish close links with related businesses such as local florists, photographers, wedding stationers, limousine and wedding car hire companies, caterers, hairdressing and beauty salons. Perhaps you can arrange for these businesses to offer your customers a small discount. If you have a website, it could include links to these businesses.
The right image
It is very important that your bridal wear outlet projects the right image. You and your staff will do all they can to ensure that the bride-to-be is confident that you will supply the wedding dress of her dreams on time. A reputation for excellent customer service and reliability will stand you in good stead and will lead to many personal recommendations. You will find that potential customers will be prepared to travel considerable distances if they can be sure they will receive a first class service.
Advertising your bridal wear outlet
You will hope to benefit from any word-of-mouth recommendations but, in the early days especially, you will need to make sure that potential customers know about you and the product ranges and services you offer.
There are a number of things you can do to promote your business:
advertise in national bridal magazines, local newspapers and any local directories
take a listing on Yell.com
have a presence at local wedding fayres and exhibitions
advertise on wedding websites
have your own website - this could be e-commerce enabled
use social media like Facebook and Instagram to let people know about new ranges and upcoming events
benefit from an inclusion in an online directory such as the Retail Bridalwear Association Directory or the Confetti suppliers directory (bridal wear stockists category)
form links with businesses such as florists, photographers, caterers and so on
run an annual 'Win a wedding dress' competition to gain local publicity
Price your bridal products
How will you decide on your prices?
Getting the price right is very important. You must make sure that the difference between the cost price and the selling price is enough to cover all of your operating costs, including your own drawings.
Because people are prepared to spend lavishly on their wedding celebrations and want to look as good as possible on their wedding day, wedding dresses are expensive items. Although designer gowns can cost many thousands of pounds, the price of many wedding items falls into the following ranges:
gowns - between £300 and £1,000
designer gowns - often between £1,000 and £5,000, but in some cases much more
bridesmaids dresses - between £180 and £500
headdress/veil - average price between £100 and £150
tiaras - between £40 and £200
veils - between £35 and £200
shoes - between £45 and £200
An Asian wedding outfit might cost between £2,500 and £3,000.
Margins in the bridal wear sector are generally high and you are likely to add a mark-up of at least 100% (and possibly as much as 200% or more) to your bridal wear ranges and accessories.
Annual sales
You might decide to have an annual sale during which you sell off your shop samples, ready for the new season's styles. You might offer these gowns at a significant discount - say, 50% off the full retail price. If you have to have them dry-cleaned first make sure that the sale price at least covers the cost of the gown plus the cleaning costs.
Alterations
Very many wedding dresses are made in the Far East and need to be altered to fit the bride-to-be perfectly. The price of the gown usually includes these alterations. But you'll need to decide if you will charge another fee to alter the dress again if the bride-to-be either puts on or loses weight before the wedding day. Make sure your customers understand that they may have to pay for any additional alterations.
Give some thought to whether you will offer an alterations service for gowns that you haven't supplied. Many brides-to-be order wedding dresses from unauthorised internet sellers which turn out to be counterfeit items and of poor quality. You might be prepared to make alterations to these gowns so that the fit is improved.
Cancellation policy
You are likely to require your customers to pay a deposit when they place an order. You will have to decide whether this is refundable in the event of a cancellation and whether the customer will have to pay anything more. Much will depend on the terms you have obtained from your suppliers.
Buy an existing bridal wear business
You might decide to buy an existing bridal wear business rather than start your own venture from scratch. Buying a going concern can mean that:
the premises, business equipment and shop fittings are already in place
the business has established a reputation
a business website may have been set up
there may be established customers
the business can generate income immediately
suppliers and bridal wear designers have been identified and relationships established with them
the business has a track record, which can help if you are looking for finance
staff may already be in place
However, look critically at any business that you are interested in to make sure that the price you negotiate with the seller is a fair one. Try to establish why the business is for sale - for example, is the owner keen to retire or is there another personal reason for selling up.
Your market research into the sector as a whole and the locality in particular will help you to establish whether or not the owner is selling because he or she can no longer generate enough income from the business. This may not necessarily deter you - many business people are confident that they can turn a failing business around. The important thing is to have established the current position so that the price you pay for the business is not too high.
Other matters to consider include:
the state of the premises, fittings, equipment and so on. Will you have to spend money refurbishing or replacing assets
the condition and value of any stock you are buying. Check this over carefully before agreeing a price - make sure that items are fashionable and not shop soiled or damaged
is the existing owner prepared to give you some training after you take over
existing staff rights
how to retain key personnel once you've taken over
does the business owe money that you will be responsible for
if you are paying for goodwill, to what extent does this depend on the skills and personality of the seller. If the business offers made-to-measure or designer gowns, do you have the appropriate design and dressmaking skills to continue with this service
Ask your accountant to look critically at the business accounts for the past three years and discuss with him or her the selling price in the light of what the accounts reveal. Make sure you budget for other professional fees such as legal fees and valuation and survey costs.