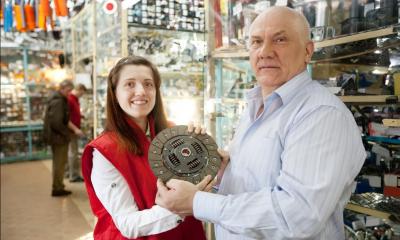 Parts shops may supply only retail customers, only trade customers or a mix, with trade custom growing in importance as DIY servicing has become less common. Our practical guide will help you start up and run your own car parts business.
What competition will your car parts business face?
Your customer base is likely to be a mix of private motorists and motoring businesses like repair garages.
Retail customers
The types of private motorist that use your shop are likely to vary depending on the products you sell but may include:
people looking to buy items that don't require any real mechanical knowledge such as screen wash and de-icer
people looking for gifts
competent home mechanics that want to buy parts to service and repair their own vehicles
people who want to modify their stock vehicles, for example by adding a new exhaust system or different wheels
Unless you specialise in particularly unusual products that are hard to find in your local area, it's likely that most people won't think to travel significant distances to visit your shop so a fairly prominent location is likely to be important.
Trade customers
If you decide to sell parts and accessories to the local motor trade (this is known as 'factoring') you will need to find out how much demand there is from independent garages and other businesses. A look through the relevant classifications on Yell.com and other similar online directories will give you an idea of how many repair garages there are in your area. You could also look at local print directories. Look out too for other businesses that might require parts and accessories, for example used car dealers, valeters, specialists like tyre or windscreen fitters and so on. You might try approaching the proprietors of some of these businesses to find out whether they would be interested in using your services. As you are likely to be planning to offer a delivery service to this type of customer you can decide how large your trade catchment area will be - but be realistic!
Finding out about your competitors
How well are your potential customers already served by existing businesses? Your most important competitors are other car accessory shops and motor factors within about ten miles of your own outlet. Look out for branches of large chains, such as Halfords and Euro Car Parts who have large store networks and a significant online presence. Don't forget other businesses that sell motor accessories, for example DIY and hardware stores, large supermarkets, petrol stations, 'pound' shops and so on. Count the number of existing motor factors who already deliver to the trade within your proposed catchment area.
Try to identify three or four businesses that you think will be your most important competitors. Visit their outlets and make a note of the following:
are they part of a large national chain or well known group
are they smart and attractive or shabby and run down
what size are their outlets
what types of product do they focus on (for example accessories, parts and so on)
where are they located (for example in a shopping precinct, residential area or close to the town centre)
It's also important to try and make an estimate of the impact that specialist online retailers like CarParts4Less will have on your business.
Research current trends, plus legal and tax issues
Establish your customer profiles
Depending on the focus of your outlet, you may have a mix of retail and trade customers.
Retail customers
Research has shown that your key customers are likely to be male motorists aged between 18 and 50. Female motorists are becoming increasingly important to the industry and, while they are statistically less likely to service and repair their own cars, many will want to buy car care products and other motoring accessories like de-icer and screenwash.
Your 'typical' customer will depend on the focus of your shop. You may, for example, target the general motorist, DIY mechanics, the modification market or perhaps motorsports enthusiasts.
At certain times of the year you may attract customers who would not normally visit your shop. Christmas and Father's Day, for example, may boost sales of products like car care packs, tools and similar accessories which are bought as presents.
Some of your customers will be making what are known as 'distress purchases'. For example, their battery might have failed that morning and they may need to use the car right away. Be ready for times of year when distress purchasing is likely to be high - cold snaps in particular will boost demand for products like batteries and de-icer, and if conditions become extreme you're likely to see an upward spike in demand for snow chains and snow socks.
Trade customers
Your trade customers, if you have any, will include local independent garages and bodyshops and possibly also used car dealers, car valeters and so on. If you offer very competitive prices you may even persuade other local retail accessory shops to purchase some of their stock from you. The businesses that you supply might be anything from small 'back-street' garages to larger, more professional outfits.
Trade/retail spilt
The percentage of sales made to retail customers and the percentage made to the trade depends on the nature of your shop. In a predominantly retail outlet, where parts sales are not a major feature of the business, you might typically expect trade customers to account for less than 10% of sales. You may even decide not to supply the trade at all. If you do target trade customers as well as retail, this percentage is likely to rise towards 50%, depending on your emphasis and on the level of demand from local garages. A specialist motor factor would normally expect to make at least 65% of its sales to the trade.
Decide what services to offer
Many customers will expect you and your staff to offer a certain level of service. For example, you will frequently be asked for advice on the suitability of different parts and accessories for a particular vehicle, the advantages of using a particular product and so on. Some DIY mechanics will ask for advice on repair and servicing procedures, while professional mechanics may also ask technical questions about product specifications. You and your staff should be prepared to deal with these queries - ideally you will always be able to answer them yourselves or, if not, obtain details promptly from a supplier.
Motor parts and accessory retailing is a competitive market and it's a good idea to look for ways of distinguishing your business from the competition. Think about providing the following:
a free delivery service for trade customers - delivery should be prompt and reliable
a free while-you-wait fitting service for simple items like windscreen wipers and perhaps even batteries - give some thought to how you will be able to provide this at busy times of the day
a fitting service (usually for a charge, depending on the complexity of the product) for items like in-car entertainment, satellite navigation systems and alarms
rapid turnaround of orders when parts are not held in stock
Think about other aspects of customer service, for example exchange or refund of parts that don't fit or aren't needed (even if this is because the customer bought them by mistake). You might even lend tools to customers who need them for a particular job, but take steps to make sure that these are always returned in good condition. Make sure that your staff are aware of your customer service policy and understand what is expected of them.
What car parts will you sell?
You will need to decide on the focus of your shop. You might, for example, decide to concentrate mainly on car care and motoring accessories - or possibly you will focus more on spare parts for the DIY mechanic. Perhaps you have a special interest in performance modifications or customising accessories and wish to focus on these. Maybe you want to stock leisure goods as well as motor accessories if you have enough room - many car parts shops also sell bicycles and cycling accessories - the Halfords chain being a prime example of this.
There is continuing demand for in car entertainment systems, which have become increasingly sophisticated in recent years. You might decide to stock DVD players, speakers and amplifiers, kits to connect media players like iPods to car stereos and so on. Bear in mind that demand for some previously key products has fallen in recent years - for example, although there is still a market for them, standalone sat nav systems are not as popular as they used to be because many people either have them included as standard equipment in their cars or use a navigation app on a smartphone instead.
You may decide to concentrate on 'factoring' (selling parts and accessories to the motor trade). If so, you will need to make sure that your parts range is sufficiently broad to meet the needs of local repair garages. A good relationship with a wide range of suppliers is important as your trade customers will expect a prompt ordering service for parts that you don't hold in stock. The factoring trade is very competitive - customers will expect keen pricing and good service. A good factoring outlet will often attract DIY mechanics as well as trade customers.
It makes sense to tailor the focus of your shop to meet the needs of local motorists. For example, if the area is an affluent one and the majority of cars on the road are only a few years old, there will probably be relatively low demand for DIY servicing parts and accessories. Remember that motorists' needs change throughout the year and you should vary your stock accordingly. Anti-freeze, ice scrapers and screen wash are good examples of products to stock up on at certain times of the year. Your suppliers' sales representatives should be able to advise you about seasonal lines and stocking levels, but remember that their first priority is to sell you as many items as possible!
There are very many different lines that you might decide to stock. Try to choose carefully to make the most of your available shop space. Keep an eye on how different lines sell - if one is a slow seller then think about replacing it. Competing products are available from very many different suppliers. Your customers will expect a choice, but try not to duplicate unnecessarily. Think about lines that will complement others. For example, if you sell roof-racks, consider also stocking top-boxes, luggage straps, cycle carriers and so on. Decide how you will sell small items like bolts, washers, seals and so on. You might decide to purchase these in bulk and sell them loose, or you may opt for 'blister-packs'.
For many people, motoring is closely linked to leisure activities. You might consider diversifying into other leisure goods, for example camping equipment.
Selling car parts on eBay and Amazon
Selling online can be an excellent way of reaching new customers and boosting your sales. But setting up your own ecommerce website can be expensive and you may not be sure at the beginning whether the value of the sales you'll make online will justify the set-up costs.
As an alternative, trading on eBay or Amazon lets you get a feel for selling online but with much lower start up costs. And you may decide to keep on selling through eBay and Amazon even when you have your own online shop.
Getting started
You might already have your own personal eBay account that you use to buy items for yourself and to sell things that you don't need any more. But if you're trading as a business on eBay you're legally obliged to make it clear in your listings that you're a business seller. This means that you'll either need to register a new business account or upgrade your personal account to a business one. There's guidance in the eBay Seller Centre on the definition of 'trading' if you're not sure whether you need to register as a business seller.
Similarly, with Amazon you can use an existing account or create a new one when you register as a business seller.
If you're not already running a business and you intend to start selling things on eBay or Amazon - perhaps just in a small way to begin with - then you'll need to notify HM Revenue & Customs (HMRC) that you're trading. There's guidance on the GOV.UK website that gives an overview of what counts as trading and what counts as self employment. It also gives details of your tax and record keeping obligations.
Decide whether to have your own virtual 'shop'
Having your own virtual storefront will give your business a valuable online presence and will allow you to display all your products together in one place.
When you sign up to sell on eBay, you have the option of setting up an eBay Shop. This allows you to create your shop using an existing template or to customise it to your own design. You don't have to choose the eBay Shop option straight away - you may decide it's best to wait until your monthly sales build up to a certain level and then upgrade.
With Amazon, you'll automatically create your own storefront regardless of the package you choose. You won't be able to customise it very much but you will be able to add your name and logo and provide some information about your business.
How much does selling on Amazon and eBay cost?
Before you start selling on Amazon and eBay it's a good idea to find out how much you'll have to pay in fees. Depending on the items you sell and the method you choose for selling them, your total fees can be quite substantial. And while some of the fees you pay will be linked to the number of items you sell each month, others are likely to be fixed costs which you incur even if you don't sell anything.
Both eBay and Amazon give you the option of selling as a business seller without paying any fixed monthly fees, although it's usually more cost-effective to choose a subscription-based package unless you're only selling a small number of items each month.
The eBay website has a fee illustrator tool and a fee calculator that will help you compare the fees for different selling methods and get a good idea of how much your actual per-item selling fees are likely to be.
The Amazon website gives detailed fee guidance, including some examples of pricing for their subscription and non-subscription packages.
Managing your listings
Uploading your inventory to eBay or Amazon and managing your listings can be a time consuming task, particularly if you're planning to sell a large number of items.
Both eBay and Amazon offer useful listing tools, some of which are free and others that you'll have to pay for.
Promoting your items
Because there's such a huge number of items for sale on eBay and Amazon at any one time, it's very important that you do everything you can to stand out from the crowd.
Always make sure that your listings include accurate, spell-checked descriptions and that your photos and other images show the items that you're selling in the best possible light.
You might want to take it a step further and use the various marketing tools provided by eBay and Amazon such as search optimisation, cross-promotions and paid-for advertisements.
Your reputation
As an eBay or Amazon seller your online reputation is extremely important. All sellers have a feedback score based on actual customer feedback and this is the main measure that future customers will use to check that you are trustworthy and reliable.
So you'll want to keep your rating as high as possible by providing an excellent level of customer service and fast delivery at reasonable prices. Make sure you always respond promptly to customer queries, deal with returns efficiently and keep an eye on your stock levels to avoid your listings showing an item as being in stock when it has sold out.
Be aware that packing up orders and sending them out can be time consuming, but it's important to stay on top of the job to make sure that the right items get delivered in good time to the right people. Very many parcel delivery services now offer bulk shipping tools that integrate with your eBay or Amazon account and these can greatly simplify the process of arranging and tracking your deliveries.
If you're selling on Amazon you might also consider using the Fulfilment by Amazon service, where you send Amazon your inventory and they do all of the picking, packing and shipping as well as providing customer service.
More information
The eBay and Amazon websites have a great deal of useful guidance to help you get started as a business seller and to expand your business as demand for your products grows. Both also have lively seller community forums where experienced sellers are often happy to answer questions.
Buy an existing par parts business
You might decide to buy an existing car parts shop rather than start your own venture from scratch. Buying a going concern can mean that the products, customers, regular sales, staff, premises and equipment are already in place.
​But buying a business can be a hazardous, expensive process unless you have the right skills and experience on your team, including legal and financial know-how. Establish the genuine trading and financial position, so that the price you pay for the business is not too high.
Franchises
Franchising can be a good 'halfway house' between starting out from scratch and buying an existing business. If you purchase a franchise you'll still be setting up your own business, but you could benefit from the experience, resources and brand name of a business that is already successful.
There are several franchises available in the car parts and accessories sector. Although different schemes vary in detail, most feature the following key points:
as a franchise holder, you will remain self-employed but will use the identity (corporate colours, logos, trade name and so on) of the franchisor
in return, you will pay the franchisor a fee - this might be a one-off investment, a monthly charge, or a combination of both
both you and your franchisor will have to fulfil certain obligations and maintain certain minimum standards
Some franchisors will provide you with any specialist training you require, help with advertising and marketing, and advice and support on a range of business and technical matters.
Details of the above points are set out in the franchise agreement or contract, which both you and your franchisor will sign. The agreement will also deal with other matters, for example any territorial exclusivity due to you and the minimum period for which the franchise will run.
Before entering into a franchise agreement, it is advisable to compare the terms of different franchisors to be sure that you are getting a good deal. Go through the contract with your solicitor before signing anything. More information about franchising is available on the Franchise Info website. Information is also available from the British Franchise Association (BFA).