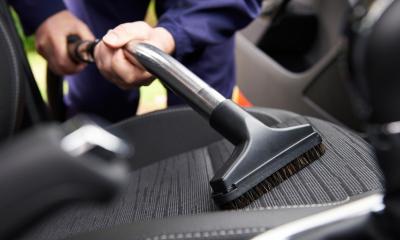 Demand for car valeting and hand car washing services has grown in recent years and this is a popular low-cost start-up venture. Our practical guide will help you start up and run your valeting business.
Is there demand for your car valeting service?
When you plan your new business check how much demand there is for your services, what people actually want, and how much existing competition there is.
Estimating demand
Find out whether there is enough demand for your car valeting business in your area. Car valeting is quite an easy business to start up, so you may find there's a fair bit of local competition. You need to consider the level of local competition that you will face - a look through the relevant classifications on Yell.com and other similar online directories will give you an idea of how many car valeting businesses there are in your area. Car valeting is available from various sources and your local competitors might include:
other independent and franchise-based valeting businesses (ranging from small mobile outfits and 'pop-up' roadside operations to firms with large premises or a fleet of vehicles)
franchised motor dealers and used car dealers that offer valeting services
auto-centres (superstores with service bays attached) - Halfords, for example, offers a professional valeting service in some of its outlets
car body repair centres
garages offering general vehicle repairs and servicing
In some areas car cleaning businesses complain that they face unfair competition from 'cowboy' car wash businesses that keep their costs low by avoiding their legal obligations.
Petrol stations with car vacuums, drive-through car washes or jet wash machines may also take trade away from valeting businesses.
It may be that you will only be competing directly against some of these outlets because you will be targeting a particular segment of the market or offering extra services which are hard to find elsewhere.
Have a good look at existing car valeting businesses in your area to establish:
what prices they charge
what range of services are offered (for example full valet, interior only, steam cleaning)
how knowledgeable and helpful their staff are
whether they operate a mobile service or have fixed premises
whether they offer to collect and deliver customers' vehicles
whether the premises and fittings are modern and smart
if they undertake valeting of lorries, coaches, caravans and so on
if they offer any additional services such as small paintwork repairs
if they offer inside and/or outside detailing
Find out if there is a gap in the market that your business can fill. Be aware that car cleaning and valeting businesses have been quite a popular start-up option among the eastern European migrant community, many of whom are prepared to work very hard for relatively low pay, sometimes working in supermarket car parks. Old disused petrol station sites and other low cost premises are commonly used, and they sometimes incorporate a cafe. These types of business typically offer a thorough service at very competitive prices, and they may be difficult to compete against.
If you're planning to specialise in detailing and paintwork correction, be aware that many of your competitors are prepared to travel quite considerable distances to work on customers' cars, particularly at the upper end of the market (classic cars, supercars and luxury cars etc).
The number of potential customers will depend on how many vehicles are in use in your area - which will in turn depend on the size of the local population. Obviously this is likely to be higher in large towns and cities, although car ownership may be lower in inner city areas. In rural locations, there may just be too few vehicles to generate enough work. Generally speaking, owners of newer more expensive cars tend to use the services of a professional valeter. Businesses like car dealers, taxi firms and hire companies commonly use valeting services too.
Find out what people want
As you may face quite a lot of competition it's important to find out what people want and whether there are any particular services you can offer which will attract customers. You could talk to potential business customers like car dealers and find out what services they might use and the prices that they would be prepared to pay for them. If they already use another valeting business you could ask them how much they pay, whether or not they're satisfied, and what you would have to do to make them switch to your own business. Remember that market research should be ongoing - once you've started up in business talk to your customers and make sure you're still meeting their needs.
Research current trends, plus legal and tax issues
Establish your customer profiles
Your customers are likely to include private motorists and local businesses.
In general, motorists in affluent neighbourhoods are usually more likely to have their car valeted than those in less well off areas. They will probably drive newer, more expensive cars and be willing to spend extra money on servicing and upkeep. For many, the time saved by getting their vehicle valeted professionally is more important than the cost.
When it comes to high-end services like paintwork correction and vehicle detailing your customers are likely to be very well-off owners of expensive luxury and high-performance cars. Depending on your location, you may have to travel around the country to find enough of these customers to make your business pay.
Drivers who cover a very high mileage (for example sales reps) and/or spend a lot of time in their vehicles (for example driving instructors) might have their car valeted on a fairly regular basis.
Drivers who are less well off are unlikely to spend so much on car care. If they do want their car cleaned regularly they are more likely to do it themselves or use an automatic car wash. Nevertheless, they too may have their vehicle valeted before special occasions such as weddings, or before trying to sell it.
Local businesses that might use your services include:
taxi and minicab firms
car hire companies
franchised motor dealers and used car dealers (although many of these do their own valeting)
driving schools
funeral directors
hotels
Any company that operates a fleet of vehicles may be worth approaching and if you are prepared to undertake valeting of large vehicles, you might be able to get work from coach firms and even haulage companies.
Some car valeting businesses have found that a lucrative source of work can be obtained from offering their services at office blocks which have large car parks or even at football clubs. To get a foot in the door they might offer a free valeting service to the business owner or manager.
Decide which valet services to offer
Most car valeting firms offer customers several basic options. A full valet generally covers the interior and exterior of the vehicle, including the windows, boot, wheels and tyres, with the carpets and seats being cleaned and the paintwork cut back and polished. A more basic mini-valet may be offered at a reduced price - perhaps in this case the interior would be simply vacuumed to save time. Customers might also be offered the option of having just the interior or exterior of the vehicle cleaned - drive-through exterior hand washing services are quite popular with motorists who want a quick but thorough job at a reasonable price
In addition to these standard valeting options you might decide to offer extra services, such as:
steam cleaning engines, underbody and wheel arches
alloy wheel refurbishment
paint restoration
'SMART repairs' to paintwork, windscreen cracks, interior damage and so on
upholstery and interior trim repairs
a complete 'car makeover' refurbishment and detailing service - some used car dealers might use this service to refurbish their new stock before it goes onto the forecourt
specialist premium services like paintwork correction and detailing
vehicle deodorising
a mobile service at customers' home or workplace
collection and delivery of customers' cars
valeting lorries and coaches
cleaning specialist vehicles such as hygienically lined food carrying vans
agricultural valeting
valeting caravans and motorhomes
Businesses with equipment for steam cleaning engines sometimes branch out to offer steam cleaning of driveways, garage floors and patios and so on.
If you've got space at your premises you could install vending machines or even full cafe facilities. Customers who wait while you clean their cars may well be tempted to buy a coffee or a sandwich. You might decide to give free hot drinks to customers who spend more than a certain amount on valeting services. You could also consider sharing the costs of your premises by teaming up with mechanics offering MOTs and servicing. As well as reducing your overheads, this means you can offer your customers a one-stop-shop for valeting and servicing.
The right image
It is important that your business projects the right image. If you have premises you should try to make sure that they look smart and indicate to passing trade the high standard of service available. To help create the right impression your staff should be friendly, polite, helpful and smart too - perhaps you could have overalls printed with the name of the business. If you operate a mobile service, make sure that the vehicle you use is smart, well maintained and kept clean. Have it professionally sign written and it will act as a mobile advertisement for your business.
Promoting your car valeting business
You'll want to make sure that potential customers know about you and the services you offer.
There are a number of things you can do to promote your business, such as:
use external signs to inform and attract passing trade
advertise in your local newspaper and any local directories
have leaflets printed, perhaps including tips on basic car care and maintenance
arrange to put leaflets on the counter of petrol stations and accessory shops
contact local business to let them know the range of valeting services that you offer and your pricing structure
visiting offices with large car parks or a local football club, to offer your services - providing a free valet for the owner or manager could help to open up this market
contact any local motor clubs to offer members a 10% discount
launch your own website, showing all the features that will attract customers to your business
offer discounts and free goods on certain services (for example a free bottle of screen-wash with a full valet) and advertise this
Price your car valeting services
When you come to set your prices, remember that you must be able to cover your costs, overheads and drawings. Be realistic about how many vehicles you can valet in a day - assuming that you get the work - and then make sure that the price you intend to charge is enough to make it a viable business. However, be aware that the car valeting industry is competitive and you may have to price in line with your local competitors unless you are targeting a niche market that they do not cater for.
Car valeting is time-consuming and labour intensive, so make sure when you set your prices that you will be working for a reasonable hourly rate. The same goes for any staff you employ - be sure that you will earn a reasonable margin for the business on top of the wages you pay them.
Most valeting firms set a fixed price for a range of services such as a standard valet, a full valet or an interior valet. Prices generally reflect the size and type of the vehicle, and unusual vehicles may need to be quoted for individually. An extra charge might be made where the vehicle is particularly dirty. Extras such as an engine clean or alloy wheel refurbishment are usually priced separately. If a car is to be collected from and returned to a customer's home or workplace, then a separate charge is often made for this too. The exact amount you decide to charge may depend on the going rate, so check to see what your competitors charge. Your customers will not be prepared to pay much over the odds for a service that they can easily obtain elsewhere. Think about how often you will review your prices.
Decide whether up-selling will be part of your business and pricing strategy. For example, you might decide to offer a very competitively priced 'mini valet', but to try to sell customers additional services such as paintwork polishing or engine steam cleaning. Take care not to irritate customers though by trying too hard to sell them services they don't want.
If you offer extra services, such as small paintwork touch-ups and SMART body repairs (small to medium area repair techniques), it's probably best to assess each job as it comes in and agree a price with the customer beforehand. Experience is necessary to estimate the extent of the work required and set a fair price. Only undertake jobs that you are confident you can complete quickly and effectively.
If you're going to offer premium services like paintwork correction and you think you'll be travelling around the country to customers' homes then you'll need to take into account your travelling costs when working out your prices. A big detailing job on a high-value supercar may take several days, so you'll need to budget for overnight accommodation too.
Special offers and discounts
Decide whether you'll offer any discounts, promotions and special offers.
You may well offer a discount as a matter of course to your trade customers. How much discount will depend on your pricing policy and the level of local competition. You could offer further discounts for valeting fleets of vehicles or to customers who have their vehicle valeted on a regular basis. You might decide to offer special promotions from time to time, and perhaps a loyalty scheme.
Buy an existing car valeting business
You might decide to buy an existing valeting business rather than start your own venture from scratch. Buying a going concern can mean that the products, customers, regular sales, staff, premises and equipment are already in place.
Think carefully about what you are actually getting for your money - would it be cheaper but just as effective simply to start up in your own right? Key things to look at include the number of regular and repeat customers such as taxi fleets, and the reputation of the business.
But buying a business can be a hazardous, expensive process unless you have the right skills and experience on your team, including legal and financial know-how. Establish the genuine trading and financial position, so that the price you pay for the business is not too high.
Franchises
Franchising can be a good 'halfway house' between starting out from scratch and buying an existing business. If you purchase a franchise you'll still be setting up your own business, but you should benefit from the experience, resources and perhaps the name of a business that is already successful.
Although different franchise schemes vary in detail, most feature the following key points:
as a franchise holder, you will remain self-employed but will use the identity (corporate colours, logos, trade name and so on) of the franchisor
in return, you will pay the franchisor a fee - this might be a one-off investment, a monthly charge, or a combination of both
both you and your franchisor will have to fulfil certain obligations and maintain certain minimum standards
Many franchisors will provide you with any specialist training you require, help with advertising and marketing, and advice and support on a range of business and technical matters.
Details of the above points are set out in the franchise agreement or contract, which both you and your franchisor will sign. The agreement will also deal with other matters, for example any territorial exclusivity due to you and the minimum period for which the franchise will run.
Before entering into a franchise agreement, it is advisable to check the terms carefully to be sure that you are getting a good deal. Go through the contract with your solicitor before signing anything. More information about franchising is available on the Franchise Info website. Information is also available from the British Franchise Association (BFA).