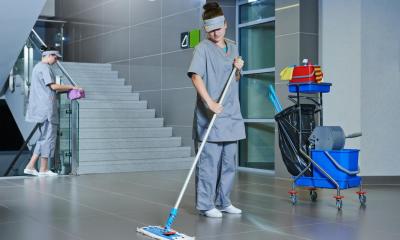 Although demand for contract cleaning services is steadily growing, it's a very competitive sector where rates are kept low. Check out our practical guide for starting and running your own contract cleaning business.
Research the construction cleaning market
Estimating demand
It's very important to find out whether there is enough demand for a contract cleaning business in the area in which you plan to operate. You should be aware that the sector is competitive and, because barriers to entry are quite low, new cleaning businesses start up frequently. Some of these will be run on a franchise basis and will benefit from being set up to a tried and tested formula.
First of all it makes sense to check out the competition in your area to identify how many other contract cleaning businesses are operating locally. A browse on Yell.com will help you to research not only the number of existing firms but also to get an idea of the range of services they offer.
It may be that you will only be competing directly against some of these businesses because you will be targeting a particular segment of the market - food processors and manufacturers, for example - or providing a very specialised service such as graffiti or chewing gum removal.
No matter what range of cleaning services you plan to offer, it's very important that your business is reliable and that your operatives work to a high standard. This can generate word-of-mouth recommendations from satisfied customers that will help you to build up your customer base.
Your customer base
It's also essential to make sure that the area in which you propose to operate has enough potential customers. Ideally you will locate near a large centre of population where there are many offices, factories, retail outlets, commercial organisations and institutions. It's likely to be unrealistic to travel for more than 30 minutes to a customer's premises. Ideally you'll service a number of clients that are located close to one another - for example on a retail or business park. If you plan to offer domestic cleaning services you will need to be reasonably near major residential areas.
You could consider approaching some potential customers such as local offices to see if they are interested in the cleaning services you propose to offer. Don't forget, if they currently use a contract cleaner - as is likely - you'll probably have to offer something special to persuade them to change.
Be wary about trying to compete only on price. Although you will have to be competitive, if your prices are too low you will not be able to recruit or retain willing and able employees nor to replace your machinery when it starts to break down. Try to emphasise the high quality, reliability and flexibility of the services you can provide.
Find out what customers want
Talk to your potential customers to find out what they would like. For example, it could be that they would like the cleaning to be undertaken overnight rather than during the late afternoon. This would give your firm a chance to offer a personalised service, if you feel that you can find staff willing to work on this basis.
Research current trends, plus legal and tax issues
Establish your customer profiles
Your market
Your customers will depend to a certain extent on the range of cleaning and other services you propose to provide and whether or not you will target either a specific sector (for example retail outlets) or a particular type of work (such as carpet and upholstery cleaning). However, your customers might include some of the following:
businesses such as office premises, factories, workshops and retail outlets
hotels, nursing homes, restaurants, pubs, fast food and take-away outlets
clinics, surgeries (both vets and medical practices), hospitals
schools, day nurseries, colleges
local authority offices and other public sector buildings
sporting venues, clubs, leisure outlets
banks, building societies
domestic householders
landlords
proprietors of self-catering holiday accommodation
other, larger contract cleaning firms for which you do work on a sub-contract basis
Terms of business
Your business and commercial customers are likely to pay you by cheque, standing order or, if they are larger concerns, by electronic payment. If you undertake window cleaning jobs for retail outlets, these may pay you in cash. Domestic customers may be billed weekly or monthly and these may pay by cheque or in cash.
It is normal to enter into a formal agreement with your commercial customers - contracts generally run for 12 months but a three year contract would not be unusual. Ideally you'll draw up contracts so that you can increase your charges if your costs - such as fuel and wages - go up significantly. Commercial customers may only be prepared to contract with firms which have gained IS0 9000 accreditation.
Agreements with domestic customers are more informal and you might decide there is no need to have a formal contract in place.
Decide which contract cleaning services to offer
As well as the range of cleaning services you propose to provide you might consider offering additional services to your clients, many of which might prefer just one firm to handle all their requirements. For example, you might offer to provide:
janitorial supplies such as toilet paper and toilet cleaners, soap, paper towels, dustbin bags and so on
caretaking services such as opening up and locking the customer's premises every day, supervising builders, electricians, plumbers and so on
maintenance services such as minor repairs, light bulb replacement, lawn mowing and weed removal
waste disposal, including sanitary waste, paper, cardboard, plastic and glass recycling
preparation for, and cleaning up after meetings and conferences
If you have the resources to offer a wide range of services it makes sense to find out as much as possible about your major customers' operations. You could then offer to take over responsibility for various matters, leaving them free to concentrate on their core activities.
The right image
Whichever services you plan to provide it is important that your firm projects a professional image. Make sure all your employees are well trained, smartly turned out (in overalls bearing your company logo) and that they are aware of your clients' requirements. This is particularly important if your operatives work during the day and are likely to be seen by your client's customers.
Make sure also that you always use the right cleaning products for the job (so that surfaces are not damaged). Discuss with your clients whether they would prefer you to use chemical-free or low chemical products. Make sure that you invest in new machinery wherever possible. Not only will this improve your professional image but also it will help productivity. Old machines break down more frequently so that jobs take longer, increasing the amount you have to pay in wages.
You might consider gaining a quality management accreditation such as ISO 9000 - this can help you win contracts and may even be required by some commercial customers.
Types of contract cleaning of work
As a first step, give some thought to the range of services you propose to offer. Some cleaning jobs may need specialist expertise to undertake successfully to the required standard, so either you or your staff may need some training. Providing a high quality service is very important and cleaning standards can be measured against the model provided by British Standard EN 13549: Cleaning Services: Basic requirements and recommendations for quality measuring systems. The British Institute of Cleaning Science (BICSc) has developed several standards for the cleaning industry. You can find out more about industry standards on the BICSc website.
There are several different types of work that you might consider doing, for example:
general office cleaning including disposing of office rubbish and paper/plastics etc recycling
window cleaning
domestic households
builders' (or initial) cleans - this means going in to clean up when the builders have moved out
one-off 'deep cleans'
carpet and upholstery cleaning
specialist cleaning such as telephones, ceilings, marble floors, stains, graffiti, chewing gum removal and so on
wheeled bin cleaning
fire and flood cleanups (often called disaster recovery)
seasonal cleaning and maintenance - for example of holiday lets
trauma and crime scene cleanups
cleaning for specific sectors such as the food industry, hospitals, schools and so on
You may also decide to offer to supply your customers with janitorial products such as toilet paper, soap, paper towels and so on.
Working hours
Many cleaning contracts specify that the work is done outside the normal working day so as not to disrupt office, factory or similar procedures. This means that you and your staff are likely to work morning and late afternoon shifts of between two and three hours. However, 'day cleaning' (cleaning while your customer is on the premises during the normal working day) is becoming more popular as it makes cleaning cheaper and more convenient for the customer. And of course some businesses, such as hotels, are always open so cleaning will be done at the most convenient time during the day. Remember that your staff will need to be discreet and any machines you use should be small and quiet.
Some customers might require you to work at weekends, on Bank Holidays or overnight. Customers such as factories might want you to do the work during the annual factory shutdown. Domestic customers are generally keen for the work to be done during the daytime, particularly if they are out at work.
Many customers now want one-off cleaning tasks done at very short notice, as well as their scheduled cleans. This means having enough employees to be able to respond quickly when a customer makes this kind of request.
This all means that you will need to consider carefully your staffing levels - you may need more staff at certain times of the day or on certain days of the week. How will you provide cover if staff call in sick - customers expect a regular, reliable service at all times. If you arrange transport for your staff to and from work you may need to think about employing a full-time driver to help cope with many different locations at different times of the day or night.
Quoting for the job
Give some thought to how you will work out the rate for each job. In order to provide a realistic quotation there are a number of stages to work through:
Visiting the customer's premises
Based on the size of the premises you will make an estimate of the time needed to clean the building to the required standard. Some buildings (for example hospitals, food processing factories) will need to be cleaned to a much higher standard than others.
Frequency of cleaning
Establish how frequently the customer wants the cleaning done - for example, daily or weekly or a mix (toilets and reception areas might be cleaned at least once daily, individual office rooms weekly). Sometimes a customer won't specify exactly how often an area should be cleaned - they'll just say that it should be kept at a certain standard of cleanliness. It will be up to you to decide how frequently you'll need to clean to make sure you meet this requirement. As part of this you'll need to check with your customer when the cleaning can be done.
Calculate the number of operatives needed
Once you know how many hours the work will take each week, and how long you've got to do it in, you can work out how many operatives you will need. Don't forget to include time for operatives to put on their work wear, get machines and materials ready and so on.
Calculate your wages costs
Once you know how many operatives you need and the hours they will work you can calculate your wages costs for the job. Don't forget to include employer's National Insurance contributions, any pension contributions and an amount towards holiday pay. Make sure you are aware of the current legal minimum wage rates.
Other costs
Although your labour costs will be your single biggest cost, the rate you quote to your customer must also cover:
the cost of cleaning materials and consumables
the cost of the machines used on the contract. It is usual for appliances (such as vacuum cleaners) and cleaning equipment to be purchased and left at each job. The cost of the items is normally spread over the length of the contract, usually 12 months
motoring expenses if you use a vehicle for business purposes - for example, transporting staff, equipment and janitorial supplies to and from jobs
a contribution towards overheads
a profit element
It's generally the case that the profit is bigger on smaller jobs than on large ones. As a very broad rule of thumb your total wages costs might amount to around 50% of the rate you quote for small jobs and to between 70% and 80% of the rate for large customers.
Don't forget to add in the cost of tasks that only need to be done periodically, for example stripping and re-waxing floors. You might need to hire specialist machinery for this type of job.
If you provide janitorial items such as toilet rolls, paper towels, bin liners and so on it's likely that you'll price these separately and add a mark-up to what you pay for them.
Buy an existing contract cleaning business
You might decide to buy an existing farm supply business rather than start your own venture from scratch. Buying a going concern can mean that the products, customers, regular sales, staff, premises and equipment are already in place.
But buying a business can be a hazardous, expensive process unless you have the right skills and experience on your team, including legal and financial know-how. Establish the genuine trading and financial position, so that the price you pay for the business is not too high.
Franchises
Franchising can be a good 'halfway house' between starting out from scratch and buying an existing business. If you purchase a franchise you'll still be setting up your own business, but you should benefit from the experience, resources and perhaps the name of a business that is already successful.
Although different franchise schemes vary in detail, most feature the following key points:
as a franchise holder, you will remain self-employed but will use the identity (corporate colours, logos, trade name and so on) of the franchisor
in return, you will pay the franchisor a fee - this might be a one-off investment, a monthly charge, or a combination of both
both you and your franchisor will have to fulfil certain obligations and maintain certain minimum standards
Many franchisors will provide you with any specialist training you require, help with advertising and marketing, and advice and support on a range of business and technical matters.
Details of the above points are set out in the franchise agreement or contract, which both you and your franchisor will sign. The agreement will also deal with other matters, for example any territorial exclusivity due to you and the minimum period for which the franchise will run.
Before entering into a franchise agreement, it is advisable to check the terms carefully to be sure that you are getting a good deal. Go through the contract with your solicitor before signing anything. More information about franchising is available on the Franchise Info website. Information is also available from the British Franchise Association (BFA).