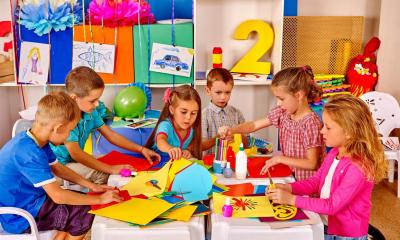 Demand for day nurseries is steadily growing, boosted by more people working and by tax breaks to make childcare more affordable. Read our in-depth practical guide to starting up and running your own day nursery.
Research your target market
Estimating demand
It's important to find out whether there is enough demand for a day nursery in your area. Be aware that over the last few years some nurseries suffered from a fall in demand because of the economic downturn as working parents turned to family and friends for childcare to save money. Although the economy has now picked up, the childcare sector is still very competitive. Recent research shows that there has been an increase in demand for:
part-time places
funded places (the free early years entitlement for two, three and four year olds)
childcare provided by family and friends
This means that it has become harder for day nurseries to make a profit, especially as they need to keep their fees competitive while lots of business costs - like wages - have gone up.
You will face competition from:
other day nurseries
childminders
playgroups, crèches and out-of-school clubs
local authority nurseries and day care centres
primary schools offering nursery education to two, three and four year olds
primary schools offering after-school care
nannies
subsidised workplace nurseries
It's a good idea to check out the competition in your area to identify how many other day nurseries and other childcare providers are already operating. Some of these will be listed on Yell.com and in other business directories. You can also contact your local Family Information Service to find out more about existing childcare services in your area. The Family and Childcare Trust website includes a tool to help you find your local Family Information Service.
Have a look at existing day care providers to see:
what are their opening hours - are they open for 52 weeks in the year?
the age groups they cater for
the services and activities they provide
the facilities they offer - for example an outdoor play area
the fees they charge
the type of meals and snacks they offer - have they signed up to the Soil Association's Food for Life Catering Mark?
whether they offer both full and part-time places
if they are flexible over dropping off and collection times if parents need it
do they offer local authority funded places for two, three and four year olds
do they offer a pick up service for children in their care who attend nursery school
Look closely at the type of people who live and work in the area where you propose to open your nursery. Are there plenty of young families? If there are, do both parents work? There might be many single parent families that would welcome an opportunity to work if they could find affordable childcare.
Are there lots of businesses in your proposed area? Working people might find it more convenient to use a day nursery close to their workplace.
Why will parents choose your day nursery
It's important to make sure that enough people will use your day nursery rather than other day care providers. Your market research might indicate that there is a gap in the market that your nursery could fill - for example, providing childcare during 'unsocial' hours for parents with irregular working patterns. You could contact your local authority (early years and childcare service) to find out if there's any funding available to create new childcare places - for example, for a particular age group or at a certain time of day.
Find out what parents want
Try to talk to as many parents as possible to find out:
what they would like a day nursery to provide - discuss opening hours, flexibility and activities
if there are any gaps in the existing childcare available that you could fill - like after school clubs
whether they are satisfied with current childcare options in the area - if not, what specifically are they unhappy with
what they consider would be a reasonable fee to charge
Research current trends, plus legal and tax issues
Establish your customer profile
Your market
Most of your customers are likely to be local parents who work either part-time or full time. They may want you to look after their children all day, for part of the day (either mornings or afternoons) or at each end of the day (out-of-school care for older children). Be aware that in some disadvantaged areas parents are opting to just book the free early years entitlement because they cannot afford the full cost of a place.
Some colleges might buy places for students' children and you might also provide places to local employers for their employees. You might decide to register with your local authority to provide free early years education places.
Payment methods
Your customers may pay you:
in cash
by cheque, debit or credit card
by standing order or direct debit
by electronic payment - for example Tax-Free Childcare payments are made to a nursery's bank account by BACS transfer
using childcare vouchers
Special offers and discounts
Think about whether you will offer a refund to parents whose children are absent, for example on holiday, or sick. Many nurseries don't offer a refund because they are unable to fill the place at short notice, especially for a short time. Some nurseries allow parents to sell unwanted sessions to other parents.
You might decide to offer a discount to families that send more than one child to the nursery. A good way to persuade people to pay fees in advance is to offer them a discount for paying, for example, two months fees in advance rather than one.
Decide what services to offer
Day care places
Day nurseries generally offer around 45 places and accept children up to the age of five. Some also offer places for older children, before or after school (known as 'wraparound care') or during the school holidays.
You will need to decide on which age groups you will offer places to, and how many places in each age group you will have. This will affect the number of staff you take on, because younger children need more staff looking after them than older ones. You might decide to accept:
babies, from three months to eighteen months
toddlers, between eighteen months and three years old
pre-school children, from three to five years old
school age children, from five to eight (or 12) years old (out of school and in the holidays)
Each age group will need its own special area and equipment. It's also important to provide activities that are suitable to each age group.
Generally children are dropped off from 8 am by their parents on the way to work, and then collected before 6 pm in the evening. Some nurseries open longer, for example from 7 am to 7.30 pm, to cater for parents that have different work patterns. Although most nurseries traditionally have been open only on weekdays, in some areas there has been strong demand for childcare on Saturdays and settings have extended their opening hours to take advantage of this. Nurseries are usually open all year round, except for bank holidays.
Funded free nursery places
If you intend to offer nursery places to two, three and four year olds under the government's funded free places scheme you will need to register with your local authority and be entered in their directory. The quality of the early years education you provide will be inspected to make sure it is up to the required standard.
Drop off and pick up service
Nurseries are often prepared to offer a drop off and pick up service to local primary schools so that children in their care can take advantage of free early years places or be looked after outside school hours. Usually an extra charge is made for this.
Sessional care
As well as providing full day care, you might also offer sessional care. Sessional care is usually defined as lasting for less than four continuous hours in any day for no more than five sessions a week.
Meals provided
Depending on how early you open in the morning, you might or might not provide children with breakfast - perhaps parents could request this as an extra if they need to drop their child off especially early. Usually day nurseries provide food and drink during the day on an all-inclusive basis. You might offer:
a mid morning drink and snack
two course lunch (usually a hot meal)
mid afternoon snack and drink
light tea
Some nurseries always have fruit and fruit juice or milk available throughout the day in case children are hungry or thirsty between meals. The meals and snacks are tailored to the children's ages and also any special dietary requirements are taken into account. Some nurseries try to always use organic or locally produced ingredients in the meals they offer and this can be a good thing to highlight in any marketing material. Many have signed up to the Soil Association's Food for Life Catering Mark scheme - this indicates to parents that the nursery provides good quality meals, using fresh, additive-free ingredients.
Play activities
Nurseries must provide activities and play opportunities to stimulate and develop the emotional, physical, social and intellectual capabilities of the children they look after. You will need to provide equipment and toys that are appropriate to each age group, like:
games, books, jigsaws and puzzles
sand and water play facilities
dressing up materials
materials for drawing, painting and other craft activities
construction building
outdoor play
Many nurseries help pre-school children with basic arithmetic, reading, writing and computer usage. Some also keep pets such as hamsters, gerbils or guinea pigs.
You might decide to also put in place a programme of off-site visits, for example to local zoos or animal centres, or to provide another activity, such as swimming. Don't forget to check that your insurance cover includes this type of activity and to carry out a risk assessment in each case.
Or you might arrange for specialist teachers to come in - for example to give lessons in music, painting or cooking.
Advertising your day nursery
It's very important to make sure that potential customers know about you and the services your day nursery offers. The best form of advertising is word-of-mouth recommendation by satisfied parents, but there are also a number of things you could do to promote your business:
launch your own website, including photos of your nursery and details of activities, facilities, menus, fees and so on
include your nursery in the daynurseries.co.uk online database which allows parents to search for a daycare setting by postcode
try to get coverage in your local newspaper, radio or TV
advertise in local directories
have leaflets printed, that you distribute to local workplaces
establish close links with anyone in the community concerned with children's welfare or activities
sponsor local charitable events
have regular 'open days'
offer free 'taster' sessions
make sure your premises are very visible - and display a brightly painted sign, children's artwork in the windows and other similar eye catching material
use social media like Facebook or Twitter to let people know about special offers, promotions, events and so on
Once you have been up and running for a while, achieving an outstanding inspection report will help to establish a good reputation for your day nursery.
Registering
Nurseries offering full day care must be registered with one of the following, depending on where in the UK they are located:
the Office for Standards in Education (Ofsted) in England. Ofsted operates two registers for childcare providers. You must register on the Early Years Register if you care for children until they are five years old. If you also look after children up to the age of eight you must register on the compulsory part of the Childcare Register
the Care and Social Services Inspectorate Wales (CSSIW)
the Care Inspectorate (Scotland)
the Early Years Team of local Health & Social Care Trusts in Northern Ireland (visit the NI Direct website for details)
The registration process looks at the day care provider's ability to provide a satisfactory standard of care for young children (for example, under eight year olds) and the suitability of the premises where the day care will be offered. You will have to demonstrate to the regulator that you and any other person looking after, or coming into contact with the children are suitable and appropriately trained, and that you will meet national standards for caring for children and comply with the appropriate legislation. Your regulator may impose certain conditions on your registration, like restricting the number of children you can take in a certain age group.
Once you are registered, you must display your registration certificate and let your regulator know about any changes to the premises, facilities, provision of care and staff.
After your registration, you will be visited by an inspector to make sure that you still comply with all the requirements. For Ofsted-registered day care providers this is at least once every three to four years. Elsewhere in the UK inspections are made annually. You won't normally get much advance warning of your inspection. The Inspection Reports are published by the regulator. You can find out more on each regulator's website.
At the end of 2013 Ofsted announced that nurseries must achieve an inspection rating of good or outstanding - otherwise they would be given a 'requires improvement' rating and re-inspected within a year. If they don't improve to an acceptable level within two years they might have their registration cancelled.
National standards
Day care providers must comply with certain regulations and must also meet national standards covering the development and care of children. These standards are a set of 'outcomes', such as 'a safe environment'. Providers achieve the outcomes in different ways, depending on the particular circumstances of their business. Ofsted (and similar bodies in Scotland, Wales and Northern Ireland) expect day care providers to demonstrate how they achieve each of the standards - both when they initially apply for registration and when they are inspected once they are up and running. The standards for daycare providers in England cover:
the welfare of the children being cared for - for example at least two 'suitable persons' over the age of 18 must be on the premises at all times
the procedures to be put in place to safeguard children and make sure no one who is unsuitable has access to them
the suitability of the people caring for the children - for example they must have obtained an enhanced Disclosure and Barring Service (DBS) check
staff qualifications and training
the suitability and safety of the daycare setting and equipment
the way the childcare provision is organised
a complaints procedure
the records that must be kept
the information that must be given to parents and to Ofsted
how changes to premises, provision and people should be reported to Ofsted
matters affecting the children's welfare
insurance requirements
the requirement to display the certificate of registration
You can download the Early years and childcare registration handbook from the Ofsted section of the Gov.uk website.
Details of the legal requirements and standards that day care providers in Northern Ireland must comply with can be downloaded from the Childcare Partnerships website.
The Care Inspectorate website includes details of the new Health and Social Care Standards. You can find National Minimum Standards for Regulated Child Care in Wales on the CSSIW website.
Staffing ratios
You will need to take on enough staff to make sure you comply with the required staffing ratios specified for each age group. In England at the moment these are:
one adult for every three children under two years old
one adult for every four children for two year olds
one adult for every eight children for children aged three and over (this goes up to one adult for every 13 children if a member of staff with a suitable level 6 qualification is working directly with children)
The above ratios apply to full day care providers, sessional day care providers, crèches and out of school care providers (for which only the third ratio is applicable). Required staffing ratios are the same or very similar in Scotland, Wales and Northern Ireland. Bear in mind that there are also legal requirements relating to the childcare qualifications that staff must obtain.
You can take regular volunteers into account when working out your staffing ratios, but not any students on short term placements. Staff and volunteers must be aged 17 or over to be included in the staffing ratios although you can count apprentices in early education aged 16 if you are sure they are competent and responsible.
You must have a contingency plan to cover occasions when staff are away unexpectedly and also to provide cover when staff are away on holiday, off sick or on staff breaks during the day.
The staffing ratios are set out in the Statutory Framework for the Early Years Foundation Stage which you can download from the Gov.uk website.
Accepting childcare vouchers
Some employers give their employees vouchers towards the cost of childcare. A number of companies, like Sodexo, Computershare or Edenred, operate childcare voucher schemes which day care providers can participate in.
Once you've signed up to accept the vouchers, parents can use them like cash to pay for the childcare services you offer. Paper vouchers can be reimbursed by sending them to the voucher company or by telephoning or emailing the company with the voucher numbers. The company sends the reimbursement direct to your bank account by electronic payment shortly afterwards (or, if you prefer, they send you a cheque in the post).
If parents use an 'e-voucher' to pay, the process is even quicker - the parent accesses their online childcare voucher account and arranges for payment to be made directly to your bank account (once again, if you prefer they'll send you a cheque in the post).
You can download Paying for childcare from the HM Revenue & Customs (HMRC) section of the Gov.uk website. This gives guidance on the different types of childcare support that employers may offer working parents. From early 2017 a new scheme - Tax-Free Childcare - replaces the childcare voucher scheme for new parents but parents already signed up to a voucher scheme can choose to continue with it if they want to. The employer-supported childcare voucher scheme closes to new members in October 2018.
Funded nursery places
Local authorities are responsible for providing free nursery sessions for all three and four year olds in England who are not in a maintained nursery school or class. Currently, the scheme provides for 15 hours a week for 38 weeks of the year for all three and four year olds. This doubles to 30 free hours per week for eligible working parents. Free early years education and childcare places are currently being rolled out to two-year olds from disadvantaged backgrounds.
Registered childcare providers like day nurseries and crèches can become approved providers of funded free nursery places. If you want your nursery to participate in the scheme, you will need to follow the Early Years Foundation Stage (EYFS). This applies to childcare providers in England - similar requirements apply in other parts of the UK. As an approved nursery education provider you will be listed by your local authority Family Information Service (FIS), who will pass on your details to people enquiring about childcare availability.
As an approved provider, you apply to your local authority early years and childcare service for funding on behalf of each eligible child's parents. Each term you will receive payment for the funded children in your care. Bear in mind that the grant may be less than you would normally charge for the sessions. Local authorities reimburse childcare providers using the Early Years National Funding Formula (EYNFF). Nurseries can increase the amount they receive by offering high quality care on a flexible basis.
You can find out more about the EYFS and the EYNFF on the Gov.uk website.
How payment works
The procedures and timing of payments varies across the country, but typically are as set out below. Contact your local authority for details of payment procedures in your area.
For your first term in the scheme, you will be asked to complete a headcount form to let your local authority know how many children at your nursery are eligible for the grant. Several weeks into the scheme, once they have made checks to confirm the headcount, you will receive payment to cover all eligible children for the whole of that first term.
Once you get started in the scheme, you will receive two payments a term. You'll get the first payment at the start of each term - this will be worked out based on last term's headcount. You'll get the second, balancing payment later on in the term once you've completed a headcount form and this has been checked. Any overpayments have to be reimbursed to the local authority at the end of the financial year.
You will generally receive these payments by bank transfer (BACS).
Each year your local authority will publish information about term dates, headcount dates and payment schedules.
More information
You can find out more about participating in the funded free places scheme from your local authority early years and childcare service. Details of funded pre-school places in Northern Ireland, Scotland and Wales are available from:
the Education Authority (Northern Ireland)
the Scottish Government
the Welsh Government
Occupancy levels
Although you may offer, say, 40 full day care places in your nursery, in practice you will not be 100% full all the time - your occupancy rate is likely to be well below this most of the time. This might be for a number of reasons, such as:
there is a lot of competition locally from childminders, local authority children's centres and other day care providers
subsidised nursery education places in primary schools means that although your 'baby room' is full, you have vacancies for three and four year olds
your fees are higher than some parents can afford
many of your places are taken on a part-time basis so that the remaining available 'slots' aren't very convenient for parents
If you have spare capacity and the terms of your registration with your regulator permit it, you could consider offering different types of care to different age groups - for example, 'wraparound care' before and after school for older children.
When you prepare your cash flow projections, base your estimates of income on a realistic occupancy level, but remember that your fees will need to be affordable too. The National Day Nurseries Association (NDNA) considers that occupancy rates of around 90% would allow a nursery to charge realistic fees, cover overheads and make any necessary improvements. However, the NDNA's own research shows that very many day care providers do not succeed in raising occupancy levels to even 80% - and during the recent economic downturn some nurseries struggled to reach 70% occupancy.
Pricing policy
How will you decide on the fees to charge?
Getting the fees right is very important. Because you will have to comply with strict staffing ratios, your employee costs will be high and it's vital to make sure that what you charge covers these costs as well as all your overheads, other operating costs and your own drawings. On the other hand, many parents cannot afford high childcare fees out of their wages, so you'll have to make sure that your fees are broadly in line with other day care providers. You can find out more about average fees charged in different parts of the country on the Family and Childcare Trust website.
Bear in mind that if you are registered with your local authority to provide funded nursery places for two, three and four year olds your local authority may not reimburse you for the full cost of providing the sessions. In fact National Day Nurseries Association (NDNA) research in 2017 showed that the majority of nurseries were making a loss on funded places for two, three and four year olds. The average hourly loss in England for three and four year olds was £1.68, £1.70 in Scotland and £2.52 in Wales. This means that you would have to charge more for your paid places so that you have enough income to cover all your costs.
You might charge for your day care services in a number of different ways:
full time per week or calendar month
a certain number of days a week per calendar month
a certain number of sessions per week per calendar month (for example mornings between 8 am and 1 pm or afternoons between 1 pm and 6 pm)
Generally the full time charge includes all meals and refreshments, while a morning session includes lunch and an afternoon session includes tea. Some nurseries are very flexible and let parents pay for an extra hour before or after a normal session. Much will depend on your resources and whether you will have enough staff available at all times.
Extras
If you offer parents a drop off and pick up service to and from local primary schools it's usual to make an extra charge for this to cover your costs.
Deposits
Some day nurseries have a waiting list for places and ask parents for a deposit to enter their child's name on the list. Think about whether you will refund this or not when the child eventually takes up the place.
Buy an existing business
You might decide to buy an existing day nursery rather than start your own venture from scratch. Buying a going concern can mean that the products, customers, staff, premises and equipment are already in place.
Find out how it performed in its last inspection - you can obtain details of inspection reports from the regulator for your country - the Care Inspectorate in Scotland, the CSSIW (Wales), Health and Social Care Trusts (Northern Ireland) or Ofsted (England). You may be able to see these online on your regulator's website. A day nursery's reputation depends heavily on its recent inspection performance. Don't forget that all day-care providers must register with the appropriate regulator.
Other matters to consider include:
how many places is the nursery registered for? What age range does it cater for and what is the average occupancy rate
how many free funded early years places does it offer - nurseries struggle to make a profit where local authority funding for these places is low
But buying a business can be a hazardous, expensive process unless you have the right skills and experience on your team, including legal and financial know-how. Establish the genuine trading and financial position, so that the price you pay for the business is not too high.