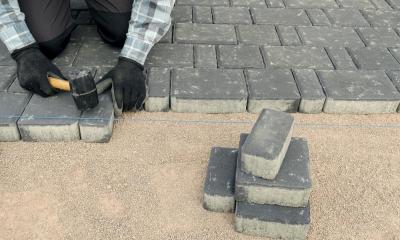 Specialist driveway and patio firms offer a range of services including laying paving and other exterior surfaces, cleaning, repairs and maintenance. Our practical guide will help you start up and run your own driveways and patio business.
Research your target market
When you plan your driveway and paving business it's important to make an estimate of how much demand there will be. It's also important to find out as much as possible about the competition. Doing some market research will help you with this.
Customers
It's important to think about how many people are likely to use your services.
Domestic work
Pay attention to the type of housing in your area. For example, are houses large and expensive with reasonably-sized front gardens, or small and low cost? Are they old or new? Do they appear well kept or run down? Is accommodation mainly owner-occupied or mainly rented? Is some owned by the local authority or by a housing association? Look at front gardens and driveways - is there potential for improvement? Are there many buildings with special requirements, for example listed buildings and those sited within a Conservation Area? If so, find out details about local planning requirements.
Try to match the range of products and services that you offer to the needs and wants of local customers. Think about whether or not you are prepared to travel to other areas to do work.
Work for other businesses and organisations
Think about other places in your area where paving services might be required. Pubs, schools, churches, shops and offices with car parks, caravan sites, theme parks and so on may all require paving services at some point and are all potential clients. You could also consider approaching the National Landlords Association to see if you can become a recognised local supplier..
Once you have identified who your potential customers are, you can direct your advertising efforts at them.
Contract and sub-contract work
Try approaching other businesses that may need your services regularly. You could, for example, leave your details with local building contractors, property developers and landscape designers. Other large paving firms might also require sub-contractors on a regular basis. Consider approaching your local authority - these are normally major users of paving services and may be prepared to include your business on a list of 'approved contractors'. Housing associations may also be potential clients.
Large organisations who invite firms to tender for contract work may be reluctant to use a newly established business. Also, a young business may have difficulty in funding a large contract, as many things may have to be paid for well before any payment is received. But it may be worth finding out who is responsible for putting work out to tender in large organisations such as housing associations, local authorities and big construction firms. Try to find out how the tender process works and what you would have to do if you wanted to tender for a contract.
Establishing the level of competition
Once you have decided who your customers might be, you need to find out how well they are already served.
How many other driveway, patio and paving specialists are there in your area? A look on Yell.com (try classifications 'paving services', 'landscapers', 'asphalt and macadam laying' and perhaps 'garden services') and other similar directories will help to establish this. Look out for branches of large, well known, regional companies. Bear in mind that other types of business, for example general builders and landscapers, might also do paving work.
Look at some of your competitors' advertisements and websites:
what products and services do they offer
do they use any particular products (for example a well known brand of block or clay paviour)
do they offer any specialist products and services, for example tennis court surfacing or pattern imprinted concrete
are they listed as an 'approved contractor' by a particular block or paving slab manufacturer
do they advertise any special features, for example 'no pushy sales-people', an insurance-backed guarantee, a freephone telephone number, '25 years experience' and so on
do they belong to any trade associations, for example the Guild of Master Craftsmen or Interlay, the Association of Paving Contractors
what sort of impression does their advertisement give you (for example, does the firm come across as small and friendly, large and efficient, good value, traditional, upmarket)
Remember that, unfortunately, you may also face competition from 'cowboys' and 'moonlighters' who do some paving and patio work for cash but don't advertise anywhere. These often quote very low prices but fail to match the quality of professional firms. Many have no insurance and some are blatantly dishonest.
Research current trends, plus legal and tax issues
Decide which services to offer
There is quite a wide range of paving and exterior surfacing services that you might decide to offer. For example, you might undertake some or all of the following activities:
laying blocks, flags, slabs, cobbles and paviours of various different shapes, sizes, colours and materials - this might include machine laying for large areas
laying macadam (asphalt), concrete, gravel and other external surfaces
laying systems such as pattern imprinted concrete, colour hardened concrete, resin-bound aggregates and so on
installing timber decking
cleaning, repairing and maintaining existing exterior paving and other surfaces. This might include replacing broken slabs, applying sealers and cleaning off unsightly deposits like moss and algae
You might be asked to lay the above surfaces in various different locations, for example driveways, patios, forecourts, paths, pool surrounds, car parks, pavements, roadways and so on. You might also decide to offer some specialist surfacing services, for example tennis court laying.
Some of the work that you do may be for new-build projects such as new housing or a new supermarket, while other work will be general renovation and home improvement. You might also decide to sell some materials on a supply-only basis to DIYers.
Products
There are many different types of exterior surface that you could offer, giving your customers a choice of colour, pattern, durability, permeability, cost and so on. Certain products require specialist skills if they are to be laid correctly. Some manufacturers may offer training and advice to you and your employees and it may be possible to become listed as an 'approved supplier' of certain paving products.
Much publicised flooding episodes around the UK have raised awareness of the importance of 'sustainable drainage systems', which allow surface water to permeate the ground slowly rather than running straight off. Special permeable paving products are available and may be specified by environmentally conscious customers and those who need to meet special building regulations requirements.
Other services
Depending on your skills and equipment, there are other services that you might decide to offer to your clients. Some examples include:
general landscaping work, including hard landscaping (garden walls, concrete and stone features and so on) and soft landscaping (laying out the terrain and planting)
groundworks, including foundations and floor-pans
specialist flooring, for example mosaic and terrazzo
floor screeding and other poured concrete applications
fencing and external carpentry
general building work
'Added-value' services
The paving and driveway industry is very competitive and you may decide to offer your customers a range of attractive 'added value' services. These might include, for example:
free surveys, estimates and quotations
insurance-backed guarantees on all new work
membership of recognised trade associations
a freephone telephone line
a 'no job too small' or 'distance no object' promise
A complete package
Many of your customers will be householders who will want you to provide a complete package of services from start to finish. This will probably include:
giving advice and estimating costs
designing the project
preparing the site and removing any old surface material plus any excavated spoil
laying the surface itself plus any kerbing, edging and substrates such as concrete or a membrane required
clearing up when the job is finished and making good any disturbance to the surrounding area caused by the work
Consider your work rate
As part of your business planning, give some thought to the hours you expect to work and the amount of work that you can realistically hope to get done in a typical working day.
Working hours
Assuming that you get a fairly steady stream of work, the amount that you can earn depends partly on the number of days you work and the length of your working day.
You may decide to stick to normal business hours, for example 8.30 am until 5.30 pm Monday to Friday and perhaps Saturdays too. Or you may decide to work longer hours - perhaps an earlier start. Remember that bad weather can disrupt your work schedules. Perhaps you are prepared to work very long hours when the weather is fair and your services are in demand, taking some time off during quieter periods. Bear in mind though that many of the tools you will use, such as disk cutters and concrete breakers, are very noisy and you risk causing a disturbance if you start using these very early in the morning or carry on late into the evening.
Work rate
You should have a good idea of how long certain types of job will take you. It is very important when quoting for a job that you can make an accurate estimate of how long it will take. It's no good basing your quote on two days work if it ends up taking you four!
The speed at which you work depends on your own skills and experience and on the type and standard of the work that you do. Your charges should reflect all of these things.
Non-productive time
Unfortunately, not all of every working day will be spent earning money. Here are a few examples of reasons why you may sometimes find yourself working hard but earning nothing:
visiting sites to do surveys, cost new work and give quotes (if you make no charge for these services)
doing your own direct selling
finishing off jobs that take you longer than you had thought (possibly due to unforeseen problems)
re-doing faulty work
travelling to and from jobs, or to get tools or materials from a supplier
repairing tools or vehicles
Sometimes you may find that you are unable to work at all, because:
the weather is too bad to work outside
you are waiting for items to be delivered
a vital tool or piece of equipment is broken
another contractor has fallen behind with his or her part of a building or landscaping project
you are ill
Take all of these factors into account when you are estimating the maximum number of productive hours that you can work each month. Be realistic! Remember that they can apply to your employees as well as to you. When you plan your working schedules, try to minimise the amount of time that will be wasted. For example, you may be able to build a contingency into your work schedule so that you can move straight on to another job if for any reason you are unable to work at the original one.
Price your services
How will you decide on your prices?
First decide how you will charge for the work you do. For example, you might charge for laying paving and other hard landscaping services, such as macadam and concrete laying, on an hourly or daily basis, adding to this the cost of any materials you supply. Alternatively, you might decide to charge a certain amount per square metre of coverage, varying the charge according to the type of paving or other surface covering used. Your square metre charge might also vary depending on whether you're excavating the site and removing the spoil, or just providing a 'cover only' service.
Clients that are other businesses might expect you to offer them a special trade rate. Large organisations that invite firms such as yours to tender for contract work will also expect your rates to be very competitive.
You may decide to use different methods of costing for different jobs, depending on who the customer is and what type of work you will be doing.
It is very important that you set your charges carefully. You must make sure when deciding on what to charge that, assuming you get enough work, you will earn enough to cover all of your operating costs including your own drawings.
Also consider the following points when setting your charges:
what do your competitors charge for similar products and services
do you aim to win business away from your competitors with attractive pricing
will you vary your rate depending on the type and complexity of the work involved and on the size of the job
will you make a profit on blocks, paving slabs and other items that you supply or will you pass these on 'at cost'? If you decide to add a mark-up, decide how much this will be
what will you include in your prices, and what will you charge for as an extra? For example, will your quotations include the cost of skip hire where needed? Make it clear to the customer what your prices do and do not include
You will often be asked to give a quote or an estimate for a particular job. Be clear about which you are giving:
if you give a quote for a job, that's a fixed price. Once it's been accepted by the customer the price can't be changed, even if there is a lot more work to do than you realised when you prepared the quote. Your quotes should therefore give precise detail of what is covered and make it quite clear that any variations or extras not covered by the quote will be charged for as extras
an estimate is not a fixed price, it is just your best guess of what the job is likely to cost. You are not bound by it. It is perfectly acceptable to provide several estimates, each taking into account different circumstances from best to worst case scenario
Many customers will want to agree a price before a job is started and will expect you to stick to this.
Be aware that many of your clients will get quotes from several paving firms, so you need to be able to quote accurately and competitively. However, don't cut your own throat. Many clients value good quality craftsmanship and efficient service and are prepared to pay a realistic price for it. Above all, make sure that you don't end up working at a loss because your quote was too low!
Special trade guides are available to help you when pricing all aspects of construction work. They give up to date advice on what rates to charge for particular types of jobs. Some materials suppliers may also help you to work out what quantities you will need for a particular job, and the cost.
Promote your business
It's important to advertise your business effectively to let your potential customers know who you are, where you are and what you can do for them. Most of your domestic customers won't require paving services regularly and may not have the name of a specialist to hand.
Print directories
An entry in local print directories can be an effective way of advertising your business. However, many of your competitors will have done the same. Some firms spend a lot of money on large, eye-catching display advertisements, using names like "AA1st Paving" to try and ensure that their advertisement appears first in the classification. You will have to decide whether to compete head on with these firms, or to look for a different way of attracting customers. You could, for example;
focus on your own 'unique selling point' (USP) in your advertising material. This might be something like "25 years experience" or "Family run firm", for example
advertise in other ways. For example, you could distribute a paper flyer, plastic card or sticker with your business name and telephone number on it as part of a mail-shot that you do, perhaps in the early spring
look into becoming listed by paving materials manufacturer, or by a trade directory, as an approved tradesman (most of these organisations operate a quality screening process and some will only list firms that have been trading for at least two years)
Try to tell people as many of the good things about your business as possible in your advertisements, particularly things that distinguish your business from its competitors.
Although telephone directories can still be a very useful means of advertising, be aware that people seem to be using them less and less, often turning instead to the web for information, customer reviews and contact details.
Using the web
A good business website and/or blog are very valuable marketing tools. Make sure it's easy to use, accurate, informative and up to date.
There are various online business directories too. Some are free to advertise in and some, such as Yell.com, charge. Trade associations like Interlay, the Association of Paving Contractors often have member's directories on their websites too.
Think about other ways of marketing your services to the online community. You could consider using social media and specialist forums to get your name known and to publicise things like special offers and so on. And you could consider using job tendering websites like Mybuilder.com to find jobs and pitch for work.
Direct selling
Some paving firms use telesales and 'cold-calling' to sell their services. Although these sales techniques can be effective, there are drawbacks. Employing sales staff or paying for the services of a direct marketing agency is expensive, while some customers are just put off by direct selling. In fact, some paving specialists actually make a point of advertising the fact that they don't employ any 'pushy sales-people'! There are special rules and regulations that you must stick to as well.
You could try the 'roadshow' approach - visiting events like ideal home exhibitions with a mobile display of your products. Or you could put up a semi-permanent display at an outlet like a garden centre or shopping complex. Once again, the cost of this type of marketing can be high.
Other ways of advertising
Think about other ways of promoting your business. You could, for example, sponsor a local sports club or event. Your local paper may run a regular 'contact the experts' advertising feature. Remember that your vehicle can be a very effective means of advertising if you have it sign-written and keep it clean and presentable. You might consider having a large sign made that you can display outside places where you are working - but make sure that your customer has no objections before putting it up. If you do a good job and work professionally and courteously there's a good chance you'll get some enquiries from other home owners in the neighbourhood.
You could investigate the possibility of becoming a recognised local supplier for the National Landlords Association. Lettings are often older properties needing remedial work and replacing a neglected garden with paving can improve its looks and letting potential as well as reducing future maintenance bills.
Word of mouth
Word of mouth recommendations are very valuable to your business. Everyone has heard horror stories about 'cowboy' tradesmen who bodge jobs and swindle their customers - and they want to be sure that you're not going to do the same to them. You will have to earn your reputation through good, reliable workmanship - but even small things like politeness and considerateness can pay big dividends. Make sure that any staff, including sales staff, you employ are good ambassadors for your business too.
Be aware that you will often be working in areas where there are a number of similar properties nearby which could also benefit from your services. If local residents are impressed by what they see of your business and the work you do then they may well approach you about future work.
You may be able to persuade a satisfied customer to let you use his or her garden as a showpiece and to give you a reference or testimonial that you can use in your advertising literature.
Turning enquiries into sales
Your aim will be to turn as many customer enquiries as possible into actual sales. You might decide to employ sales people whose job it will be to answer the telephone and deal with people who call in to your office, showroom or yard (if you have one). Or you might decide to handle sales enquires yourself. There is no 'right' way to clinch a sale, so you will have to develop a technique that seems to work well for you. As a starting point, potential customers will expect you and your staff to be business-like, courteous and knowledgeable. Many people will be put off by a very pushy approach - they may just want some information at this stage.
Offer finance
Paving a driveway or adding a patio can be an expensive purchase. Some customers may be unwilling or unable to pay for it all in one go and would prefer to pay a deposit and spread the balancing payment over several months or years.
You may want to offer credit to these customers through a specialist finance company. Several such companies exist and, between them, they offer a range of different finance packages. Some of the finance packages available which you might use to attract customers include:
standard interest bearing credit
subsidised interest rate credit (a very low interest rate)
interest free credit (0% interest)
deferred payment (buy now pay later) credit
high risk credit (for customers who might normally be turned down by a finance company)
When you make sales on finance you will have to fill in a credit application with the customer. Your finance company will then give a decision on whether to accept the application. All being well, the transaction will be completed quite quickly and you will receive payment from the finance company within a few days. Usually, the customer will pay a certain amount as a deposit. You will usually also be paid commission by the finance company. This is normally based on a percentage of the value of the sale and paid to you separately at the end of the month.
Most finance companies will expect you to meet certain requirements and standards before agreeing to do business with you. Some will only deal with businesses that have been trading for a certain minimum length of time, often two years.
Shop around when it comes to choosing which finance company you will deal with. Their terms and working practices vary. When choosing which one is best suited to your business, bear in mind the following:
what type of finance packages are most likely to appeal to your customers
how promptly will you receive payment from the finance company
how much commission are you offered
how quickly will your customers' credit applications be turned around
what level of back-up and support is available to you
You will normally need consumer credit authorisation if you want to offer finance to your customers (interest free credit agreements can be exempt from the authorisation requirement under certain circumstances). Authorisation is granted by the Financial Conduct Authority (FCA) so long as certain conditions are met. For more details visit the consumer credit section of the FCA website.
An alternative way of enabling your customers to pay on credit would be to accept credit card payments. Smartphone apps are available to enable businesses like driveway specialists to accept card payments easily when they're out and about.
Buy an existing business
You might decide to buy an existing driveways and patios business rather than start your own venture from scratch. Buying a going concern can mean that the products, customers, regular sales, staff, premises and equipment are already in place.
But buying a business can be a hazardous, expensive process unless you have the right skills and experience on your team, including legal and financial know-how. Establish the genuine trading and financial position, so that the price you pay for the business is not too high.