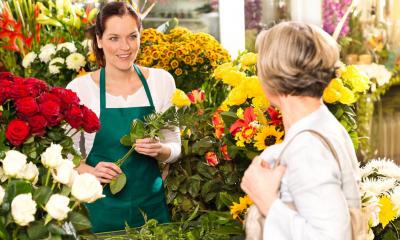 Florists sell floral bouquets to retail customers, create bespoke arrangements for wedding and funeral clients and may also supply flowers to local businesses. Check out our practical guide for starting and running your florist's shop.
Research your target market
Estimating demand
It's a good idea to try to make an estimate of the level of demand for your products throughout the course of a typical year. When making these estimates, bear in mind that flower buying in the UK is seasonal to a certain extent and is also reliably characterised by peak days throughout the year, in particular Valentine's Day and Mother's Day. If you supply the weddings market, you'll find that more people get married during the summer months and that, despite something of a trend for people to save money by getting married on a weekday, the majority of weddings occur on weekends (mostly on a Saturday). Similarly, the number of funerals can be twice as high during the winter months as during the summer.
Establishing the level of demand with reasonable accuracy is important so that you can estimate how much stock you should purchase. If you over-purchase you are likely to suffer from high levels of wastage, and if you under-purchase this will lead to disappointed customers and wasted sales opportunities.
For you to be able to achieve a reasonable level of sales your local area must contain enough potential customers and not too many competitors.
Check out the competition
You will face competition from other specialist florists in your area but don't forget that there are other retailers who sell floral products too, such as:
nurseries and garden centres
large DIY retailers
supermarkets
petrol filling stations
greengrocers
convenience stores
exclusively online florists, mail order and home delivery services
So it's very important to find out whether there is room for another outlet selling flowers in your area. Make a count of the total number of outlets selling the products that you intend to stock and also make a note of what they are selling. In this way you can identify whether or not the local market is saturated. You may find that, while a lot of them sell bought-in basic bouquets, fewer of them have the necessary skills and work area to create more complex, bespoke arrangements.
Catchment area
The size and nature of the catchment area for your shop will depend on the location you have chosen. For example, if your planned location is on an urban street or in a suburban shopping precinct, you are likely to have a large amount of passing trade. This means that as well as those customers who make a special journey to go to your shop, you are also likely to have people making impulse purchases. On the other hand, if you intend to open in a more rural setting, then the majority of your customers are likely to be those who have specifically chosen to go to your shop. In this situation, ideally you would find premises that have easy parking nearby.
Trade sales
You might be planning to supply flowers and floral arrangements to other concerns such as:
wedding planners, wedding venues and funeral directors
hotels, restaurants and other hospitality businesses
local businesses that purchase flowers to brighten up their working environments and reception areas
If you plan to target trade customers, you could:
count the number of suitable businesses and organisations in your area
work out what to offer them
decide on the discount you will offer them
approach them to see if they would be interested - don't forget if they are already being supplied you will have to give them a good reason to change. This might be a wider range of flowers or arrangements, lower prices, better service or your level of expertise
Research current trends, plus legal and tax issues
Decide what to sell
The range of floral products and related services that you decide to offer will depend on:
your own particular skills and expertise
how much space you have
whether you are targeting a niche or specialist market
whether you are planning to focus on the wedding, funeral and other function markets
The products you sell may include some or all of the following:
bespoke wedding, funeral and function commissions
arrangements delivered on a regular basis to corporate clients
bespoke bouquets
off the shelf (ready made) arrangements, bouquets and bunches
single stems
pot and bedding plants
dried and artificial flowers
flower and vegetable seeds and bulbs
florists' sundries, particularly to amateur flower arrangers
flower care products
decorative pots, vases and other ornaments
presentation confectionery, greetings cards and small gift items. These can be particularly good sellers leading up to Valentine's Day and Mothers' Day
alcoholic drinks, such as bottles of champagne (although remember that you'll need to be properly licensed if you do)
horticultural products
a range of ethically sourced flowers
Christmas trees, wreaths and decorations (in season)
The services you offer may include:
maintenance of floral installations in a corporate client's premises
delivery of flowers, either as your own venture or as a member of a relay scheme
the sale of gift tokens
One of the main factors that will help to make sure that customers will return to your shop is the quality of your stock. If the flowers look healthy and bright in your shop and also have a good after-sale vase life then you are likely to build up a regular customer base. Your relationship with your suppliers may be critical in ensuring consistently good stock.
To add value to your sales, you could place items such as confectionery and greetings cards close to the point of sale to encourage customers to buy extra products. It may also be a good idea to prominently position any literature about plant-care products so as to encourage customers to buy additional items.
Establish your customer profiles
Your market
You might have several different types of customer, depending on the nature of your business. For example:
members of the public who make one-off or regular inexpensive purchases of 'off-the-shelf' or 'made-to-order' arrangements. A significant proportion of these may be ordered via a relay scheme like Interflora. (A relay scheme transaction involves two florists. The 'sending' florist who takes the order but doesn't do anything else other than send the order to the relay scheme and the 'executing' florist who makes up the arrangement. As the sending florist you'll keep around 25% of the value of the order and as the executing florist you'll receive around 70%. You can usually choose to be a full or just a sending member of a scheme)
members of the public arranging functions, weddings and funerals spending considerably more, usually on a one-off basis
churches
flower clubs
local colleges and private training providers who offer flower arranging courses
corporate clients, such as professional wedding planners, funeral directors, hotels, restaurants, banks and so on
Reasons people buy flowers
There are many reasons why people choose to buy flowers, such as:
for birthdays, anniversaries and new babies
as a 'thank you', a 'get well soon' or similar present
for a loved one on Valentine's Day or any other time in the year
for Mother's Day
for Christmas Day
for weddings and funerals
to decorate a dinner party table
as a regular purchase for domestic or business decoration
as a 'cheer myself up' purchase
Estimating the average 'spend'
When making your estimates, take into account the following:
the fluctuations in spending throughout the year. There are traditionally peak flower purchasing times during the year and these are: New Year's Day (1 January), Valentine's Day (14 February), Mother's Day (third Sunday before Easter) and Christmas Day. As well as those peaks, you should also take into account that the summer tends to be the quietest period for flower sellers, unless you cater for the wedding market
certain age groups tend to spend more on flowers than others. For example, consumers aged 55 and above tend to spend twice as much as consumers in the 16 - 33 age bracket
customers are generally prepared to spend more on flowers intended as gifts than they are on flowers for themselves that they buy on a regular basis. So the average spend for Valentine's Day may be around £20, but the average spend on day-to-day flowers may be half that figure or less
flower purchases for weddings and funerals are typically significant, running to several hundreds of pounds and sometimes more
You might decide to base your estimate of the average 'spend' on your own spending pattern and that of friends and relations. You could also observe closely in other florists the quantities that customers buy and the price they pay.
Trade sales
If you are planning to sell to trade customers, approach some as part of your market research and establish:
what range of products and services they would want
how frequently they would want them
the prices they expect to pay
This will help you to estimate your trade customers' average spend.
You are likely to offer your trade customers discounted prices, for example 10% or 20% off the normal retail price, as well as credit terms of, say, 30 days.
Advertising your business
Whoever your customers will be, it is essential that they know about you. An eye-catching window display will act as an incentive for customers to enter the shop. You could consider changing the display on a regular basis to reflect the stock that you have at that time. You may also decide to create displays picking up on the themes of the peak days detailed above. You could also use a board outside on the pavement to give details of prices and special offers.
There are a number of other things you can do to promote your business:
have leaflets printed outlining the products and services that you offer, possibly with some sample prices
advertise in your local newspaper and any other local publications and directories
try to establish links with other local retailers who would promote your business in exchange for you doing the same for them. For example, you could leave business cards in local bridal shops
try to establish links with local funeral directors. Although the funeral directors' code of conduct prohibits them from adding any commission to the cost of flowers, you may be able to establish yourself as their preferred florist simply by providing a good service
if you are a member of a relay scheme, such as eFlorist or Interflora, make sure that the scheme's logo is prominent
set up your own website including images of your displays. You could also offer an online ordering service
develop an effective social media strategy. For example, you could have your own Facebook page on which you post regular pictures of bespoke arrangements that you create for customers
make sure all your vehicles, packaging and other literature carries an eye-catching logo
if you have any awards or special qualifications, you could include details of these on your stationery and advertising material and on your website
put on flower arranging demonstrations at which customers can buy your products
Relay schemes
A relay scheme allows a person in one part of the country to 'send' flowers to a person in another part of the country by using a network of florists that belong to a relay scheme. There are several such schemes, the most well known of which are Interflora and eFlorist.
How the schemes typically work
a customer places an order with an authorised sending florist
the order is sent to the scheme's central office
central office relays the order to a florist in the region that the customer wishes the flowers to be sent to
that florist (the executing florist) makes up the order and delivers it to the appropriate address
How the florist gets paid
both the sending florist and the executing florist hold an account with the relay organisation
the sending florist typically retains around 25% of the order and sends the balance to the relay organisation. This would usually be done on a monthly basis
the executing florist receives the balance of the amount for the order, typically around 70%. Again, this would usually be settled on a monthly basis
What other conditions apply
Membership of the scheme may also involve:
an exclusivity agreement, meaning the florist can't belong to another scheme
signing up for 'full' or 'sending only' status
a joining fee and/or annual subscription fee
interest on overdue accounts
And there are generally other terms and conditions of membership.
Flowers by post
With the rise in popularity of online shopping over the last decade, many online florists and non-specialist retailers now send bouquets by post or courier.
Fairtrade
Recent years have seen an increase in consumer demand for ethical products that help producers and farmers in the developing world. You could meet this demand by stocking a range of Fairtrade flowers. This would show potential customers that your business is ethically aware and committed to fighting global poverty. Offering Fairtrade products can also be a good way to differentiate your business from its competitors. (Although there are other sources of ethically grown flowers, Fairtrade is still the best known.)
What is Fairtrade
Fairtrade guarantees a fair deal for disadvantaged producers and farmers by making sure they receive a fair price for their work and goods. Fairtrade items are generally slightly more expensive than similar products - but more and more people are happy to pay a little extra to help producers become self-sufficient. All Fairtrade products are marked with the easy to recognise Fairtrade Mark and there is a range of flowers available including roses, lisianthus, carnations, mini sunflowers and so on.
How does it work
The Fairtrade system works by paying producers a set minimum price for their goods, giving them a living wage. On top of this, producers also get an extra sum of money to invest in their business or community. This is called the 'social premium'.
In return, Fairtrade producers must meet certain standards. These are set by Fairtrade International. Only licensees, such as importers and manufacturers, that are registered with the Fairtrade Foundation can apply the Fairtrade Mark to a product. So you'll probably buy your Fairtrade goods either direct from importers or - more likely - from registered wholesalers and distributors in the UK. The Fairtrade Foundation website has a list of wholesalers throughout the UK that sell Fairtrade marked products to retailers.
Pricing
When you buy Fairtrade goods from a wholesaler or registered distributor, you can probably expect to pay a little more than you normally would for similar products. The slightly higher trade prices cover the set price and social premium that are paid to the farmer or producer, as well as supply chain costs and the cost of certification and product licensing.
Although trade prices for Fairtrade products are higher, you can probably charge your customers a little bit more for them. You may benefit from extra sales, too. The Fairtrade Foundation isn't involved in setting retail prices, so the mark-up you add is entirely up to you. While you'll want to cover your costs and retain a healthy profit margin bear in mind the purpose and aims of Fairtrade when you set your prices. The Fairtrade Foundation makes it clear that profit margins on Fairtrade items shouldn't be higher than on similar products.
Promoting Fairtrade goods
Offering Fairtrade products can be an attractive selling point for your business and can help to attract ethically aware customers. So it's important to make sure that potential customers know about the Fairtrade products you stock.
The Fairtrade Foundation is responsible for promoting Fairtrade in the UK and can provide useful materials and advice to help you to advertise your Fairtrade ranges. Any promotional materials that contain the Fairtrade Mark, like posters or leaflets, must be approved by the Foundation.
The Fairtrade Foundation organises a Fairtrade Fortnight each year to promote the Fairtrade system. This could be a good time for you to raise customer awareness about the Fairtrade products that you offer. For example, perhaps you could hold a Fairtrade tasting evening or suggest recipes that customers could make using the Fairtrade products that you sell. You could also put up posters in your outlet promoting the benefits of Fairtrade and informing customers what Fairtrade products you stock.
Where to find out more
The Fairtrade Foundation is part of the international Fairtrade movement and oversees all aspects of Fairtrade in the UK - including retailing. For more information on Fairtrade, the range of products available and how you can get involved visit the Fairtrade Foundation website.
Buy an existing business
You might decide to buy an existing florist business rather than start your own venture from scratch. Buying a going concern can mean that:
the premises and equipment are already in place
there are established customers
the business can generate income immediately
suppliers have been identified and relationships established with them
the business is already a member of a relay scheme like Interflora
the business has a track record which can help if you are looking for finance
staff are already in place
a business website has already been set up, possibly ecommerce enabled
However, look critically at any business that you are interested in to make sure that the price you negotiate with the seller is a fair one. Try to establish why the business is for sale - for example, is the owner keen to retire or is there another personal reason for selling up.
Your market research into the sector as a whole and the locality in particular will help you to establish whether or not the owner is selling because he or she can no longer generate enough income from the business. This may not necessarily deter you - many business people are confident that they can turn a failing business around. The important thing is to have established the current position so that the price you pay for the business is not too high.
Other matters to consider include:
the state of the premises, equipment and so on. Will you have to spend money refurbishing or replacing assets
the condition of any stock of flowers, plants and related products you are buying
existing staff rights
how to retain key personnel once you've taken over
does the business owe money that you will be responsible for
if you are paying for goodwill, to what extent does this depend on the skills and personality of the seller
Ask your accountant to look critically at the business accounts for the past three years and discuss with him or her the selling price in the light of what the accounts reveal. Make sure you budget for other professional fees such as legal fees and valuation and survey costs