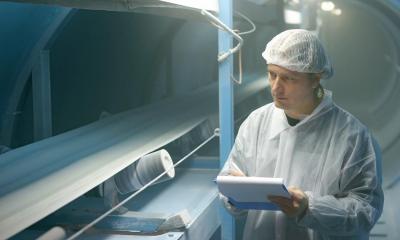 Food manufacturers produce a huge range of goods, from speciality items sold through independent delicatessens to everyday products sold in supermarkets. Our guide will help you start up and run your own food manufacturing business.
Research your target market
It's very important to find out the level of demand for the food products you are intending to manufacture.
It can be very difficult for small and medium sized firms to compete with the major food manufacturers and processors who produce on a large scale and who can keep their unit costs down. So you might consider producing a speciality food range for a local or regional market rather than trying to break into a very competitive national market. Have a good look at your local shops to see if they already sell similar products to the ones you propose to manufacture. Think about how your products will compete against existing ranges. Maybe yours will be better quality or better value for money, or you may have come up with an innovative product or manufacturing process. Identify the things that make your product ranges more attractive to customers.
It might be that you have already identified a gap in the market that you can fill. For example, you might be planning to produce a traditional, local speciality that you will market through delicatessens, farm shops and visitor centres and supply to the restaurant trade. Or you might supply a local speciality food retailing business which is looking for good quality, artisan products made from locally sourced organic ingredients to fill its gourmet hampers. It might be a good idea to consider the export market, too.
Whatever the product ranges you have in mind, it would be helpful if you could produce some samples. You could then approach individuals (such as retailers and buyers) and organisations (such as wholesalers) which might be interested in selling your products. If you take a stand at a major food and drink exhibition you will have the opportunity to show your product ranges to buyers from both the UK and abroad. Discuss with them the price of the products and draw their attention to any special features such as:
only local ingredients - maybe you are planning to participate in the EU Protected Food Names scheme, which will continue to apply until negotiations for leaving the EU are complete
traditional recipes
hand-crafted/finished
wheat-free, dairy or gluten-free
organic
vegetarian or vegan
Fairtrade ingredients
low sodium/low fat/low sugar
no preservatives or artificial colourings/flavourings
When you are showing your samples to prospective customers, you could take the opportunity to discuss:
the minimum value or volume that applies to orders
how frequently you would deliver
how much business they might be prepared to put your way
whether you would accept the return of unsold products which have reached the end of their shelf life
You could also ask them:
their opinion of your product ranges
what they think of your pricing and terms
whether they have any suggestions for improvements or enhancements to your product ranges
For guidance on researching overseas markets you could contact the Department for International Trade (DIT). They produce guides telling you how to research export markets as well as guides for a great many different countries covering:
economic and industry information
local legal requirements
how to protect your intellectual property
language and cultural issues
Your market research will help you to identify:
whether your products are likely to be in demand
the price at which they will be sold
how much your prospective customers would be prepared to spend on each order
To estimate your annual sales income, decide how many customers you are likely to have and how much each of them will spend.
Research current trends, plus legal and tax issues
Establish your customer profile
Your market
Your customer base will depend on which sector of the market you are targeting and might include:
other food manufacturers
wholesalers and distributors
retail outlets such as supermarkets, delicatessens, butchers, convenience stores, petrol filling station forecourt shops, off-licences and health shops
tourist and visitor centres, garden centres, airport shops, gift shops
farmers markets
specialist food suppliers (for example gourmet hamper and fine food specialists). Some of these may only trade online and have no retail outlet
catering outlets, pubs, nursing homes, hotels and so on
airlines and rail operators
members of the public, for example if you offer mail order or online sales, or if you have your own factory outlet
Smaller food manufacturers generally supply a local or regional market although a few also cater for the export market.
The Department for International Trade (DIT) can provide help and guidance to manufacturers in the food and drink sector who want to export their products.
If you produce high quality, speciality food products you will need to find a network of wholesalers, retailers and so on who target a specific type of customer. If you join the Guild of Fine Food as a producer member you will have access to all of the Guild's retail members' details which will enable you to contact them with details of your products.
If you're planning to sell high quality, niche foods direct to the consumer, you'll need to find out if there are sufficient numbers of suitable customers in your area. Research has shown that people most interested in regional, speciality foods are those over 40 with no children living at home. They have a high level of disposable income and are keenly interested in food and in supporting local retailers. You can access the results of the latest government census on the ONS website, which will give you some useful details about the area in which you propose to operate, including the number of residents and their economic status.
The Esources website contains details of food and drink wholesalers in the UK, sorted by different type of product. If you plan to sell into the more mainstream supply chain, this will help you to find buyers for your products.
Special offers and discounts
Bear in mind that your larger customers in particular will want sizeable discounts from you in return for volume purchases and regular orders.
You might also offer early settlement discounts if customers pay their bills promptly, and retrospective rebates, to encourage customers to buy in large quantities.
You might also offer your customers:
free delivery
free products for in-store promotions
point-of-sale material and display racks
three-for-two type offers
Keep a close eye on any discounts and special offers you do make to be sure that they're working for you. After all, these kinds of promotion may encourage extra sales, but they'll also affect the amount of profit you make on each sale.
What to produce
The range of food products you manufacture will depend to an extent on your target market. For example, you might be planning to produce food items for the consumer market, which you distribute via retailers, wholesalers, catering outlets or direct to the consumer through your own website, retail outlet or stall at a farmers market. Or you might be planning to develop a range of products specifically for use by other food manufacturers in their product ranges. These might be, for example, sauces to be incorporated into ready-prepared meals.
You might decide to manufacture Fairtrade food products to appeal to ethically minded consumers. There's a wide range of food and drink products that can be manufactured using Fairtrade ingredients. The Fairtrade Foundation website has a comprehensive list of these products.
If you decide to target the consumer market, there is a huge range of different types of food product to choose from. Some ideas include:
ready-prepared meals for adult consumers, pubs, catering outlets and so on. You will have to decide whether these are supplied ready-to-eat, or whether they need heating or cooking. You might specialise in a particular niche range such as organic, vegetarian and vegan or ethnic
baby foods and products targeted at children, including sandwich box fillers. You might be able to take advantage of the current emphasis on healthy school meals for children
gourmet items such as pates, smoked fish and meat products and other delicatessen-style products
snack items such as biscuits, crisps, confectionery
desserts
meal preparation ingredients such as ready-made pastry, flavoured risottos and couscous and so on
jams, preserves, chutneys, pickles and similar products
The list is endless!
You will also need to consider in what form your food products will be sold and stored. For example, they might be:
supplied at ambient temperatures, such as canned, bottled or dried goods and products such as cakes, biscuits and crisps
chilled, so that they have to be kept refrigerated
frozen, so that they have to kept in freezers
The way in which your products are sold and stored will affect your operating practices, the type of packaging you will need and also how the products are distributed.
Taking advantage of seasonal produce
It may be that your product ranges will not change at all over the year, for example, if you are producing a range of hand-made biscuits. However many food manufacturers producing ready-prepared meal solutions like to ring the changes to reflect the seasons and what ingredients are available locally. Demand for locally sourced products has increased in recent years as people have become more concerned about the effect on the environment of carbon emissions caused by 'food miles'. The Eat the Seasons website gives details of the fruit, vegetables, meat and fish which are in season month by month. The information can be used to plan production several months ahead.
Be prepared to be flexible and innovative with your products - the market can be fickle and people soon look around for something new.
Production methods
You might be planning to produce food items for the mass market, in which case your processes are likely to be highly automated and you will be manufacturing in large quantities. If this is the case you will probably invest in sophisticated packaging equipment so that you can wrap, bottle or can your products quickly and easily, so that they remain in optimum condition.
On the other hand, you might be intending to set up a much smaller operation, producing speciality food items in limited quantities for a mainly local or regional market - possibly to order. In this case, although you may use industrial quality catering equipment and appliances, much of your production will be labour-intensive, with products being prepared and packaged by hand. This can be a strong selling point for niche food products.
Whichever production methods you plan to use, there are a number of things to consider such as:
your staff. If you are setting up in a rural location, will you be able to recruit enough competent employees. How will you keep them motivated so that your productivity remains high
how will you make sure that you can meet delivery targets. What contingency plans will you put in place to cover unplanned stoppages such as operator absences, machinery breakdowns, quality problems or occasions when vital ingredients haven't turned up
how will you keep wastage to a minimum
what steps will you take to make sure that your products are of a consistently high quality
You will also need to consider not only the type of packaging you will require in order to keep your product in good condition, but also the appearance of the packaging. For example, if you are targeting a tourist market you may want to make sure that the packaging reflects something of your local area's special characteristics. If your products are destined for the retail market you may need to include a bar code in the design. Don't forget that unless you're a small business supplying a local market your pre-packed products must display nutritional details. If you're making a specific nutrition or health claim for your product you'll need to include certain detailed information on the packaging. Visit the Gov.uk website for guidance.
You can find out more about the legal aspects of food packaging on the Food Standards Agency website.
Fairtrade
Recent years have seen an increase in consumer demand for ethical products in the UK. More and more retailers and caterers are looking to source Fairtrade labelled goods. By manufacturing food products that carry the Fairtrade Mark you'll be able to supply them. You may well find that you also attract new customers by demonstrating that your business is ethically aware.
What is Fairtrade
Fairtrade guarantees a fair deal for producers and farmers in the developing world by making sure they receive a fair price for their work and goods. Fairtrade products are sold slightly more expensively than similar goods - the difference goes towards encouraging self sufficiency in the developing world. This appeals to ethically aware consumers.
How does it work
The Fairtrade system works by paying producers a set minimum price for their goods, giving them a living wage. On top of this, producers also get an extra sum of money to invest in their business or community. This is called the 'social premium'.
In return, producers who want Fairtrade certification must meet certain standards. These are set by Fairtrade International. You'll probably buy your Fairtrade raw materials from an importer or distributor rather than directly from the producer or farmer.
Licensing
To use the Fairtrade Mark on the products you manufacture you'll need to be approved as a registered licensee by the Fairtrade Foundation and sign a licensing agreement. Every quarter you'll send a report to the Foundation giving details of your purchases, sales and so on. There's a fee for using the Fairtrade Mark - the amount is based on the reports you make to the Foundation.
There are strict rules about the level of Fairtrade raw materials that a finished product must contain before it can carry the Fairtrade Mark. You can find out more about your responsibilities under the Fairtrade Licensing Agreement on the Fairtrade Foundation website.
Where to get ingredients
If you decide to import Fairtrade ingredients direct from a certified producer or farmer you'll need to be approved by the Fairtrade Foundation. You'll also have to sign an importers contract setting out your terms of trade to show that you meet Fairtrade standards. More information on becoming an importer is available on the the Fairtrade Foundation website.
Pricing
When you buy ingredients from a certified producer, importer or distributor you'll probably have to pay a little more than you normally would for supplies. The slightly higher prices cover the set price and social premium paid to the farmer or producer, as well as the cost of certification.
Although you'll pay your suppliers more for Fairtrade materials, you'll probably be able to sell your Fairtrade marked products on at a higher price. Consumers are generally prepared to pay a little extra for Fairtrade goods in the knowledge that they are helping disadvantaged producers and farmers. The Fairtrade Foundation has no control over prices in the supply chain, aside from setting the price to be paid to the producer or farmer.
Promoting Fairtrade goods
Offering Fairtrade goods can be an attractive selling point for your business, particularly as demand for ethically sound products increases.
The Fairtrade Foundation can help you with advice and promotional materials when you launch your product or products. As a registered licensee you'll automatically get a listing on the Fairtrade Foundation website. This can help bring business your way from caterers and retailers looking for a Fairtrade supplier. The Foundation also organises a Fairtrade Fortnight every year to promote the Fairtrade system. This could be a good time for you to attract new customers and to encourage existing customers to buy your Fairtrade product range. Why not produce a sample pack of your Fairtrade products or a leaflet explaining how the Fairtrade system works and how it could benefit their business? You could distribute these to both existing and potential customers.
Where to find out more
The Fairtrade Foundation is responsible for all aspects of Fairtrade in the UK - including the registration of licensees. For more information on Fairtrade, the range of products available and how you can get involved visit the Fairtrade Foundation website.
Promoting your business
You will need to give some thought to how your prospective customers will get to know about you and your products. There are a number of ways in which you can advertise your business and market your products, including:
joining the Guild of Fine Food as a producer member will enable you to get an emailed list of all of the Guild's retail members who you could contact to find out if they would be interested in stocking your products
joining a regional speciality trade association to benefit from their marketing initiatives
exhibiting your products at local or regional trade shows
attending meet-the-buyer events
participating in in-store promotions
approaching local retailers, wholesalers and catering outlets with samples of your products
adding details of relevant items to the Food Standards Agency list of products that don't contain the six colours associated with hyperactivity in children
obtaining an online listing in a specialist food producer directory or the Fairtrade Foundation website if you offer Fairtrade products
creating your own website with an online ordering facility
advertising in trade journals, yearbooks and directories
Apart from the regional food groups, a number of other agencies and organisations are actively involved in helping food manufacturers to promote and market their businesses. These include:
AHDB Pork, AHDB Beef and Lamb, Meat Promotion Wales and Quality Meat Scotland
Natural England (an alliance of the Countryside Agency, English Nature and the Rural Development Service)
the Food and Drink Sector Council, set up at the beginning of 2018 to help food and drink manufacturers boost productivity and reach wider markets
There is more information about government help for the food industry to improve competitiveness on the Gov.uk website.
Protected Food Names Scheme
Although the vote in June 2016 to leave the EU means that the current Protected Food Names schemes will cease to apply to the UK after it has left, the government has indicated that it intends to legislate to establish its own schemes within the UK and seek to reach reciprocal arrangements with other countries, including the EU. Since the UK remains a member of the EU until negotiations for leaving are complete, the existing schemes continue to apply.
The EU Protected Food Names schemes protect food names on a geographical or traditional recipe basis and highlight regional and traditional food products whose origin, quality and production methods are independently inspected and guaranteed.
Producers participating in the schemes and registering their products are protected against imitations and also benefit from their products having a higher profile with consumers, not only in the UK but also in Europe. Highlighting the regional or traditional nature of a food product can be a valuable marketing tool.
There are three types of registration, each of which permits the producer to mark the relevant products with a symbol indicating one of the following:
the product is produced, processed and prepared in a particular area (Protected Designation of Origin)
the product is made in a specific area (Protected Geographical Indication)
the product is made to a traditional recipe, not linked to a specific area (Traditional Speciality Guaranteed)
The product label must include either the nature of the product's protection - for example, Protected Designation of Origin - or the appropriate official logo.
Pricing policy
Getting the price right is very important. You must make sure that the difference between the cost price and the selling price of your food items is enough to cover all of your operating costs, including your own drawings.
It's also a good idea to allocate some future income to invest in new equipment and technology. Not only must you be able to replace machinery when it breaks down but also you might want to upgrade to labour-saving equipment to help you to reduce your unit costs.
Your two largest items of expenditure are likely to be on raw materials and staff costs.
So it is very important to monitor your ingredients costs and to make sure that your workforce remains productive and that wasteful processes are reduced as far as possible. Bear in mind that if you import raw materials your costs will be affected by currency fluctuations and also to a degree by fluctuations in farmgate producer prices.
To monitor your performance you could regularly look at the relationship between your raw materials costs and your turnover, and your direct labour costs and your turnover.
Don't forget that if you plan to sell to both trade customers (such as retailers) and members of the public (for example via mail order or online) your trade customers will expect a trade discount from the recommended retail price.
Buy an existing business
You might decide to buy an existing food manufacturing business rather than start your own venture from scratch. Buying a going concern can mean that the products, customers, regular sales, staff, premises and equipment are already in place.
But buying a business can be a hazardous, expensive process unless you have the right skills and experience on your team, including legal and financial know-how. Establish the genuine trading and financial position, so that the price you pay for the business is not too high.