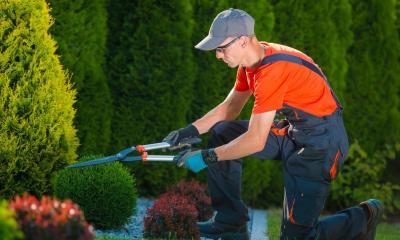 Garden services businesses offer a wide range of different services from lawn mowing and other maintenance work to full garden design and landscaping. Our practical guide will help you start up and run your own garden services business.
Research your target market
Estimating demand
You'll want to make sure that there is enough local demand for your garden services business. Setting up this type of business can be quite low cost, so you are likely to face competition from a number of established businesses, ranging in size from small, one-person concerns to large landscape businesses.
Check out the competition in your area to identify how many businesses are already offering gardening services locally. A look in local business directories, on Yell.com and other online directories will give you an idea of how many competitors you will have. It's important to remember that there will also be a number of smaller concerns which do not advertise, except, for example, by putting a notice in a local shop window. Many won't even do that and will simply rely on word-of-mouth recommendations.
It may be that you will only be competing directly against some of these businesses because you will be targeting a particular sector of the market or selling a specific service. For example, you might decide to specialise in the supply and maintenance of hanging baskets and window boxes to domestic and commercial customers. Or perhaps you plan to offer an indoor house plant maintenance service.
Have a close look at the services offered by existing garden services businesses to establish:
the range of services they offer
the prices they charge
the area within which they are prepared to work
If you can, try to find out what reputation these businesses have locally.
It's also a good idea to check whether your local council offers a free garden maintenance service to elderly or disabled council tenants because this could represent quite a strong competitor.
Why will customers choose your garden services business
You will need to make sure that enough customers will choose your business rather than existing concerns. Your market research might indicate that there is a gap in the market that you can fill - for example, there may be no one locally who is offering basic garden maintenance such as hedge cutting, lawn mowing and digging to elderly domestic customers - or it might show that there's an opportunity to win customers from your competitors by undercutting them on price or by offering a higher quality service.
A reputation for good quality work, value for money and reliability is very important and can be a strong selling point. Don't forget, very many of your customers will be keen (and critical) gardeners themselves who are unable to do the work they commission you to do because they are physically frail, or have no time. They will want you to do a good job and they will not be satisfied if, for example, the grass always looks unkempt because you do not turn up when you say you will. Building a reputation for providing a high quality professional service can also earn you valuable word of mouth recommendations from satisfied customers.
Many prospective customers will also be understandably nervous about having people that they don't know working around their home. Joining a government-backed quality assurance scheme such as TrustMark or Buy With Confidence should reassure them of your trustworthiness.
Check out your local area
In the past, it was mainly more affluent householders who considered engaging someone to work in the garden. Nowadays, however, demand for gardening services is likely to come from a wider range of customers, for example those who are out at work all day, or retired people looking for assistance with the heavier jobs. Explore the area in which you will operate and identify the different types of property and the sort of people who live in them and think about the range of gardening services they might want. Look at the general condition of the gardens in your area - are they well looked after or do they look like they could do with some maintenance.
Check out future developments
Demand for your services may be boosted by the development of new housing estates - many people who move into a house on a new estate like to put their own stamp on the garden, so it's worth finding out what development proposals are in the pipeline or already at the planning stage in your area.
Find out what people want
You could carry out a small survey in your area to establish what kind of gardening services people might be interested in, for example by putting a printed questionnaire and stamped, self-addressed envelope through their letterboxes. You could also test their reaction to the prices you propose to charge. Don't overlook local businesses with grounds such as guest houses or nursing homes. Property agents might be looking for contractors to maintain the gardens of rental properties or holiday homes. You could consider approaching the National Landlords Association to see if you can become a recognised local supplier.
Research current trends, plus legal and tax issues
Decide which services to offer
The range of services you decide to offer will depend on your own skills, training and experience, the nature of the local population and the level of local demand.
You might decide to offer a full landscaping service - from initial design through to completion of the project - to both commercial and domestic customers. On the other hand, you might only offer a garden design service and not get involved in actually putting the design into practice.
However, most garden services businesses offer a comprehensive range of services including:
Garden design services
Including:
initial consultations
layout plan, drawn up following a survey of the plot
planting plan, showing the location of each plant
detailed specification for implementation
Hard landscaping
Such as:
flagging/decking/patios
fencing/walling
large rockeries/raised borders
ponds and water features
drives
ground clearing
installing drainage
Soft landscaping
Such as:
turfing
planting
hedge planting
flower features
water features
Many businesses offer a one-off garden tidy up service for gardens which have become overgrown. In addition, a range of regular maintenance services is usually offered, including:
grass cutting
leaf collection
flower and vegetable bed preparation
weeding
hedge trimming
pruning
lawn treatments
general gardening tasks such as compost-making
Garden services businesses generally provide their own tools and equipment such as mowers, strimmers, gardening implements, wheelbarrows, chainsaws and so on. Machinery is usually petrol driven so that the householder does not have to be troubled by requests to plug equipment into a power supply. This also means that the job can be done when the householder is out - for example at work - so that you can plan your day as efficiently as possible. You could highlight this in your advertising - the other advantage from the householder's point of view is that you and your staff will not need to walk into the house wearing muddy boots or clothes!
In most cases the business will agree to remove the garden waste. You might include this in your charges or you might make an extra charge for this. (Bear in mind that you have to be a registered lower tier waste carrier to be able to do this - there's no charge for registering and your registration lasts indefinitely as long as you're only carrying away garden waste that you've generated in the course of your work and none of the waste is construction waste.)
You could consider the possibility of growing some plant stock yourself to sell to your customers.
Other services
You may decide to offer customers other unrelated services in addition to your core gardening services. You may be in a position to be able to offer additional services because:
customers trust you and ask you about other jobs around the house which need to be done
you or your staff or sub-contractors have other skills
you need to generate income at times when demand for gardening services is low
You might decide to offer home and property maintenance such as mending and replacing gutters and pipes, exterior and interior painting, mending gates and fences, felling trees, supplying firewood, cleaning paths and patios and so on. If you own machinery such as mini-diggers you might consider hiring these out on weekends if you won't be using them yourself.
Seasonality
Demand for gardening services is typically very seasonal and you are likely to find yourself much busier at certain times of the year than at others. For example, activity in the garden increases substantially during the spring, with the start of the planting season. Hedges and lawns need regular attention during the spring, summer and early autumn. Although the winter months see a demand for garden clearing, tidying and digging over, it is likely that you will be less busy during this period unless you diversify into other areas such as cutting and selling firewood.
The available hours of daylight will also affect how much work you will be able to do - winter days are, of course, much shorter than summer days. You will also be hampered by bad weather - there may be lengthy periods when you will be unable to work at all, either because of heavy rain or because there is snow on the ground.
When thinking about your monthly income from garden services don't forget to adjust the figures to reflect how busy you think you will be. This will also help you to decide whether you will need to generate income from another source at some times of the year - for example doing general handyman or decorating work.
Price your services
Give some thought to how much you will charge for your services. You will need to cover all your costs and your own drawings, but you will also have to be competitive if there are many other garden services businesses in your area.
You might decide on a particular hourly rate that you charge customers who just want the odd job done every now and then. You may choose to then reduce that hourly rate if a customer wants to enter into a long term contract under which you agree to provide, say, seven hours work a week. Some kinds of work may be charged out at a higher rate than others - work requiring specialist design skills or gardening expertise can be charged at a higher rate than less complicated tasks like grass mowing.
For some jobs you might quote per job rather than by the hour (although you will have estimated how long the job will take before setting your charge). For example a fixed charge might be made for a one-off garden tidy up or plot clearance. If you offer specialist design and landscaping services such as designing and building decking, you'll probably give your customers an estimate or quote for each job.
If you are asked to give a quote or an estimate for a particular job, be clear about which you are giving:
if you give a quote for a job, that's a fixed price. Once it's been accepted by the customer the price can't be changed, even if there is a lot more work to do than you realised when you prepared the quote. Your quotes should therefore give precise detail of what is covered and make it quite clear that any variations or extras not covered by the quote will be charged for as extras
an estimate is not a fixed price, it is just your best guess of what the job is likely to cost. You are not bound by it. It is perfectly acceptable to provide several estimates, each taking into account different circumstances from best to worst case scenario
Many customers will want to agree a price before a job is started and will expect you to stick to this.
Also consider whether you will make an additional charge for disposing of garden waste and general rubbish - don't forget it will cost you to dispose of this. You can either build the cost into your charges or quote for removal separately.
Promote your business
Because it's likely that you will not have any premises to act as a 'shop window' for your business you will need to advertise effectively so that you let potential customers know who you are, where you are and what services you can offer them.
Word-of-mouth recommendation is very valuable, so make sure that you and your staff provide a high quality and reliable service. You and your employees will need to wear protective clothing for much of the time, so why not get your business name and logo printed on them? An eye-catching logo on your vehicle will also advertise the fact that your firm is responsible for the well-maintained garden outside which it is parked. If you are going to offer landscaping services you could put up a board advertising your firm at the site you are working on (with the homeowner's consent, of course!).
There are a number of other ways in which you can promote your business:
advertise in your local newspaper, local print directories and in online directories like Yell.com
launch your own website, listing the services you offer. Ask satisfied customers if you can use a photo of their gardens and if they would provide a testimonial. You could even include some gardening tips
join a trade association such as the British Association of Landscape Industries (BALI) or the Association of Professional Landscapers (APL), both of which offer members a listing in their online directories
have leaflets and business cards printed to distribute to potential customers
get in touch with local gardening clubs and offer members a discount
put notices on newsagents' notice boards. Make sure these are professionally produced
contact local garden centres, florists and petrol filling stations and see if you can leave details of your services with them
give a fridge magnet with your contact details to customers who have opted for a one-off garden tidy up
develop an effective social media strategy
investigate the possibility of becoming a recognised local supplier for the National Landlords Association
Try to tell people as many of the good things about your business as possible in your advertisements, particularly things that distinguish your business from its competitors. Try to focus on a unique selling point (USP) such as "Family run firm" or "10 years landscaping experience". It's also a good idea to include details of any professional qualifications, trade association memberships and waste carrier registration/licences.
Buy an existing business
You might decide to buy an existing garden services business rather than start your own venture from scratch. Buying a going concern can mean that the customers, staff, premises and equipment are already in place.
But buying a business can be a hazardous, expensive process unless you have the right skills and experience on your team, including legal and financial know-how. Establish the genuine trading and financial position, so that the price you pay for the business is not too high.