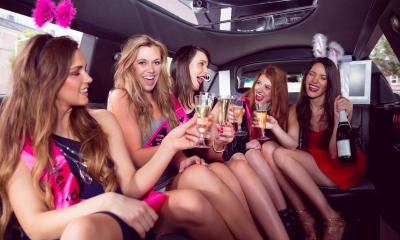 Make people's weddings and special occasions complete by offering luxury vehicle hire. Our practical guide will help you start up and run your own limo hire business.
Research your target market
It's important to find out whether there is enough local demand for your limousine hire service, and whether you will be able to compete successfully with any existing businesses.
Your market
Depending on the type of limousine hire service you intend to offer, your customers might include:
members of the public
local business people
local celebrities
trade customers such as funeral directors, travel agents and hotels
large firms requiring business travel services
organisations such as the local authority
sports clubs
tourists
Demand for a limousine hire service
The level of demand for limousine hire will be largely influenced by the nature of your surrounding area and the size of the local population. Potential demand will generally be highest in large towns and cities, but other factors will have an influence too. For example, the proximity of an airport, the size and number of local businesses and whether there are colleges and universities in your area will all affect demand. Offering extra services or specialising in a particular niche might attract additional custom too.
Bearing this in mind, think about the types of limousine hire service that would be most in demand in your area. For example - if you live close to an airport, an airport transfer service for business people could be worth offering. Stretched limousines have become very popular for parties and are likely to be in demand in larger towns and cities. They are often rented for stag and hen nights, birthday parties, office parties and increasingly, to take students to end of term proms and balls, which is worth considering if there is a large student population in your area. Wherever you are based there is likely to be a demand for wedding car hire, although the level of demand will again depend on the size of the local population.
Save £5 and pay £30 for a year's access to 890 business document templates. Use code SLD7948.S
Competition
Having thought about the potential demand in your area, you need to consider the level of existing competition.
Limousine hire differs from normal car hire in that the limousine is hired with a driver. 'Normal' car hire is widely available from a number of firms, including large national and international hire firms such as Avis, Hertz and Europcar. Limousine hire tends to be offered by smaller local or regional firms and it is these that will be your competitors. The sector has grown rapidly in recent years and you may find that there are several limousine hire businesses already operating in your area.
Try to identify how many other businesses are already offering limousine hire locally. A look through the Yellow Pages and other local directories should help to give you a good idea about this. You could also look online on Yell.com or on one of the numerous UK limousine directories for possible competitors in your area. Depending on the range of services that you intend to offer, you might be competing with a variety of businesses - not just other specialist limousine hire businesses. For example, potential competitors could include businesses that specialise in providing wedding services, local taxi firms that offer a limousine service as a sideline, car hire firms that offer a selection of prestige, classic or sports cars, or coach operators providing a luxury minibus service.
In practice, you will probably only be competing directly against some of these businesses, especially if you have been able to identify a niche in the market that you are aiming to fill.
Have a good look at existing limousine hire businesses in your area and any other potential competitors to establish:
what kind of vehicles they operate
what prices they charge
over what area they are prepared to travel
which additional services they offer - for example, airport collection
whether they are members of a trade association or professional body
Why will customers choose your limousine service
You'll want to make sure that enough customers will choose your limousine hire business rather than use existing services. It is important to find out what people want and whether the type of services you are thinking of offering will attract customers. You could try carrying out a local survey of potential customers, such as the local authority, multi-national businesses that have a branch in your area as well as members of the public, such as school children going to 'proms' or celebrating birthdays, students and any others who might occasionally wish to hire a limousine. Doing some market research like this might reveal that there's an unfulfilled demand for a particular type of service in your area.
Research current trends, plus legal and tax issues
Decide which services to offer
Limousine hire differs from normal car hire in that the services of a driver/chauffeur are generally included, although 'dry hire' of a vehicle without a driver is also sometimes offered. Limousines are hired for a wide range of events and services and you might consider offering some or all of the following:
wedding hire
'prom' hire
funeral hire
airport transfer service
birthday party hire service, including children's parties
stag and hen night hire
VIP services for local celebrities and sportspeople
business travel and office parties
guided tours for business visitors and holidaymakers
day trips to sporting events
group outings to shows, concerts and so on
Be aware that different types of customer are likely to have varying expectations of the level of service that you will provide. For example, wedding hire customers will generally expect the driver to wear a formal chauffeur's uniform and to help the bride and other passengers climb into and out of the car. If collecting passengers from an airport, the driver will be expected to meet them in the arrivals hall and help them with their luggage. For adult birthday party, stag and hen night hire, complimentary bottles of champagne and other alcoholic drinks are often expected and supplied.
Your market research may have helped you to identify a demand for a particular type of limousine hire service in your area. For example, you may think that there is a strong demand for stretched limousines for social events, or you might have identified a call for a personal airport transfer service.
Bear in mind that the types of vehicle used tend to vary depending on the service offered. For example, stretched limousines might be popular for weddings and party nights, but may not be appropriate for driving businesspeople to a meeting. If offering sightseeing tours or trips to sporting events, a luxury minibus or MPV would be more appropriate than a traditional limousine. Before investing in a range of vehicles to suit all occasions, you must decide whether the demand is sufficient to justify the cost involved in each case.
Price your services
Getting the price right is very important. You must make sure that the price you charge is enough to cover all of your operating costs, including your own drawings. You may find that you have to price broadly in line with your immediate competitors unless you are providing a service that your competitors do not offer. This might be the case if, for example, you are offering unusual vehicles, such as vintage limousines or luxury cars.
Unlike taxis, limousines are mostly hired for a fee based on the time they are required for, rather than the distance covered. Limousines may be hired on an hourly, daily, weekly or weekend basis. Most limousine hire firms set a minimum hire period - for example three hours. The price charged will also vary with the size and value of the vehicle provided and any extra services included.
Sometimes prices are set on a fixed basis for a particular journey - for example from central London to Heathrow or Gatwick airport. Fixed prices are also generally charged for wedding hire.
Reductions for quieter periods
Most weddings take place at weekends leaving wedding cars underused during the week, so it is common to offer a discount for midweek weddings. Similarly, stretched limousines are generally most in demand for social events at weekends, and many businesses offer a lower rate from Monday to Thursday. The situation is typically reversed for chauffeur driven luxury cars and MPVs - because these are often used for business purposes, they tend to be busiest during the week and may be offered for a lower rate at weekends.
Whether or not you decide to offer reductions, remember that limousine hire is usually offered by several firms in any given area, so it is likely that potential customers will shop around to compare prices. Find out how much your competitors charge and set your prices accordingly.
Other special offers and discounts
You may choose to offer a discount as a matter of course to your trade customers. How much discount will depend on your pricing policy and how much local competition there is.
Promoting your business
For many businesses, an effective advertising strategy is a vital element in making sure that sales reach a satisfactory level. There are a number of ways that you can promote your business to prospective customers:
advertise on Yell.com, other online directories and local print directories
advertise in your local newspaper on a regular basis
join the National Limousine and Chauffeur Association (NLCA) and be listed on their website as an NLCA registered operator
participate in a limousine reservations network like Cars for Stars
display your vehicles at local events such as car shows, fairs or wedding shows
advertise on a local radio station
ensure that your company name and contact details are visible on the limousines - although logos should be discreet so as not to detract from a smart appearance
have leaflets printed that you distribute to local hotels or tour operators
contact local businesses that might be interested in a business travel or airport transfer service for their staff
contact wedding planners to let them know about your service and distribute promotional material at wedding fayres and similar events
set up your own website giving full details about your business. Maybe you could also have an online booking facility
develop an effective social media strategy to promote your business to prospective and existing customers using websites like Facebook and Twitter
Standards of service
Offering a high level of service can help your business to stand out from the competition.
The right limousines
You need to be able to supply vehicles that your customers want to hire. If your limousines are not the type that people want, or are not available when required, there's a good chance that they will simply try elsewhere.
The vehicles you have available must be suitable for the type of hire work you expect to carry out - for example, black cars for funeral work, white cars for weddings, stretched limousines for parties and luxury cars for business hire or airport transfers. Whether you have decided to specialise in a particular type of service or not, try to ensure that you have the right vehicle/s to meet demand. At first you might be operating just one or two cars, but as the business builds up, you may look to expand your fleet to enable you to undertake a wider range of work. To begin with, though, there's no point having money tied up in expensive vehicles that are rarely hired. Whatever type of vehicles you use they must, of course, be smart, clean and well maintained.
The right staff
Offering a high standard of service is vital to the success of your business. Helpful, friendly advice from knowledgeable staff will greatly enhance people's opinion of your business and help to turn initial enquiries into bookings.
Once a booking has been made, not only must the limousine be smart and well maintained, but the driver must be punctual, polite and helpful. The driver should be dressed appropriately - either in a full chauffeur's uniform, or in a smart suit. Drivers will also need to be prepared to work unsocial hours and drive with care at all times - passengers will appreciate a smooth driving style, particularly if they are eating and drinking at the time!
Trade association membership
Joining a trade association will help to demonstrate that your business is run to a high standard and help to inspire confidence in it. The National Limousine and Chauffeur Association (NLCA) sets standards which its members are committed to maintaining. Members are also listed on the Association's website and are able to use the association logo in their advertising, correspondence and promotional material. The NLCA website has more information.
Buy an existing business
You might decide to buy an existing limousine hire business rather than start your own venture from scratch. Buying a going concern can mean that:
the vehicles, premises and business equipment are already in place
there are established customers
the business can generate income immediately
repair, servicing and valeting firms have been identified and relationships established with them
the business has a track record, which can help if you are looking for finance
drivers and other staff are already in place
the business website and social media accounts have already been set up
However, look critically at any business that you are interested in to make sure that the price you negotiate with the seller is a fair one. Try to establish why the business is for sale - for example, is the owner keen to retire or is there another personal reason for selling up?
Your market research into the sector as a whole and the locality in particular will help you to establish whether or not the owner is selling because he or she can no longer generate enough income from the business. This may not necessarily deter you - many business people are confident that they can turn a failing business around. The important thing is to have established the current position so that the price you pay for the business is not too high.
Other matters to consider include:
the number and condition of any vehicles that you are buying - remember that limousines are expensive to buy, even secondhand
the state of the premises and any fittings and equipment. Will you have to spend money refurbishing or replacing assets
the number of existing hire agreements that you will be taking over
is the existing owner prepared to give you some training after you take over
existing staff rights
how to retain key personnel once you've taken over
does the business owe money that you will be responsible for
if you are paying for goodwill, to what extent does this depend on the skills, personality and contacts of the seller
Ask your accountant to look critically at the business accounts for the past three years and discuss with him or her the selling price in the light of what the accounts reveal. Make sure you budget for other professional fees such as legal fees and valuation and survey costs.
Franchises and licences
Franchising can be a good 'halfway house' between starting out from scratch and buying an existing business. If you purchase a franchise you'll still be setting up your own business, but you'll hopefully benefit from the experience, resources and brand name of a business that is already successful.
There are several franchise opportunities available in the limousine hire business. Although different schemes vary in detail, most feature the following key points:
as a franchise holder, you will remain self-employed but will use the identity (corporate logos, trade name and so on) of the franchisor
in return, you will pay the franchisor a fee - this might be a one-off investment, a monthly charge, or a combination of both
both you and your franchisor will have to fulfil certain obligations and maintain certain minimum standards
Some franchisors will help you with advertising and marketing, and give you advice and support on a range of business and technical matters.
Details of the above points are set out in the franchise agreement or contract, which both you and your franchisor will sign. The agreement will also deal with other matters, for example any territorial exclusivity due to you and the minimum period for which the franchise will run.
Before entering into a franchise agreement, it is advisable to compare the terms of different franchisors to be sure that you are getting a good deal. Go through the contract with your solicitor before signing anything. More information about franchising is available on the Franchise Info website. Information is also available from the British Franchise Association (BFA).