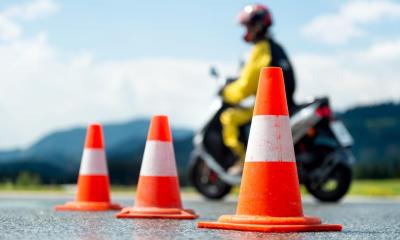 You'll need plenty of working capital if you want to sell new motorcycles so many dealers choose to only sell second hand machines. Read our in-depth practical guide to starting up and running your own motorcycle rider training business.
Research your target market
You need to find out whether there is enough demand in your area for your motorcycle training business and whether you will be able to compete with existing training providers.
The demand for motorcycle rider training
The level of local demand for motorcycle rider training will be largely influenced by the nature of the area and the size and age profile of the local population. Potential demand is likely to be higher in large towns and cities, but factors such as the prosperity of the local population, the number of colleges and universities and the extent of local public transport facilities may also all affect demand.
According to Driver and Vehicle Standards Agency (DVSA) statistics, the number of motorcycle tests taken has increased in each year since 2013/14. Men are much more likely than women to take the test, with only around 10% taken by women.
The DVSA provides information for the number of Module One and Module Two tests taken - and passed - at each test centre around the country by gender and by quarter. This may help you to identify the level of demand in your particular area. You can download this information from the Gov.uk website.
Bear in mind that demand for motorcycle training is seasonal and dips sharply during the winter months. DVSA figures show that the number of motorcycle tests taken in January is only around a third of the number taken during the months from April to October. Consider how you will cope with fluctuations in demand for training throughout the year - perhaps by employing part time or temporary instructors during busy periods.
Competition
Having thought about the potential demand in your area, you need to consider the level of competition that exists. There are a number of ways to find out about this. You can look on Yell.com and on other websites to check the level of local competition - the Gov.uk website has a searchable directory of enhanced rider scheme trainers. Local print directories can also be helpful and you could try visiting local motorcycle dealers - their customers often ask them to provide training information and so they should be able to tell you what is available.
It may be that training is already available from a number of providers in your area. Bear in mind that potential competitors could include motorcycle shops that offer bike hire and their own training schemes. In addition, road safety units within local councils also provide training services in some areas. Depending on the type of training that you intend to offer, you might be competing with some or all of these.
When finding out about existing motorcycle training businesses in your area try to establish:
what types of training courses they offer
whether they offer motorcycles for hire to their pupils
where they run their Compulsory Basic Training (CBT) courses
whether they offer one to one tuition
what prices they charge
how knowledgeable and helpful their staff are
what qualifications their instructors hold
whether they are members of a trade association or professional body
Why will customers choose your business
You need to make sure that enough customers will choose to use your training centre rather than go elsewhere. Customers may choose you over your competitors for a number of reasons, including:
price
convenience
the level of qualification that you and your instructors hold
the types of bike you offer for learning on - some customers may want to learn on the same model of bike that they intend to buy once they have passed their test
the services that you offer
the effectiveness of your advertising
Research current trends, plus legal and tax issues
Customer profile
Your market
The riders that you train might include:
16 year old learners riding mopeds
17 to 19 year old learners riding 125cc motorcycles
19 to 23 year olds riding motorcycles of at least 395cc that are between 25kW and 35kW engine power
21 to 23 year olds who have held a restricted A2 licence for two years and who want to take the practical test on a bike of at least 595cc and at least 40kW to enable them to ride bikes of unlimited size and power
learners over 24 who want to take the Direct Access test on a larger motorcycle
older learners wishing to ride a small motorcycle or scooter for commuting
motorcycle riders who already hold a full licence but want advanced tuition or a refresher course
experienced motorcycle riders looking for specialist training in racing techniques or dirt bike riding (if you are able to offer this type of training)
Although motorcycling has gained some popularity with women, the majority of your customers are likely to be male - according to Driver and Vehicle Standards Agency (DVSA) figures, over 90% of new licence holders are male.
Riders may come from a wide range of economic backgrounds. Some of your customers will be affluent, older riders, who may be willing to pay a little extra for services such as one-to-one tuition, intensive courses or supplementary training courses for motorway riding and advanced riding skills. Other customers (for example, teenagers) might be less well off and will want to pay the least amount of money possible to pass their test in as short a space of time as they can. In order to attract as many customers as possible, you may try to appeal to all types by offering a wide range of training courses and additional services.
Discounts
You might decide to offer a discount to certain customers - for example to those referred to you by a local motorcycle shop, or to members of a local motorcycle club. How much discount will depend on your pricing policy and the level of local competition.
Motorcycle licences and training requirements
Motorcycle licensing, training and tests in Great Britain are overseen by the Driver and Vehicle Standards Agency (DVSA) which is an executive agency of the Department for Transport. There are four categories of full licence:
AM - moped
A1 - motorcycles of between 120cc and 125cc, capable of at least 55mph
A2 - motorcycles of at least 395cc that are between 25kW and 35kW engine power
A - unrestricted motorcycles
Obtaining a full motorcycle licence involves several steps and these are summarised in the DVSA flowchart which you can download from the Gov.uk website.
In Northern Ireland, motorcycle rider licensing is overseen by the Driver and Vehicle Agency (DVA), part of the Department of the Environment.
Compulsory Basic Training
The Compulsory Basic Training (CBT) course was introduced in Great Britain in 1990 in an attempt to reduce the high accident rate among inexperienced motorcyclists. All learner motorcycle and moped riders must complete a CBT course before riding on the road. CBT courses make up a large proportion of the work of most motorcycle training providers.
The CBT course includes five elements:
Introduction - including a driving licence check and eye-sight test
Practical on-site training - introduction to the motorcycle controls
Practical on-site riding - basic riding skills on a DVSA-approved training site
Practical on-road training - theory and legal requirements of on-road riding
Practical on-road riding - riding on public roads, accompanied by an instructor on another motorcycle
In Northern Ireland, a separate CBT scheme is in operation that is different to the CBT scheme in the rest of the UK. Only Approved Motorcycle Instructors can supervise CBT courses. You can find out more on the NI Direct website.
Having completed the CBT course, learner riders are issued with a certificate that entitles them to ride on the road with L-plates. They may not ride on motorways and may not carry passengers. After the CBT course, most riders go on to train for the motorcycle theory and practical tests in order to get a full licence. The CBT certificate is valid for two years and if both tests are not passed within that time, the CBT course must be re-taken.
Motorcycle theory test
The theory test must be passed before the motorcycle practical test is taken. The test is divided into two sections. The first part involves multiple choice questions covering a range of driving topics. The second part involves watching a series of video clips and identifying potential hazards in each case. The theory test is set and administered by the DVSA (DVA in Northern Ireland).
Motorcycle practical test
The practical test is made up of two modules. Module One is a short specified manoeuvres test carried out at an off-road site. Module Two is an on-road test that takes around 40 minutes.
The type of licence awarded on completion of the practical test depends on the age of the rider and the machine they use during the test. Full details are available on the Gov.uk website
Approved Training Bodies and instructors
In order to offer CBT courses, your business will need the use of a suitable off-road training site and must be approved by the DVSA as an Approved Training Body. Approval involves several steps. Firstly a suitable site for training must be found and permission to use it obtained from the site owner. The site must then be inspected by the DVSA and be deemed fit for use. You will also need to be approved by the DVSA to be able to deliver the Direct Access training scheme.
As an Approved Training Body you must provide CBT courses, and at least one of your CBT instructors must have taken the two-day motorcycle training assessment course. (Instructors who have successfully completed this course are permitted to 'down train' up to ten CBT instructors.) Direct Access instructors must have completed the two-day CBT training course and then do a further half-day assessment.
There is detailed information on setting up and running an Approved Training Body as well as on becoming an approved CBT or Direct Access instructor on the Gov.uk website.
Decide which services to offer
Motorcycle rider training businesses generally offer a range of training courses and services for different types of rider. These might include some or all of the following:
Compulsory Basic Training (CBT) for moped riders and motorcyclists to allow them to ride mopeds or 125cc bikes on L-plates
tuition for the motorcycle theory test which must be passed before the practical test can be taken
training for the practical test. The two part practical test is the same for riders who are going for an AM moped licence, an A1 light motorcycle licence, an A2 motorcycle licence or a Category A motorcycle licence. All that differs is the size of the machine that is used and a couple of other minor details
advanced riding courses for full licence holders
refresher courses for those returning to motorcycling after a break - if you're a member of the Register of Post-Test Motorcycle Trainers you can offer the enhanced rider scheme
off-road/dirt bike riding training
track-day/motorcycle racing tuition
Your market research may have helped you to identify a demand for a particular type of motorcycle rider training in your area. For example, you may think that there is a strong demand for Direct Access training for older riders, or for a personal one-to-one tuition service. You may decide to join forces with a local motorcycle shop to offer attractive learner packages where the cost of CBT is 'bundled' with the purchase of a new 125cc motorcycle.
As well as offering tuition, most training businesses also provide a range of motorcycles for their pupils to use. Although some riders will use their own motorcycle, many will wish to hire a machine for training and test purposes. If you are unable to offer them a suitable machine, they will simply look elsewhere, so this is a service that you really need to provide. You may decide to offer a small discount to people who want to use their own motorcycles.
Standards of servivce
Offering a convenient and high level of service is vital to the success of your business. There are several aspects of your business to consider.
The training site
Finding a suitable training site in the right location is very important. You will need the use of a fairly large off-road area such as a car park or runway for Compulsory Basic Training (CBT) purposes. The site that you use will need to be inspected and deemed fit by the Driver and Vehicle Standards Agency (DVSA). If possible, your site will be within easy reach of a large town or city and easily accessible - customers will not want to travel too far for lessons. It is likely that you will need a storage facility close to the site for storing your motorcycles and other equipment. This could be something simple like a shipping container equipped with very secure locks.
If you don't intend to offer CBT training, you won't need a dedicated site as the majority of your training will take place on public roads, although you may find it useful to have somewhere where you can mock up the layout of the DVSA Module One off-road test centre.
The motorcycles used
The motorcycles that you have available for pupils to hire must be suitable for training purposes, well maintained, clean and in good overall condition and should match the requirements of current rider licensing laws. Similarly, instructors' motorcycles should be smart and well maintained. You will also need to provide helmets and suitable clothing, such as gloves, jackets and high visibility vests.
The instructors
Offering a high standard of service is vital to the success of your business. Helpful, friendly tuition from knowledgeable and encouraging instructors will greatly enhance a rider's opinion of your business and help to build a good reputation. All instructors should, of course, dress in appropriate protective clothing.
Trade association standards
MCIA RIDE requires its members to follow certain pre and post-test training standards - these are available to download from the MCIA website. You may also consider registering with the Register of Post-Test Motorcycle Trainers (RPMT). You can read about the RPMT on the Gov.uk website.
Price your services
Getting the price right is very important. You must make sure that the price you charge is enough to cover all of your operating costs, including your own drawings. However, it is likely that you will have to set your prices at least broadly in line with what your immediate competitors charge.
Many businesses set a fixed price for a Compulsory Basic Training (CBT) course (which lasts one day) and a fixed daily fee for training towards the practical test. Generally two training days are the minimum recommended for an experienced rider, rising to four or five training days for a complete novice. A higher charge is usually made for one-to-one tuition - CBT training is otherwise given to groups of several riders at a time, and on the road tuition given to a maximum of two riders per instructor as required by law. (Most centres have a maximum of 4 riders per instructor for the off-road element of CBT and then 2 per instructor for the road element.) Motorcycles are generally offered for hire to pupils at a fixed daily or weekly rate.
You should check what prices your local competitors charge, and bear this in mind when setting your own fees. As a very rough guide, CBT courses might cost from around £130 (including bike hire) while a training course towards the two-part practical test may involve around 18 hours of training and cost from around £500 for a novice, possibly half that - and half the training hours - for a very experienced rider. (For example, someone who has spent several years riding a small motorcycle on a CBT certificate.) Because there is no difference in the practical test taken for the light motorcycle licence, restricted A2 licence and full category A licence, the price for training is usually the same.
Bikes may be hired out for pupils to practise on and charges of around £40 per day for a 125cc bike are common, rising to around £60 per day for a 600cc machine. Additional tuition might be charged on an hourly basis (for example, a short motorway riding skills course) or on a daily basis for advanced riding or refresher courses. Some trainers also give riders the option of paying by the hour for tuition towards the practical test. Typical charges might be around £20 to £30 per hour or £100 per day.
(Figures are included for illustrative purposes only - your own prices may vary significantly)
Reductions for quieter periods
Weekends and evenings - particularly during the summers - are likely to be your busiest times. To encourage trade at other times, you might decide to offer a lower rate for lessons taken during the week. This may be easier to arrange for on road tuition, as public or private car parks are commonly used for CBT courses and might not be available during working hours.
Demand for motorcycle training is seasonal, with a marked dip in demand during the winter months. You might decide to reduce your prices or make special offers during these periods in order to encourage customers to brave the colder weather.
Whether or not you decide to offer reductions, remember that motorcycle rider training is usually offered by several firms in any given area, so it is likely that potential customers will shop around to compare prices. Finding out how much your competitors charge will be useful for when you come to set your own prices.
Promote your business
You need to make sure that enough people will use your training services in order to make your business profitable. There are a number of ways that you can try to attract customers, including:
advertise on Yell.com and other similar online directories and in local print directories
advertise in your local newspaper on a regular basis
become accredited by MCIA RIDE and advertise this fact in your promotional material
register with the Register of Post-Test Motorcycle Trainers (RPMT) to show prospective customers that you have a high level of skill and instructional ability
register your details with websites such as Begin Motorcycling
advertise on a local radio station
ensure that your company name and contact details are visible on the instructors motorcycles and on fluorescent bibs used by riders
have leaflets printed that you distribute to local motorcycle dealers or mechanics. You might have an arrangement with a local shop to provide training to all new riders they sell a learner machine to
set up your own website giving full details about your business and including testimonials from satisfied customers
attend local events such as car and motorcycle shows
Buy an existing business
You might decide to buy an existing motorcycle rider training business rather than start your own from scratch. Buying a going concern can mean that the products, customers, regular sales, staff, premises and equipment are already in place.
relationships with local dealers and service/repair workshops have been established
But buying a business can be a hazardous, expensive process unless you have the right skills and experience on your team, including legal and financial know-how. Establish the genuine trading and financial position, so that the price you pay for the business is not too high.
Other matters to consider include:
the number and condition of any motorcycles that you are buying - remember that bikes used by learners lead a hard life and even relatively new bikes with low mileages may be in need of repairs and overhauling
the off road training site arrangements - does the business have its own land, or does it make use of a public or private car park at particular times. Bear in mind that any new site used for Compulsory Basic Training (CBT) will have to be inspected and deemed fit by the Driver and Vehicle Standards Agency (DVSA)
Franchises
Franchising can be a good 'halfway house' between starting out from scratch and buying an existing business. If you purchase a franchise you'll still be setting up your own business, but you should benefit from the experience, resources and brand name of a business that is already successful.
There are a number of different franchises available for motorcycle instructors, some national and some more local. Although different schemes vary in detail, most feature the following key points:
as a franchise holder, you will remain self-employed but will use the identity (corporate colours, logos, trade name and so on) of the franchisor
in return, you will pay the franchisor a fee - this is often paid weekly and may be fixed or linked to the number of lessons given each week
both you and your franchisor will have to fulfil certain obligations and maintain certain minimum standards
Many franchisors will oversee your own instructor training if you need it. You will, however, usually have to pay for your training. The franchisor may also:
supply you with suitable learner machines
help you to identify a suitable site which meets all the necessary requirements
give you access to a pool of appropriately qualified motorcycle instructors
provide the necessary administrative support, such as a website and a bookings tool
Details of the above points are set out in the franchise agreement or contract, which both you and your franchisor will sign. The agreement will also deal with other matters, for example any territorial exclusivity due to you and the minimum period for which the franchise will run.
Before entering into a franchise agreement, it is advisable to compare the terms of different franchisors to be sure that you are getting a good deal. Go through the contract with your solicitor before signing anything. More information about franchising is available on the Franchise Info website. Information is also available from the British Franchise Association (BFA). An online search for "motorcycle rider training franchise" should also yield a number of appropriate results.