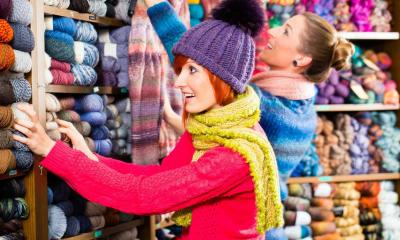 Ideally, you'll have an interest in knitting and other craft activities if you want to run a needlecrafts shop. Our practical guide will help you start up and run your own business.
Research your target market
When you plan your needlecraft shop your first step is to estimate the likely level of demand in the area and find out how well that demand is already being met. Doing some market research will help you with this.
Estimating demand
It's very important to find out whether there will be enough demand for your proposed needlecraft shop. Be aware that the sector is quite competitive and that the number of wool and needlecraft shops has gradually been falling over the years as consumers' interests, hobbies and lifestyles have changed.
Yarns, craft materials and haberdashery items are available from a number of different sources, such as:
national arts and crafts retailers such as HobbyCraft. HobbyCraft has outlets in many parts of Great Britain as well as an online shop
online retailers. Many traditional wool shops have launched e-commerce websites and target customers from all over the UK. Some businesses, like Sew and So, only sell online
mail order firms
large department stores such as John Lewis
other independent needlecraft shops
mills that sell direct to the public
Check out the competition in your area to identify how many other outlets are already selling needlecraft products locally. Have a look at some internet sites to see the type of products they sell and whether their website is easy to navigate and use.
It may be that you will only be competing directly against some of these competitors because you will be targeting a particular segment of the market - for example, keen embroiderers - or selling very unusual yarns which are hard to find elsewhere. For example you might decide to focus on natural dyed yarns, or continental hand knitting yarns.
Have a good look at your competitors to establish:
what product ranges they sell and the prices they charge
which services they offer
how knowledgeable and helpful their staff are
what sort of customers they have
Why will customers choose your shop
You need to make sure that enough customers will choose your shop rather than existing outlets. Your market research might indicate that there is a gap in the market that your shop can fill. For example, perhaps no one in your area offers a range of hand knitted designer garments made to the customer's individual measurements.
One of your greatest strengths will be to offer your customers help and advice with their knitting, embroidery, tapestry or other craft activity. It's very important to make sure that you and your staff are very knowledgeable about all of your product ranges and also that you can all help a customer out if they run into difficulties. Many yarns are produced abroad and your customers may ask you to translate leaflets and ball band instructions. A high level of customer service is very important in the needlecraft sector.
Check out future developments
The location of your outlet is very important and ideally there will be ample and easy parking nearby and also lots of passing trade. It makes sense to check that there are no plans to build new road systems, which would mean that traffic would bypass your shop, nor proposals to impose parking restrictions. Ideally you would be located in an area, such as a suburban shopping parade, which will already attract the sort of customers who might buy your products.
Find out what people want
Traditional wool and needlecraft shops have declined in number over the years because people's interests and lifestyles have changed. You will also face competition from large stores and internet retailers that can stock a very wide range of products. So it is very important that you find out what people want and whether there are particular products or services you can offer that will attract customers to your shop. If you plan to carry out a local survey, don't overlook potential customers such as playgroups, schools and colleges that might be interested in buying yarn or craft materials from you. If you specialised in very unusual products maybe other retailers would be interested in buying small quantities from you.
Research current trends, plus legal and tax issues
Selling on eBay and Amazon
Selling online can be an excellent way of reaching new customers and boosting your sales. But setting up your own ecommerce website can be expensive and you may not be sure at the beginning whether the value of the sales you'll make online will justify the set-up costs.
As an alternative, trading on eBay or Amazon lets you get a feel for selling online but with much lower start up costs. And you may decide to keep on selling through eBay and Amazon even when you have your own online shop.
Getting started
You might already have your own personal eBay account that you use to buy items for yourself and to sell things that you don't need any more. But if you're trading as a business on eBay you're legally obliged to make it clear in your listings that you're a business seller. This means that you'll either need to register a new business account or upgrade your personal account to a business one. There's guidance in the eBay Seller Centre on the definition of 'trading' if you're not sure whether you need to register as a business seller.
Similarly, with Amazon you can use an existing account or create a new one when you register as a business seller.
If you're not already running a business and you intend to start selling things on eBay or Amazon - perhaps just in a small way to begin with - then you'll need to notify HM Revenue & Customs (HMRC) that you're trading. There's guidance on the Gov.uk website that gives an overview of what counts as trading and what counts as self employment. It also gives details of your tax and record keeping obligations.
Decide whether to have your own virtual 'shop'
Having your own virtual storefront will give your business a valuable online presence and will allow you to display all your products together in one place.
When you sign up to sell on eBay, you have the option of setting up an eBay Shop. This allows you to create your shop using an existing template or to customise it to your own design. You don't have to choose the eBay Shop option straight away - you may decide it's best to wait until your monthly sales build up to a certain level and then upgrade.
With Amazon, you'll automatically create your own storefront regardless of the package you choose. You won't be able to customise it very much but you will be able to add your name and logo and provide some information about your business.
How much does selling on Amazon and eBay cost?
Before you start selling on Amazon and eBay it's a good idea to find out how much you'll have to pay in fees. Depending on the items you sell and the method you choose for selling them, your total fees can be quite substantial. And while some of the fees you pay will be linked to the number of items you sell each month, others are likely to be fixed costs which you incur even if you don't sell anything.
Both eBay and Amazon give you the option of selling as a business seller without paying any fixed monthly fees, although it's usually more cost-effective to choose a subscription-based package unless you're only selling a small number of items each month.
The eBay website has a fee illustrator tool and a fee calculator that will help you compare the fees for different selling methods and get a good idea of how much your actual per-item selling fees are likely to be.
The Amazon website gives detailed fee guidance, including some examples of pricing for their subscription and non-subscription packages.
Managing your listings
Uploading your inventory to eBay or Amazon and managing your listings can be a time consuming task, particularly if you're planning to sell a large number of items.
Both eBay and Amazon offer useful listing tools, some of which are free and others that you'll have to pay for.
Promoting your items
Because there's such a huge number of items for sale on eBay and Amazon at any one time, it's very important that you do everything you can to stand out from the crowd.
Always make sure that your listings include accurate, spell-checked descriptions and that your photos and other images show the items that you're selling in the best possible light.
You might want to take it a step further and use the various marketing tools provided by eBay and Amazon such as search optimisation, cross-promotions and paid-for advertisements.
Your reputation
As an eBay or Amazon seller your online reputation is extremely important. All sellers have a feedback score based on actual customer feedback and this is the main measure that future customers will use to check that you are trustworthy and reliable.
So you'll want to keep your rating as high as possible by providing an excellent level of customer service and fast delivery at reasonable prices. Make sure you always respond promptly to customer queries, deal with returns efficiently and keep an eye on your stock levels to avoid your listings showing an item as being in stock when it has sold out.
Be aware that packing up orders and sending them out can be time consuming, but it's important to stay on top of the job to make sure that the right items get delivered in good time to the right people. Very many parcel delivery services now offer bulk shipping tools that integrate with your eBay or Amazon account and these can greatly simplify the process of arranging and tracking your deliveries.
If you're selling on Amazon you might also consider using the Fulfilment by Amazon service, where you send Amazon your inventory and they do all of the picking, packing and shipping as well as providing customer service.
More information
The eBay and Amazon websites have a great deal of useful guidance to help you get started as a business seller and to expand your business as demand for your products grows. Both also have lively seller community forums where experienced sellers are often happy to answer questions.
Decide what to sell
Although some needlecraft shops concentrate on a particular range of products - for example, hand knitting wools and other yarns - most outlets stock a very wide range of items. The size of your premises and your own skills and interests will determine how many different product lines you will carry, but you might sell some or all of the following:
wool, cotton, silk and other yarns. Supplied in balls for hand knitters and on cones for machine knitters. You'll need to stock different plys, mixtures and colours
yarns, threads and kits for other needlecrafts such as embroidery, crocheting, tapestry, blackwork, cross stitch and so on
material and kits for quilting, patchwork, rug making and so on
magazines, books and pattern leaflets/brochures
haberdashery items
needles and other sewing and knitting accessories
curtain making accessories
upholstery materials, cushion pads
sewing/knitting machines and spares
fabrics
hand knitted and machine knitted garments
children's craft and hobby kits
frames and framing accessories
paints, papers and other artists' materials
materials for card-making and other crafts
jewellery kits
toy making kits
New season's stocks come in regularly so it makes sense to monitor your stock carefully and get rid of outdated or slow moving lines to make room for new ranges. You could discount these items to cost or thereabouts to make sure you can shift them. Many needlecraft shops have a sales period twice a year to sell off unfashionable yarns, ends of lines, left over wool from different batches, soiled and damaged goods and so on.
Seasonality
October generally marks the beginning of the knitter's year and you are likely to have most demand for yarns and haberdashery in the six month period from October. If it is a cold autumn and winter this generally encourages knitters to pick up their needles and to buy the more expensive yarns such as Aran or cashmere. Warm winters are likely to see fewer people knitting and if they do, they are more likely to use a lightweight (and cheaper) yarn.
Demand for other needlecraft materials (for example for embroidery or tapestry) is generally more evenly spread throughout the year although people often concentrate on this type of hobby during the winter months. You may find that craft kits are popular Christmas gift purchases.
If colleges in your area offer craft courses it would be wise to make sure that you stock the materials that students on these courses will need.
Always make sure that you have enough stock to cater for demand during peak periods.
Establish your customer profiles
It is likely that most of your customers will be members of the public, although you might also have some trade customers such as professional dressmakers, furniture restorers, upholsterers, local playgroups, nurseries, schools and colleges or craft workshops.
Many of your customers are likely to be female with some of them being among the older generations, although there's no doubt that needlecrafts have become popular with a range of different people of all ages and from all walks of life. Customers will probably include seasoned hobbyists, first-timers who are keen to have a go, and people who just need to repair something. Parents of children who need to make costumes for fancy dress parties and school plays may also come into your shop from time to time.
It's quite likely that you'll have a core of regular customers who visit your outlet frequently and account between them for quite a significant proportion of your sales. It goes without saying that you need to look after these customers well. You could consider holding regular craft get-together evenings at which like-minded people bring along their current project to work on. You'll be able to make a small charge so you can offer plenty of tea, coffee and cake!
You might decide to offer your customers a 'lay-by' system if they want to buy yarn for a garment. This means that you would estimate the amount of yarn they would need and store it for your customer. (Because yarns are dyed in batches it is important that the whole garment is made up from yarn with the same dye batch number.) The customer comes in as the garment progresses and buys the yarn from the lay-by in small quantities. As many knitters are elderly people on low incomes this helps to spread the cost of the yarn over several weeks.
If a customer is prepared to pay for all the yarn up-front you might be able to offer them a discount - for example 10%.
Services offered
As well as stocking a very wide range of needlecraft items you may also decide to offer your customers various services, for example:
putting wool aside for a customer which they can collect and pay for as they knit the garment ('lay-by')
hand knitting services. The customer buys the wool and pays a hand knitter to make up the garment to their measurements
knitwear design, for customers who want something unique
knitting and sewing workshops, lessons and get-together evenings
troubleshooting and advice for all sorts of craft activities
fashion shows, at which customers can buy the pattern leaflets for the garments modelled. This encourages them to come into the shop later and buy the yarn
knitting/sewing machine sales and repairs
collection/deposit point for a dry cleaning firm
Some shops set aside an area with comfortable seating where customers are encouraged to come and knit and to meet other knitters. This can encourage people who are novices and help them to become proficient - so that they are keen to keep knitting!
Advertising your shop
Whatever the nature of your shop, it's essential to make sure that your potential customers know about you and the products and services you offer.
There are a number of things you can do to promote your business:
advertise in your local newspaper and any local directories
launch your own website and offer online sales. Many yarn suppliers include links to their distributors from online directories. Send out regular eNewsletters advertising forthcoming needlecraft events or the arrival of new stock ranges
have your shop featured on the UK Hand Knitting Association website Find a Yarn Shop page
contact local colleges to offer craft students a discount
offer needlecraft lessons and workshops. You could target children as well as adults - for example local Brownie or Girl Guide groups
display hand knitted garments, craft kits and so on at local shows
organise an annual knitting or craft competition - prizes could include vouchers for your stock
see if you can leave some promotional material at local mother and baby clinics
make sure your window displays are eye-catching and that any special offers are highlighted - displaying the new spring ranges when the sun comes out often boosts sales
use social media like Facebook and Twitter to tell people about new stock or upcoming events
set up a knitting blog to share tips and patterns
Pricing policy
Getting your prices right is very important. You must make sure that the difference between the cost price and the selling price of the items you sell is enough to cover all of your operating costs, including your own drawings. However, the needlecraft sector is quite competitive and you will have to price in line with your immediate competitors unless you are targeting a niche market that your competitors do not cater for.
Regular customers will appreciate the knowledgeable service that you can provide and the wide range of specialist products. But remember that they may well shop around for the best prices - including online.
Suppliers to the needlecraft sector may include suggested retail prices in their catalogues and price lists. However some independent retailers say that these are too high when compared with the competition, particularly if many customers are elderly and on limited incomes.
Special offers and discounts
You may well offer a discount to customers such as educational establishments, particularly if they regularly place large orders with you. You might also offer discounts to professional dress makers or curtain makers who regularly purchase haberdashery items from you, or to members of a local knitting club.
Buy an existing business
You might decide to buy an existing needlecrafts business rather than start your own venture from scratch. Buying a going concern can mean that:
the premises, business equipment and shop fittings are already in place
a business website may have been set up
there are established regular customers
the business can generate income immediately
suppliers have been identified and relationships established with them
the business has a track record, which can help if you are looking for finance
staff may already be in place
However, look critically at any business that you are interested in to make sure that the price you negotiate with the seller is a fair one. Try to establish why the business is for sale - for example, is the owner keen to retire or is there another personal reason for selling up.
Your market research into the sector as a whole and the locality in particular will help you to establish whether or not the owner is selling because he or she can no longer generate enough income from the business. This may not necessarily deter you - many business people are confident that they can turn a failing business around. The important thing is to have established the current position so that the price you pay for the business is not too high.
Other matters to consider include:
the state of the premises, fittings, equipment and so on. Will you have to spend money refurbishing or replacing assets
the condition and value of any stock you are buying. Check this over carefully before agreeing a price - particularly if it includes items that are affected by fashion trends
existing staff rights
how to retain key personnel once you've taken over
does the business owe money that you will be responsible for
if you are paying for goodwill, to what extent does this depend on the skills and personality of the seller
Ask your accountant to look critically at the business accounts for the past three years and discuss with him or her the selling price in the light of what the accounts reveal. Make sure you budget for other professional fees such as legal fees and valuation and survey costs.