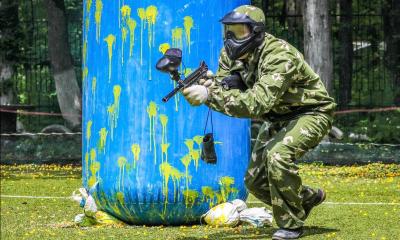 Activities like paintballing are particularly popular with young adults and many paintball centres target stag and hen parties. Check out our practical guide for starting and running your own paintball centre.
Research your paintball business' target market
When you plan your paintball business it's very important to give some thought to who your customers will be and how well they are already served. Doing some market research will help you to establish the facts.
How much competition will you face?
It's important to be aware of direct and indirect competitors in your area or region. You can do this by browsing on Yell.com or a similar business directory, looking online for competitors' websites and driving around your proposed area to get a feel for the distribution of your competition. Be aware that many different types of activity and leisure sites may compete for the same business as you. You may face competition from:
other paintball centres in the region
businesses that offer a similar experience to yours, such as indoor and outdoor laser tag games
centres that offer other outdoor activities, such as quad bikes, go karts, forest adventure centres and so on. Outdoor activities have become very popular with stag and hen parties and the organisers of these may not have a specific activity in mind but rather go for the activity that sounds like the most fun and the centre that offers the best package
People often travel considerable distances to go to special event days like paintballing. So your direct competitors might include other paintball centres in your county and in neighbouring counties.
How strong is your competition?
You will face strongest competition from other paintball sites so you may find it useful to visit a few of your competitors to try to establish:
how big their site is
what features it has (for example compounds, tanks, helicopters and so on)
the prices they charge
the range of games they offer (for example capture the flag, hunt the 'stag' and so on)
what markers (or laser equipment) they use
how friendly and efficient the members of staff are
whether they organise tournaments
if they offer food and drink
what the general atmosphere of the centre is like - is it friendly, in good repair and so on
whether they offer discounts
Your market
The nature of your customer base will depend on the type of business you intend to run but may include:
individuals who want to take part in an event, tournament or 'walk-on' day
employees of local and national businesses. Many companies use paintball sites for team-building exercises and other similar events
stag and hen parties. Paintball centres are popular venues for stag and hen weekends, particularly among younger people
groups celebrating a birthday
family groups
Scout troops
How much demand is there for paintballing?
You will also need to establish how much demand there is for your business. As it is likely that you will have customers from your local area and from further afield (stag and hen parties, for example, often travel to an area for a weekend away), you need to know the level of both national and local demand. There are many market research reports on the sports and recreation sectors and all good reference libraries will either have copies or be able to tell you where to get them. These reports will tell you the level of demand nationally and what the market is forecast to do in the forthcoming years.
To gauge the level of local demand you could:
visit local paintball centres at different times to see how busy they are
contact local businesses to see whether they would be interested in using your centre for corporate events
contact local paintball clubs
find out if local schools, colleges and clubs would use your centre
look online at paintball forums
You could try contacting established paintball marketing networks to find out whether they are looking to sign up a centre in your area.
Why will customers choose your paintballing business?
Customers may choose your centre for a number of reasons, including the following:
your location. For example, there may be other attractions in your area that would encourage parties to visit
the quality of the equipment you use
the scope of your site and the features that it contains
the range of games you offer may be more imaginative than your competitors
you might offer other activities, such as quad biking and assault courses
your prices may be the cheapest
you may decide to run regular paintball tournaments
you may be aiming for a specific market, such as stag and hen weekends
you may offer packages that your competitors do not, such as all day events with a pig roast lunch
Research current paintballing trends, plus legal and tax issues
Where will you locate your paintballing business?
Your paintball site is likely to be situated on a fairly large piece of land. Typical sizes range from around 20 acres to as large as 100 acres. The site will be divided up into a number of game zones which will all offer a different environment. For example, one may consist solely of thick undergrowth whereas another may have structures, such as an imitation guard post, built on them. There will also be a 'safe zone' where players can remove goggles and protective clothing.
Paintball events
Players will typically book in for a day or a half day, depending on how long they want to play for, and they may attend as individuals or as part of a group. A day's event will include a number of different types of games held in the various game zones. There is generally a set charge for the rental of the paintball marker and other equipment and this may also include the first 100 paintballs. Any further paintballs used will be charged for, as will any paint or smoke grenades. These will usually be paid for at the end of the day's play. Players are generally allowed to use their own equipment (but normally not paintballs) if they want to (sometimes only on designated 'walk-on days', and always at the discretion of the centre).
Before the start of each game, a marshal will brief both teams as to their objectives and then the game will commence. Any player who is hit is then out of that particular game. Marshals are on hand to verify hits.
You may choose to run paintball events that are open to all on certain weekends. This is the time when you're likely to attract most custom. You could try to schedule group bookings for week days. Bear in mind though that paintball is a popular activity for stag parties, and many of these are likely to prefer a weekend group booking - so you'll need to be flexible.
Paintball tournaments
You may also decide to hold paintball tournaments, either as one-offs or as part of a local league. You will have to decide on the exact nature of the tournaments you will offer - the United Kingdom Paintball Sports Federation (UKPSF) can give you more guidance on this.
Food and other refreshments
You may well decide to offer your customers food and drink during the course of a day's play. You might decide to cater for this yourself or to rent a pitch to a burger van or similar outside caterer.
Rules
As well as the rules of play for your paintball games - for example what players need to do once they have been 'shot' - there will be certain safety and conduct rules that you and your staff will need to explain to customers. These will include information about where and when they may - and may not - discharge their markers, rules regarding use of own equipment, and other rules like the minimum age to play and your policy on alcohol (alcohol consumption is generally not permitted on site, and anyone showing signs of being intoxicated may be asked to leave).
What should you charge for paintballing activities?
Give some thought to your pricing policy, bearing in mind that the prices you charge will have to cover all of your overheads (including your projected drawings) but should also not be so high that they deter customers. You may decide to price in line with your competitors, at least until your business has become established.
You may already have your own ideas as to what packages will be attractive to customers and the prices you will charge for them or you may like to use the example below as a starting point.
Note that it's usual not to charge separately for the rental of the marker and other equipment such as goggles, overalls and so on. It's also common practice to prohibit customers from bringing their own paintballs and other 'ammunition', although you'll probably allow them to bring their own protective equipment (and possibly markers, subject to certain conditions and always at your discretion) if they want to.
Example pricing tariff - figures used for illustrative purposes only
Full day's play
Equipment hire, lunch and 500 paintballs - £35
Equipment hire, lunch and 700 paintballs - £45
Equipment hire, lunch and 1,000 paintballs - £60
Half day's play
Equipment hire and 200 paintballs - £20
Equipment hire and 500 paintballs - £30
Evening play
Equipment hire and 100 paintballs - £15
Walk-on charge
£15 per day (no equipment rental or paintballs included)
Extras
100 paintballs - £7.50
1,000 paintballs - £50
Smoke and paint grenades - £3.50 each
You may decide to offer discounts, such as:
a cheaper rate if paintballs are bought in bulk (for example £60 for 1,000)
discounts for customers who book through a paintball marketing network you have signed up to
free paintballs for the organiser of a group booking
discounted rates for juniors and students
You will also need to decide how much to charge for food and drink items if they are not included as part of a package, and also for entry into tournaments. Some paintball centres offer free unlimited tea and coffee to participants.
You might decide to offer discounts for various reasons - for example to reward regular customers or to encourage bookings on quieter days of the week. Maybe you'll decide to offer special deals through 'daily deal' websites like Groupon and Wowcher.
Payment terms
You may decide to ask for deposits up-front, especially for bookings that will fill your centre on their own. These may be non-refundable to cover you in case of late cancellations.
Promote your paintballing business
It's very important to make sure that your potential customers know about you and the range of services you offer.
There are a number of things you can do to promote your business, for example:
write an article for - or advertise in - your local newspaper and any local directories
purchase a listing in an online directory of paintball sites and/or join one of the various paintball marketing networks available like paintball.co.uk
organise tournaments
launch your own business website, showing all the features that will attract customers to your centre
advertise in an online stag and hen event directory
contact local paintball clubs or established paintball leagues
contact local schools and colleges, possibly offering them favourable rates
contact local businesses and tell them how your services could benefit their employees
form links with related businesses, such as paintball equipment retailers
Advertising can be expensive, so it's important to plan your strategy carefully and try and get the maximum amount of positive exposure for your money.
Make the most of the web to market and promote your business. As well as a good business website consider using a regularly-updated blog, as well as social media and online networking sites. You could consider publicising special offers through 'daily deal' websites like Groupon and Wowcher. And don't ignore TripAdvisor - it lists paintball sites. Take steps to manage your TripAdvisor listing. You could consider advertising on the TripAdvisor website too.
Buy an existing paintballing business
You might decide to buy an existing paintball centre rather than start your own venture from scratch. Buying a going concern can mean that the products, customers, regular sales, staff, premises and equipment are already in place.
Buying an existing paintball business might involve acquiring the freehold to the site, or acquiring a lease on it. This can mean that the costs involved are often high. If you're not acquiring the land then look carefully at what security of tenure you have. If the land owner decides not to continue with the arrangement a few years down the line then you could be left with no business.
Are there any unsettled disputes, such as problems with neighbours, or outstanding planning, legal or injury claims pending.
But buying a business can be a hazardous, expensive process unless you have the right skills and experience on your team, including legal and financial know-how. Establish the genuine trading and financial position, so that the price you pay for the business is not too high.