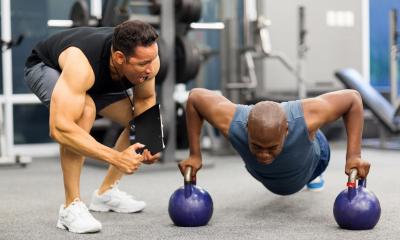 As a qualified and experienced fitness instructor you might decide to set up as a personal trainer, helping clients to achieve their fitness goals. You'll find all you need to start up and run your own personal training business in our practical guide.
Research your target market
When you plan your business it's very important to give some thought to who your customers will be and how well they are already served. Doing some market research will help you to establish the facts.
Demand for your services
Provision of personal fitness training is still a relatively young and developing industry. General attitudes to health and fitness have changed to the point where expenditure on keeping fit and healthy is seen by some as an essential rather than a luxury purchase. However, while attitudes may have changed, the level of obesity is rising in the UK and the government has launched various initiatives to try to combat this. Key among these for personal trainers are the exercise referral schemes, through which GPs can prescribe a program of exercise to a patient if they deem it appropriate. Patients can be referred to a suitably qualified professional - for example a level 3 or 4 exercise referral instructor registered with the Register of Exercise Professionals (REPs - often referred to as the Exercise Register).
You could try to assess the level of demand in your local area by visiting gyms, leisure centres and other sports facilities to see how busy they are. However, this may not be a good indication as those people that can motivate themselves to exercise may feel they don't need your services. So it may be that your client base will only become apparent when you start to advertise your services.
Competition
Your direct competition will come from other personal trainers operating in your area. Have a close look at their businesses and try to establish:
the kind of service they offer
their level of qualifications
where and how effectively they advertise themselves
the prices they charge
Gyms and other sports facilities may also be competitors but you can look at them as opportunities rather than threats. Many gyms and health clubs will allow independent exercise professionals to operate in their facilities and if they don't let you do that they may agree to you placing adverts on their premises.
If you run classes - for example a regular exercise-to-music class in your local church hall - then be aware that you may well face competition from leisure centres, which may have excellent facilities and often charge fairly low rates to class participants. However, these classes may sometimes be very large and can feel a bit impersonal - focus on the key points which differentiate your classes from the competition.
How will you attract clients?
To attract a sufficient number of clients to make your business a success you'll need to make sure that your profile is as prominent as possible. You can achieve this by:
getting properly qualified and listed on the Register of Exercise Professionals (REPs)
joining a trade association such as the National Register of Personal Trainers (NRPT)
advertising in gyms, health clubs, spa hotels and other sports facilities
advertising in an online directory
advertising in your local newspaper and any local directories
sending out mailshots to offices and businesses in your area
setting up a website that details the kind of service you can provide - you could offer an online 'virtual coaching' service, write a regular motivational blog, and email your clients tips and exercise plans
networking and marketing using social media
providing an excellent service which will help you to retain clients and lead to word-of-mouth recommendations
offering free 'taster' sessions (classes and/or one-to-one) to potential new clients
You may find that it's worthwhile holding regular exercise classes which people can attend whenever they want to for a fairly low charge (usually just a few pounds). You could hold these in a hired room at a leisure centre, in a church or village hall, or even outside. As well as providing you with an extra source of income, you may find that some of your class participants are interested in signing up to a one-to-one training programme.
Client profile
You might decide to target mainly male or mainly female clients, but most personal trainers target both.
Engaging a personal trainer is not cheap and is a non-essential purchase so you'll probably find that many of your clients are fairly well off - often professional people. Your clients are likely to want to improve their levels of physical fitness, build muscle or lose weight, and may engage your services because:
they do sedentary work which provides no exercise benefit
they want to achieve a particular goal - for example running 10 kilometres or completing a half marathon
previous unstructured exercise has not achieved the goals they are aiming for
they recognise they are not motivated enough to exercise regularly on their own
they want your expert advice on what types of exercise are appropriate. You may find that older clients in particular need guidance
they have little time to exercise during the week and want to make sure they are maximising the effectiveness of every session
they want their children to do more exercise but are afraid to let them out alone and don't have the time to supervise them themselves
You may also have some corporate customers who want to give their employees access to a personal trainer.
Perhaps you'll decide to try targeting celebrities or sports-people - it can be very good for business to become known as a 'celebrity personal trainer', although it may not be easy to achieve this status.
You might also decide to work with people who have been referred to you by GPs and other medical professionals.
Research current trends, plus legal and tax issues
Class participants
As well as clients who sign up for your one-to-one or small-group sessions, you might also provide regular exercise classes for people who can just turn up, pay a few pounds and participate. Some might pay for a block of classes in advance, but many will just pay on the day and some will only turn up occasionally.
Other professional trainers
You might decide to offer cover services to other professional trainers and instructors to fill in when they are sick or on holiday. You could provide cover for classes and one-to-one sessions.
Clients for other services
If you're qualified to provide sports massage then your clients might include various types of regular sports participant - possibly including semi-professional and full-time professional athletes and team members.
Qaulifying
Skip to main content Toolbar items Manage Shortcuts Administrator User account actions View profile Edit profile Log out Vertical orientation Edit Sectors Qualifying as a personal trainer Primary tabs View Edit(active tab) Delete Breadcrumb Home Node 106575 Edit Title Qualifying as a personal trainer sector_pageName personal-qualifying.htm About text formats Text format Web page addresses and email addresses turn into links automatically. Body (Edit summary) About text formats Text format sector_checkpoints About text formats Text format sector_hotlinks About text formats Text format sector_tradeName personal trainer (893) Show row weights sector_category sector_category (value 1) consumer_services (972) sector_category (value 2) Meta title Meta description Meta robots No index No follow Meta canonical URL Published Last saved 08/06/2019 - 11:34 Author Create new revision MENU SETTINGS RABBIT HOLE SETTINGS SIMPLE XML SITEMAP URL ALIAS URL alias /sectors/consumer-services/personal-trainer/qualifying-as-a-personal-trainer Specify an alternative path by which this data can be accessed. For example, type "/about" when writing an about page. AUTHORING INFORMATION PROMOTION OPTIONS Published Delete Tray "User account actions" opened. Tabbing is constrained to a set of 0 contextual links and the edit mode toggle. Press the esc key to exit.
Your role
Personal qualities
As a personal trainer you'll have excellent physical fitness and a strong interest in health and exercise, as well as being self-motivated and personable. Your daily work will entail motivating your clients to achieve their exercise goals, possibly when they do not feel like it, so you will need to be persuasive but friendly. You will discuss with clients what they want to gain from sessions with you and then plan their exercise programs for the forthcoming weeks or months. You will need to have good communication and organisational skills to be able to achieve this successfully.
Your daily routine
You are likely to see clients in 45 minute or hourly sessions, during which you will help them during their workout. You will have designed a program tailored to each individual's needs, so the workout may take place:
in the client's home using your - or their - own equipment, such as weights or exercise balls
outside, such as running, walking or cycling around the client's local area
in a gymnasium or other sports facility, such as a swimming pool
The goals of each client will differ but may typically be to lose weight and improve general fitness. You will monitor their progress as you feel is appropriate using methods like measuring the level of body fat, monitoring heart rates and timing sessions (such as runs or cycle rides). Your clients may also appreciate advice on diet and changes to their lifestyle which will also contribute to their general well being.
If you supervise any classes such as aerobics and circuit training then they will be held at fixed times every week, often in the evening when people are able to fit a class into their daily schedule.
Decide which services to offer
Your clients' goals will differ in detail but will essentially be to improve their level of physical fitness and mobility and to change their body shape. Some will have a preference for certain types of exercise so you should be as flexible as you can be to deliver a level of service that they will be happy with.
With new clients, you will have an initial consultation where their level of fitness is measured and their goals discussed. You will then have to decide firstly if their goals are realistic (and if they are not, tactfully suggest alternatives) and then create a tailored program that will fulfil those goals, bearing in mind the amount of time the client wants to spend with you and also how much money they are prepared to spend.
The fitness programs you devise may include:
aerobic activity, such as walking, running, swimming or cycling
strength sessions, using weights
yoga, pilates and so on
aquatic fitness
nutrition and general health advice - clients may appreciate it if you give them printed leaflets and fact sheets that they can keep and refer to in their spare time
Personal trainers have found that there is a demand for wedding training packages for both brides and grooms. Some packages are aimed specifically at brides who want to tone up for the big day and possibly drop a dress size or two. Pre and post-natal fitness packages are also be offered by some.
Sessions may take place in the client's home, outside (in local parks, for example) or in a gym, spa hotel or other sports facility. Some clients may want to employ you at times outside the normal working day, such as very early in the morning or late in the evening, and others will want you on weekends. You may decide to offer a 'virtual coaching' service and give feedback by email and text.
Sessions might take the form of one-to-one coaching or small groups.
If a client has stated specific goals, you should have the necessary skills and tools to be able to measure their progress. This may include:
measuring body fat with calipers
measuring heart rates
timing clients over a set distance - for example, a client may want to reduce their time for running 10km to under 45 minutes and it may be up to you to measure out a course and help them achieve this
Other services
As well as providing coaching and training sessions for individuals and small groups, you might also offer some or all of the following:
exercise classes, such as circuit training, aerobics, zumba and general exercise to music
'bootcamp' classes whose specific purpose is often weight loss
cover for other trainers and instructors who are sick or on holiday
sports massage
You might also decide to sell products such as exercise equipment, books and sports nutrition supplements - possibly through a multi-level marketing scheme (where participants earn money not just from making product sales themselves but also by recruiting other 'downline' sales people to sell the products too)
Seasonality
You may find that demand for your services is affected by the time of year. For example, you may experience increased demand for 'bootcamp' sessions in particular following Christmas and New Year when people make resolutions to lose weight or in the run up to summer when people want to look good on the beach. You may find that you will change your working practices to suit the season, so that in the summer when the weather is better and the days are longer you may focus on outdoor activities and then move inside during the winter months.
Price your services
Getting your fee level right is very important. You must make sure that you cover your overheads and expenses and also make a reasonable living. The price per session charged by personal trainers tends to vary depending on the region, and you will want to check out a few of your competitors to make sure you don't charge too much or too little.
Some of the factors that may affect the amount the you charge for personal training sessions include:
the part of the country you're based in and the regional or local going rate - typical fees charged in London are much higher than those normally charged in many other parts of the country
how affluent the area that you work in is
the length of a typical session (if you're going to charge per session rather than per hour) - between 45 minutes and an hour is usual
whether the session is one to one or for a small group
your level of expertise and qualifications. If you are better qualified than your competitors you may be able to charge more than they do
your reputation
how effectively you market yourself
your target market - will you, for example, aim to target celebrities and/or well-known sports-people, and charge higher than normal rates as a 'celebrity personal trainer'?
how high your fixed costs are - will you, for example, have to pay your local authority for a permit to work in parks and other public open spaces
When it comes to pricing any group sessions and classes you provide, you'll need to keep in mind the following:
how many people you expect to turn up each week - and the maximum number you can accommodate
any costs you will incur - for example hire of a room or hall
what the going rate is for any other similar classes on offer in the area - and how the service and facilities you can offer compare
whether or not you need to undercut the competition - perhaps just at first - to attract participants to your class
If you're planning to sell any products then you'll need to think about how to price these too. Your suppliers may be able to give you guidance on this.
Special offers and discounts
From time to time you may decide to run special offers and discounts, which may include, for example:
waiving the fee for the initial consultation
reducing the rate charged if a block of sessions is booked and paid for in advance
giving free sessions if an existing client's recommendation leads to a new client
giving free 'taster' sessions to potential new clients and class participants
charging a reduced rate to pensioners