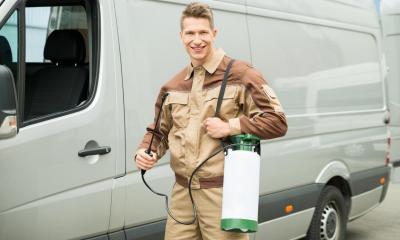 They say there are more rats than humans and this means plenty of work for businesses offering pest control services! Our guide gives you all the essentials for starting up and running your own pest control business.
Research your target market
When you plan your pest control business it's very important to give some thought to who your customers will be and how well they are already served. Doing some market research will help you to establish the facts.
Estimating demand
You will need to find out whether there is room in the local market for your pest control business. You will be competing against:
large national chains, such as Rentokil and Pestforce
other large operators which offer a national service by partnering with a network of local technicians
local independent pest control businesses
local authorities, many of which provide pest control services - often for less than the cost of commercial operators' services
Probably the easiest way to establish the number of competitors in your area is to look on Yell.com (category 'pest and vermin control services') and other similar directories. These should list the national chains' outlets and local independent businesses. It may also have contact details for your local authority's pest control department.
Try searching online for pest control services in your area too.
Looking at websites and adverts on Yell.com will give you a good idea of the type of service your competitors offer, such as whether they can cope with industrial and agricultural jobs, whether they offer free assessments and so on.
If your local authority offers pest control (as they often do) you should check to see what they offer. Some do not charge domestic customers for exterminating pests that constitute a health risk, such as rats and cockroaches, and many offer competitive rates for other pests. What they generally don't offer, though, is any proofing against possible future pest problems. And more and more councils contract this service out to a commercial specialist - so it could actually be an opportunity for your business.
You could also try to establish (either by phoning them or by looking at their website) other aspects of your competitors' businesses, such as:
the prices they charge
the methods they use
the level of qualifications their employees hold
any other services they provide, such as supplying and servicing electronic insect killing machines
It is possible that your competitors will also include air gun enthusiasts, who will offer their services (sometimes for free) to remove pests like rabbits and birds. Owners of birds of prey may also offer a similar service.
Why will customers choose your business
To make your business succeed you will need to make sure that you get enough custom. It may be that you are planning to undercut your competitors on price or that you feel that the quality of service you provide is superior. It is also essential that you make prospective customers aware that your business exists, so you may decide an advertising campaign is worthwhile. This could be advertising in your local paper, dropping leaflets through people's doors, targeting catering businesses and so on.
You should also bear in mind that, if most of your customers are from the domestic sector, they will only use your services in emergencies. Frequently this means looking on Yell.com or making an internet search for businesses their area and selecting the business whose advert catches their eye first. You need it to be your business that attracts their attention and it may be worthwhile investing in a prominent advertisement. Prompt response to calls and an excellent level of service should ensure repeat business and word of mouth recommendations.
Research current trends, plus legal and tax issues
Customer profile
It is likely that you will have both domestic and commercial customers. You might also have customers from non-commercial organisations like the National Trust.
Domestic customers
The majority of your domestic customers are likely to be people who contact you in an emergency for a one-off treatment to deal with an infestation or specific problem. These will include removing rodents or insects from homes and gardens, controlling bird pests and so on.
Commercial customers
Your commercial customers may include:
catering businesses, such as restaurants, cafés, pubs and bakeries
offices and shops
petrol filling stations
local farms, equine and other agricultural businesses
factories
warehouses
hotels
nursing homes
housing associations
private landlords
While you will deal with some of these customers on a one-off basis sometimes, it would be better for your business if you could establish long-term 'pest-proofing' contracts with businesses so that the problem of pests is prevented. This is appealing to businesses as they can use a contract of proofing to show that they have observed due diligence in the event of any legal dispute.
You might get contract work from organisations like utilities companies (sewerage companies in particular need rodent control) and land owners like the Ministry of Defence, Network Rail, airport operators, the National Trust and the RSPB.
You may also be able to secure contracts to work for your local authority. Local authorities are not obliged to treat pest problems, but they do have a duty to keep their own land areas and premises free of pests. They also have a duty to ensure that other land and property owners/occupiers keep their property free of pests that are harmful to public health. In many cases, local authority pest control work is put out to competitive tender.
Agricultural customers
Depending on your location and your level of expertise, you may have some customers that are farmers. In recent years, farmers in all sectors have been under increased pressure to become members of farm assurance schemes. These schemes are designed to reassure the customer as to where their food has come from and how it was produced. The schemes generally specify that the farm must have a satisfactory pest control programme. If you take on this sort of work, you are likely to encounter similar pests as you would in a domestic or commercial setting though usually in much greater numbers.
Other customers
Churches, museums, libraries, schools and other large public buildings might also require pest control services occasionally. Pigeons in particular can be a nuisance in these kinds of buildings and you might be asked to fit pigeon netting or spikes.
Types of pest
There are various different types of pest that you might be called on to control, ranging from insects to birds and mammals. You might also decide to offer your services in controlling problem plant species.
Rodents
Rodents cause damage by gnawing at or through almost everything and can also contaminate food and food preparation surfaces. The most common rodents that you will have to deal with are the house mouse and the brown rat but you may also have to deal with others, such as grey squirrels, rabbits and so on. Note that the control of rodents and other pests in the workplace is governed by legislation.
Other mammals
Other mammals that you might be asked to control include foxes, particularly the urban variety. These can often be trapped humanely and removed from the area. Moles can also need trapping and removing when they are causing a nuisance for gardeners, farmers and other landowners.
Wasps, bees and ants
Wasp and ant nests near to or in houses and work places can cause a great deal of distress and inconvenience to the occupants. These insects are at their most numerous during the warm weather in spring and summer.
Bees may sometimes need removing or even eradicating, although as they are endangered people often opt to leave them alone unless it's absolutely necessary.
Flies
The most common flies that you will be asked to deal with are the house fly, the lesser house fly and the bluebottle. These are a major health risk as they spread many diseases.
Cockroaches
A universally hated pest, the cockroach has the capability of spreading diseases.
'Stored product' insects
These are so-called because they feed on food in storage (or while it is being transported or manufactured). These can affect domestic dwellings, shops that sell food and catering businesses and the most common of them are dermestid beetles, spider beetles and book lice. They are a year-round problem.
Other insects
Pet-borne fleas are a common household infestation, particularly in warm weather. Fleas are brought into the house on a host pet (usually a cat or dog) and live in carpets and soft furnishings, causing problems for humans.
Other problem infestations that you might be called on to deal with include bed bugs, house moths and carpet beetles.
Birds
There are certain species of bird that are classed as pests as they can cause damage to buildings, cause problems with the noise they make or from fouling and can also contaminate food and spread disease. The most common bird pest species are feral pigeons, sparrows and starlings.
Invasive plants
Certain species of non-native invasive plant can cause problems for householders and landowners. These include Japanese knotweed, giant hogweed and Himalayan balsam. Invasive plants threaten natural habitats and can in some cases cause damage to property. Some are difficult to control and require specialist products, treatments and techniques to eradicate.
Decide which services to offer
When deciding on the range of services to offer there are certain things that you should first consider. These include:
your experience in the industry. If you are new to the sector, it may not be possible for you to offer some of the more specialised services
the size of your business. If you have only a small number of employees (or none) you may have to limit the number of services you offer so that you are not overwhelmed
the nature of your area. For example, if you are in a rural area, you may find it profitable to offer agricultural pest control
Some of the services you could offer include:
domestic pest control. This will involve extermination of pests such as rats, mice, bed bugs, cockroaches, nesting wasps and fleas using techniques such as baiting, trapping, fumigating and so on
pest control of commercial premises, for example offices, catering businesses and factories
pest control in an agricultural environment, for example controlling pests in grain silos
free assessment and initial survey
proofing against possible future pest problems by, for example, installing bristle strips and fly curtains
trap hire
investigating roof space noises
selling DIY pest control products. You could do this from your premises or online
When it comes to working for householders and small businesses it can be an important selling point to use unmarked vehicles. Many potential customers would rather not have a van marked 'pest control' outside their house or premises.
You might decide to diversify into certain other related services - for example eradicating problem plants such as Japanese knotweed by treating them with strong herbicides.
Seasonality
You are likely to find that you will be very busy during the spring and summer as this is when many pests breed and their numbers increase. You could try to offset this by developing the commercial contract and pest proofing aspects of your business so you are busy throughout the year.
Advertising your business
To maximise your sales income you must make sure that potential clients know about your business. There are a number of ways that you can achieve this:
launch your own website, showing the services you offer and your prices
use social media to promote your business and services, and to stay in touch with customers
use websites like Rated People to find jobs and pitch for work
take out a prominent advertisement on Yell.com or similar directory
advertise in your local newspaper
join the British Pest Control Association (BPCA) and be listed in their online directory
have leaflets and flyers printed and distribute them to domestic and commercial properties
contact local authorities to find out about tendering for public sector pest control contracts
Price your services
How will you decide on your prices?
It is important that you get the price you charge right so that you can cover your overheads and make some profit but not price yourself out of the market. You must remember to take into account all your expenses when calculating your charges, including bait, chemicals, fuel costs and so on. If you are initially unsure how much your costs will be, you may decide to price in line with your competitors until you have built up a better idea of how much each job will cost you. Think about charging more for treatments undertaken in the evenings or at weekends.
If competition in your area is very strong, you may find that you have to charge less than you would like to so you can secure enough custom. If you offer agricultural pest control, you may also find that farmers are unwilling to pay very much as they have access to the same baits and pesticides that you will use and may feel that they can do the job as well as you.
If you intend to set up a retailing side to your business (perhaps online) you may find that some products have a manufacturers recommended retail price. You may choose to price in line with this or just use it as a guideline.
Buy an existing business
You might decide to buy an existing farm supply business rather than start your own venture from scratch. Buying a going concern can mean that the products, customers, regular sales, staff, premises and equipment are already in place.
But buying a business can be a hazardous, expensive process unless you have the right skills and experience on your team, including legal and financial know-how. Establish the genuine trading and financial position, so that the price you pay for the business is not too high.
Other matters to consider include:
the condition and value of any stock of pesticide, bait and other supplies that you are buying. Check this over carefully before agreeing a price
can you continue to offer services that the business currently offers? For example, if it currently offers extermination of agricultural pests, are you qualified to take this over
Franchises
Franchising can be a good 'halfway house' between starting out from scratch and buying an existing business. If you purchase a franchise you'll still be setting up your own business, but you could benefit from the experience, resources and brand name of a business that is already successful.
There are several franchise opportunities available in the pest control business. Although different schemes vary in detail, most feature the following key points:
as a franchise holder, you will remain self-employed but will use the identity (corporate logos, trade name and so on) of the franchisor
in return, you will pay the franchisor a fee - this might be a one-off investment, a monthly charge, or a combination of both
both you and your franchisor will have to fulfil certain obligations and maintain certain minimum standards
Some franchisors will help you with advertising and marketing, and give you advice and support on a range of business and technical matters. In some cases you may have to purchase most or all of your pest control supplies from your franchisor.
Details of the above points are set out in the franchise agreement or contract, which both you and your franchisor will sign. The agreement will also deal with other matters, for example any territorial exclusivity due to you and the minimum period for which the franchise will run.
Before entering into a franchise agreement, it is advisable to compare the terms of different franchisors to be sure that you are getting a good deal. Go through the contract with your solicitor before signing anything. More information about franchising is available on the Franchise Info website. Information is also available from the British Franchise Association (BFA).