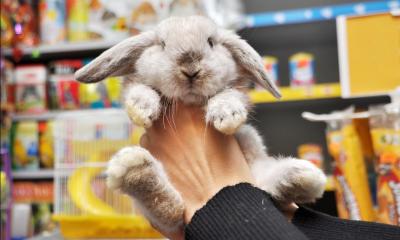 If you're an animal lover running a pet shop might be an option for you. You'll find all you need to start up and run your own business in our practical guide.
Research your target market
It may be that you don't need to borrow any money to start up your pet shop business. However, many new businesses do need to raise money to cover:
the initial start up costs such as premises (including shopfitting and decorating), equipment, vehicles, business stationery and so on
working capital
Working capital
There will probably be a period during the first few weeks or months of trading when your pet shop is establishing a name for itself and your sales are still building up to their full potential.
During this period you will still have to cover expenses such as:
wages if you employ any staff, and your own living expenses
stock
rent, rates and utilities such as heat, light and telephone
Because your income from the pet shop may not be enough to cover these outgoings during the early days, you will probably need to set aside some cash, or 'working capital', to tide you over.
If you need to ask the bank for a loan to cover your start-up costs and working capital, leave this entry in the cash flow empty until you have completed the rest. This will give you an idea of the shortfall between income and expenditure.
If your figures show that you're likely to need to borrow money, it's wise to check at an early stage in your planning that funds are available on terms that are acceptable to you.
Grants and other funding
You may be able to get some financial help in the form of a grant, possibly to cover the cost of any training needed (for example towards an appropriate qualification in animal care).
You can get information on grant aid and other types of funding available throughout the UK from the business finance and support finder tool on the Gov.uk website.
Grant aid varies considerably around the UK and some assistance may be available in your area to help you start up your business.
It is also worth contacting the business support unit in your local council if it has one. Sometimes local grants are available for things like shop front renewal, or to help new businesses in economically run-down areas. You can also use the tool on the Gov.uk website to help you identify any suitable sources of local and regional funding.
Research current trends, plus legal and tax issues
Selling pet supplies and products on eBay and Amazon
Selling online can be an excellent way of reaching new customers and boosting your sales. But setting up your own ecommerce website can be expensive and you may not be sure at the beginning whether the value of the sales you'll make online will justify the set-up costs.
As an alternative, trading on eBay or Amazon lets you get a feel for selling online but with much lower start up costs. And you may decide to keep on selling through eBay and Amazon even when you have your own online shop.
You won't sell animals online of course, but there's a huge range of accessories and specialist products that you could sell in this way.
Getting started
You might already have your own personal eBay account that you use to buy items for yourself and to sell things that you don't need any more. But if you're trading as a business on eBay you're legally obliged to make it clear in your listings that you're a business seller. This means that you'll either need to register a new business account or upgrade your personal account to a business one. There's guidance in the eBay Seller Centre on the definition of 'trading' if you're not sure whether you need to register as a business seller.
Similarly, with Amazon you can use an existing account or create a new one when you register as a business seller.
If you're not already running a business and you intend to start selling things on eBay or Amazon - perhaps just in a small way to begin with - then you'll need to notify HM Revenue & Customs (HMRC) that you're trading. There's guidance on the Gov.uk website that gives an overview of what counts as trading and what counts as self employment. It also gives details of your tax and record keeping obligations.
Decide whether to have your own virtual pet supplies 'shop'
Having your own virtual storefront will give your business a valuable online presence and will allow you to display all your products together in one place.
When you sign up to sell on eBay, you have the option of setting up an eBay Shop. This allows you to create your shop using an existing template or to customise it to your own design. You don't have to choose the eBay Shop option straight away - you may decide it's best to wait until your monthly sales build up to a certain level and then upgrade.
With Amazon, you'll automatically create your own storefront regardless of the package you choose. You won't be able to customise it very much but you will be able to add your name and logo and provide some information about your business.
How much does selling on Amazon and eBay cost?
Before you start selling on Amazon and eBay it's a good idea to find out how much you'll have to pay in fees. Depending on the items you sell and the method you choose for selling them, your total fees can be quite substantial. And while some of the fees you pay will be linked to the number of items you sell each month, others are likely to be fixed costs which you incur even if you don't sell anything.
Both eBay and Amazon give you the option of selling as a business seller without paying any fixed monthly fees, although it's usually more cost-effective to choose a subscription-based package unless you're only selling a small number of items each month.
The eBay website has a fee illustrator tool and a fee calculator that will help you compare the fees for different selling methods and get a good idea of how much your actual per-item selling fees are likely to be.
The Amazon website gives detailed fee guidance, including some examples of pricing for their subscription and non-subscription packages.
Managing your listings
Uploading your inventory to eBay or Amazon and managing your listings can be a time consuming task, particularly if you're planning to sell a large number of items.
Both eBay and Amazon offer useful listing tools, some of which are free and others that you'll have to pay for.
Promoting your items
Because there's such a huge number of items for sale on eBay and Amazon at any one time, it's very important that you do everything you can to stand out from the crowd.
Always make sure that your listings include accurate, spell-checked descriptions and that your photos and other images show the items that you're selling in the best possible light.
You might want to take it a step further and use the various marketing tools provided by eBay and Amazon such as search optimisation, cross-promotions and paid-for advertisements.
Your reputation
As an eBay or Amazon seller your online reputation is extremely important. All sellers have a feedback score based on actual customer feedback and this is the main measure that future customers will use to check that you are trustworthy and reliable.
So you'll want to keep your rating as high as possible by providing an excellent level of customer service and fast delivery at reasonable prices. Make sure you always respond promptly to customer queries, deal with returns efficiently and keep an eye on your stock levels to avoid your listings showing an item as being in stock when it has sold out.
Be aware that packing up orders and sending them out can be time consuming, but it's important to stay on top of the job to make sure that the right items get delivered in good time to the right people. Very many parcel delivery services now offer bulk shipping tools that integrate with your eBay or Amazon account and these can greatly simplify the process of arranging and tracking your deliveries.
If you're selling on Amazon you might also consider using the Fulfilment by Amazon service, where you send Amazon your inventory and they do all of the picking, packing and shipping as well as providing customer service.
More information
The eBay and Amazon websites have a great deal of useful guidance to help you get started as a business seller and to expand your business as demand for your products grows. Both also have lively seller community forums where experienced sellers are often happy to answer questions.
Decide what your pet shop to sell
There is a very wide range of different products which you may decide to sell. The extent of the range that you will offer will probably depend mainly on:
the size of your premises
the type of pet shop that you decide to open
your own expertise and areas of interest
whether you or a member of staff are a Suitably Qualified Person (SQP) who can sell animal medicines
You may decide to sell goods online through an e-commerce website. This can potentially help you to reach a wider market. You could specialise in a particular area of the market - for example tropical fish and fish accessories. Or you may decide to cater for all types of pet owner.
Probably the biggest decision that you have to make is whether to sell livestock. Many pet shops - over half - sell no livestock at all. Others just sell small pets like rodents and fish, and refer customers who want to buy a dog or cat to a breeder or rescue centre. Some specialise in a particular type of animal such as reptiles. Here are some things to bear in mind when deciding whether or not to sell livestock:
legal matters - you will need a licence from your local authority to sell animals. This will only be granted after a visit by a local authority officer, who must be satisfied that your shop meets the required standards. Many authorities also require you to have an appropriate qualification before they will issue a licence. You will have to pay for the licence (the cost varies)
your own personal feelings about animal welfare
the size of your premises - do you have enough space
animal noises and smells - do you object to these? What about your neighbours
who will feed the animals and clean out their cages? What about waste disposal
the cost of looking after animals. Take into account feed and bedding costs, as well as occasional vets bills
some animal rights groups are opposed to the retail sale of pets
Another decision to make concerns the types of animal feed that you will sell. There are lots of different types of animal feed available - some come pre-packaged, others are bought in bulk and sold loose or 'bagged down'. Bagging down means buying something in large quantities and packaging it into smaller quantities before selling it. There are advantages and disadvantages to each method - you will have to decide which suits you best. Many pet shops stock a mixture of pre-packed and loose feeds. It makes sense to try to stock brands that are not sold by the supermarkets.
Other things that you might stock include cages, tanks and hutches, pet toys, medications and treatments, grooming and other pet care accessories, bedding and litter and so on.
You could also consider selling pet insurance in return for commission from the insurance company. Bear in mind that the sale of general insurance is a regulated activity.
You might decide to become qualified to sell certain pet medicines like flea and worming treatments - these were previously only available from vets.
You may decide to stock some items that are not pet accessories, for example gardening equipment.
You might also want to offer a pet grooming service. Once again there are several issues to bear in mind - will you have time? Do you have enough space?
Who will use your pet shop?
Your target market is potentially very broad - it's estimated that about half of all households in the UK own a pet of some sort. The number of pet owners who are potential customers depends on the focus of your shop - if you specialise in a particular type of animal then it is likely that many of your customers will own an animal of this kind.
Doing some market research will help you to decide exactly who your key customers will be.
If you decide to sell online then you could potentially reach a very large market, particularly if you intend to focus on specialist items that can be difficult for people to get hold of locally.
Also consider the following:
most of your customers will be animal lovers - and they will expect you and your staff to be too
many of your customers will be children - small animals like mice and guinea pigs in particular are popular children's pets
you may find that you have a number of particularly important customers - often owners who have several animals
Some of your customers may be trade customers - other businesses. For example you might sell dog and cat food to local boarding kennels.
You may want to encourage your regular and trade customers to visit more often and to buy in larger quantities when they do visit. This might be done by offering them discounts. For example, you could set up a loyalty bonus scheme and offer special prices for trade customers. Don't forget though that discounting eats into your profits! Make sure that your staff know who they can give discounts to and how much they can give - otherwise some may be tempted to give unauthorised special prices to their friends.
Some pet shops offer their best customers other incentives, for example free delivery of large orders (particularly bulk animal feeds).
Buy an existing pet shop
You might decide to buy an existing pet shop business rather than start your own venture from scratch. Buying a going concern can mean that:
the premises, shop fittings and equipment are already in place
there are established customers
the business can generate income immediately
suppliers have been identified and relationships established with them
the business has a track record which can help if you are looking for finance
staff are already be in place
However, look critically at any business that you are interested in to make sure that the price you negotiate with the seller is a fair one. Try to establish why the business is for sale - for example, is the owner keen to retire or is there another personal reason for selling up. Check whether any important local changes have occurred - or are planned - that will affect the viability of the business in the future. Possible examples include the recent opening of a nearby supermarket or a new branch of Pets at Home.
Your market research into the sector as a whole and the locality in particular will help you to establish whether or not the owner is selling because he or she can no longer generate enough income from the business. This may not necessarily deter you - many business people are confident that they can turn a failing business around. The important thing is to have established the current position so that the price you pay for the business is not too high.
Other matters to consider include:
the state of the premises, equipment and so on. Will you have to spend money refurbishing or replacing assets
the condition of any stock (and livestock) you are buying. Check this over carefully before agreeing a price
the reputation of the business, and whether there have been any recent complaints or actions regarding animal welfare or breaches of licensing conditions
existing staff rights
how to retain key personnel once you've taken over
does the business owe money that you will be responsible for
if you are paying for goodwill, to what extent does this depend on the skills and personality of the seller
Ask your accountant to look critically at the business accounts for the past three years and discuss the selling price with them in the light of what the accounts reveal. Make sure you budget for other professional fees such as legal fees and valuation and survey costs.
Bear in mind that it is not possible to simply transfer a pet shop licence when the shop is sold. You will have to contact your local authority about having a licence in your own name and there will normally be a fee to pay for this.