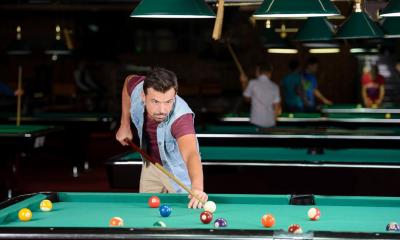 Many pool halls offer pool, snooker and a range of other games, as well as sales of food and drink. You'll find all you need to start up and run your own pool hall business in our practical guide.
Research your target market
Existing competition
Before starting up, it's very important to find out if there is room in the market for your business - and whether a market exists at all. A useful first step is to establish how many direct and indirect competitors there are in the area in which you are planning to set up. Your direct competitors will be other snooker and pool clubs that offer broadly the same level of services as you will. You can get a good idea about the number of clubs in your area by looking in the Yellow Pages or similar business directory (printed or online) or by driving or walking around your area and making a physical count.
Your indirect competitors will include a range of different leisure and hospitality businesses like:
pubs
sports clubs
leisure centres
hotels
It may be difficult to establish how much of an impact these indirect competitors will have on your business - for example, most people tend to go to the pub for a drink and a chat and may have a game of pool while they are there rather than expressly going for a game of pool. Another point to consider is that many of your indirect competitors, particularly pubs, will offer only pool tables (rather than snooker tables) and these may be in a cramped corner and not particularly well maintained. However, they will all be competing for the 'leisure pound' in your area, so it is wise to take them into account.
Assessing your direct competitors
Once you have made an assessment of the level of direct competition, it is a good idea to visit a couple of existing snooker and pool clubs in your area to see:
how many tables they have
what games they offer (for example snooker, pool and American pool)
what other facilities they have, such as a bar, restaurant and so on
what their prices are
what their opening hours are
the number of members they have, if they operate in this way. You may be able to find this out from the owners, their employees or from members playing at the club
how busy they are. It is worth visiting on different days of the week and at different times in the day to get an accurate picture
what the 'experience' of visiting the club is like. For example, are staff friendly and helpful, is the food good, do you have to wait long for a table to become free, are the facilities well maintained and so on
what types of customer they have
how well advertised they are, including their online advertising strategy
Why will customers choose your club
Once you have identified what your competitors offer, decide how you will persuade customers to choose your club over theirs. This may include:
location. Your proposed club may be very easy to get to and park nearby or it may be close to other entertainment venues, such as pubs and restaurants
facilities. You may be able to attract more custom by offering more tables and a wider range of games or a large choice of meals in the restaurant. Alternatively, you may market your club as a venue for corporate functions
image. For example, you may aim to specifically attract families or greater numbers of younger members
price. You could make sure that your table or bar prices are lower than your competitors. 'Happy hours' at quiet times may bring in more custom, although bear in mind that 'irresponsible' alcoholic drink promotions are prohibited
how long you are open for. Some clubs shut at around 11 p.m. while others stay open for 24 hours. Your research into your competitors will tell you whether there is an opportunity for a club to open round the clock (although be aware that your competitors may not offer this option simply because there is no demand for it)
Research current trends, plus legal and tax issues
Establish your customer profile
Traditionally, snooker and pool clubs attract a predominantly adult male clientele and you may decide that this is the market you will aim for. Government figures show that:
considerably more men than women play snooker, pool and billiards
of all the social classes, participation is highest - by a large margin - among students
it is most popular among 16-29 year olds
Targeting your customers
Once you have identified who your customers are likely to be, you need to decide how you are going to attract them to your club. Some ideas to consider are:
putting up posters in colleges and universities offering reduced membership and playing rates for students at certain times of the day - there might even be the opportunity to approach universities' pool and snooker clubs to see if they would consider using your club for regular sessions
advertising in newsletters that are targeted at students and other young people
advertising in your local newspaper, possibly including a voucher that entitles the holder to a couple of hours free playing time after they join
building relationships with other businesses that will let you advertise on their premises, such as taxi firms, leisure centres and so on
running competitions and exhibition days that will hopefully attract local, and possibly even national, press coverage
having your own website advertising your establishment - this is particularly important because your target age group now gets most of its information online
Corporate customers and functions
You may be aiming to hire out your club to corporate customers and to people who want to use it for a function. If so, your customers may include:
businesses that want to hire out a games room for a snooker or pool day
individuals that want to use your club for hosting an event. Depending on the layout of your club, you may have a separate bar area or function room which is not filled with snooker and pool tables that people can hire for birthdays, weddings and so on
event organisers that want to use your club to host a tournament
Special offers and discounts
A well-thought out system of discounts and special offers can be an essential tool in marketing your club. For example, you may decide to:
charge a discounted rate for games outside the peak times
offer free membership to certain groups of people
offer discounted rates at all times to students and pensioners
run 'happy hours' in your bar at off-peak times (bearing in mind the restrictions on irresponsible alcoholic drink promotions)
offer 'meal-deals' at quieter times of the day and on less busy days of the week
Decide what to sell
As well as the core snooker and pool services you will offer to members, you may also decide to sell a range of other items.
Food and drink
If you're able to, it's a good idea to offer food and drink as a way of creating an appealing environment for your members and perhaps encouraging them stay longer than they may otherwise. You may decide to sell a range of meals and snacks, from simple things like crisps and bacon sandwiches to a full restaurant menu. Your customers are also likely to expect you to operate a bar with a full range of alcoholic and non-alcoholic drinks
You will have to decide whether you will let your members consume food and drink at the games tables or if you will have a dedicated food and drink area which members must stay in. If you decide to allow food and drink consumption at the games tables, you may offer a waiter service so that members do not have to break off from their games - some clubs offer a 'phone to bar' service to make ordering even easier.
Snooker and pool accessories
You may choose to run a retail outlet in your club which stocks products such as:
cues and cue cases
cue accessories, such as extensions, rests, replacement tips and chalk
tables, balls and so on. You may decide to stock a range of tables suitable for domestic use
clothing
Games and services offered
You are likely to attract a larger number of members and/or regular customers (and, importantly, retain them) if you offer a wide range of games and services, although you may be restricted by the size of your premises and the amount of money you are able to invest in your club. The range of games that you offer may include:
snooker
pool
American pool
billiards
table football
darts
gaming machines
video games
alternative amusement games such as air hockey
It's a good idea to periodically monitor which games are the most and least popular with your members so that you can tailor your services to meet their needs. For example, you may start out with ten snooker tables and three pool tables but realise that a couple of snooker tables are always empty while there are always people waiting to get on a pool table. If you are unsure about the best mix of games, you could consider renting tables rather than buying them, at least for the first few months after opening.
Services offered
You will probably offer other services to make your club even more attractive to prospective customers. These may include:
a licensed bar
a range of meals and snacks
temporary membership to allow non-regulars - for example holiday makers - to use the club on a one-off basis (if you operate as a member club)
showing sports events on a widescreen television
corporate function facilities
playing music videos, films and so on
running regular competitions
a cash machine
an outside smoking area - making sure any shelter you construct fully complies with the smoke-free regulations
a change machine so that customers can quickly and easily get the right money to put into a table
a choice of environment in which to play. For example some rooms could be quiet whereas others could have music and/or videos played in them
free wi-fi
Estimating income
Your annual income will be made up of a combination of membership fees (if you charge them), charges for games played, receipts from the bar and restaurant and any other service, such as gaming machines, table football and so on.
There are certain elements of your income for which you can work out the maximum that could be achieved. These are the income from membership and the income from games played on an hourly basis, as is shown below:
membership fees. For example, you may decide that your club can cope with a maximum of 1000 members and that membership will cost £30 per year. If so, the total annual maximum from membership fees would be £30,000
income from your tables. For example, if you have 15 tables that each cost £6.50 per hour then the maximum hourly income would be 15 x £6.50 = £97.50. If you are open for 12 hours a day, 7 days a week then you will have a maximum annual income from your tables of £425,880 (£97.50 x 12 x 7 for one week then x 52 to find the annual)
(All figures included for illustrative purposes only - your own results may vary significantly)
Once you have calculated the possible maximums, you will have to adjust them so that they more accurately reflect what you are likely to achieve. Factors to take into account include:
you may not fill your membership, particularly in the first year of trading when you're building up your club's reputation
you may offer discounted or free membership to some people
you will not be busy all day, every day. There will inevitably be quiet periods during the day when tables are not being used. Similarly, you will find that some days are busier than others - weekends, for example
The other elements of your income for which it is not possible to calculate a maximum possible figure and for which you will have to make an estimate will include:
income from tables that are charged on a per game rather than per hour basis
income from other games, such as table football
bar and restaurant receipts. When estimating the level of this income, remember that not everyone that comes to play snooker or pool will have a drink from the bar or a meal from the restaurant - the time of day will have a significant effect on this as well
the level of demand from people wanting to hire your centre for a function such as an office Christmas party
how many guests or temporary members you can expect
income from gaming machines. Don't forget that if you're intending to enter into a profit share with a gaming machine supplier, you'll only get a share of the net takings (usually 50%)
It is likely that you will need to adjust your figures once you have been trading for a few months.
Pricing policy
Give some thought to how much you are going to charge for the games and services that you offer. It is useful to check out the prices that your competitors charge so that you are not pricing yourself out of the market. The prices you will have to decide on include:
membership. If you choose to run a members club (as some pool and snooker centres do) you will need to decide how much to charge for membership. Typically fees are low at around £30 per year and you may decide to offer discounts for certain groups, such as young people and students
table rates. Tables in a specialist pool and snooker centre are often charged for on a per hour basis and many clubs operate a sliding scale of charges depending on the time of day (the quieter times being the cheapest). Typical charges may range from £6 to £7 per hour. It's also not uncommon for some tables - for example English pool - to be charged for on a per-game basis
bar prices. In many clubs, a key attraction is the fact that bar prices are cheaper than equivalent pub prices and you may decide to set your prices so that they undercut the pubs in your area
snacks and meal prices. You may need a few attempts at setting the prices of the meals and snacks you offer as it may be difficult to predict how much your members are willing to pay. Remember when setting food prices that you will have to cover the overheads incurred in making the food, including the cost of the ingredients, wages, heat and light and so on
function room hire. This may be around £150 a night on weekends and £80 a night on weekdays. Check out local competitors to see what the going rate is in your area
competition entry. You may decide to run regular competitions in your club and charge an entry fee. A typical charge may be around £5.00
guest entry or temporary membership. This may be around £2 to £3 per person
(Figures are used for illustrative purposes only - your own charges may vary significantly)
Buy an existing business
You might decide to buy an existing pool hall rather than start your own venture from scratch. Buying a going concern can mean that the products, customers, regular sales, staff, premises and equipment are already in place.
But buying a business can be a hazardous, expensive process unless you have the right skills and experience on your team, including legal and financial know-how. Establish the genuine trading and financial position, so that the price you pay for the business is not too high.