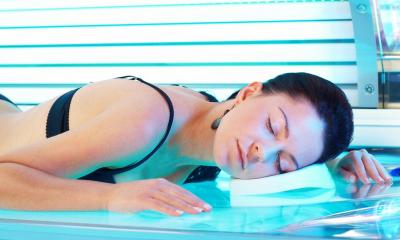 Thinking of running a tanning centre? Remember that the focus now is on safe tanning and under-18s can't use commercial sunbeds. Our practical guide will help you start up and run your tanning business.
Research your target market
Customers - who and how many?
You'll need to make an estimate of how many people are likely to use your tanning centre.
Think about the age and type of people who live and work in your area. What other outlets are attracting people to the area where your centre will be? Would you be able to advertise your services in another local business - for example in a hairdressing or beauty salon, a bridal wear retailer, a fitness centre, male grooming salon or a travel agency?
Your unique selling point
It is likely that you will be competing against other tanning centres as well as businesses such as beauty salons which offer tanning services. These may offer ultraviolet (UV) tanning sessions but they may also offer spray and self-tanning products which do not need UV. So you will need to offer something special which will make customers choose your centre rather than your competitors.
The emphasis these days is very much on careful tanning and there has been a lot of publicity in the press about the dangers of skin cancer and the ageing effect of too much sun. You might do well to offer your clients professional advice about how to achieve a tan safely, taking into account the customer's skin type and making sure that there is nothing in their medical history that makes them unsuitable for sunbed tanning (for example if they have heart or circulatory problems). Remember that under-18 year olds must not use sunbeds. The Sunbed Association has a code of practice covering safe tanning procedures that members must follow. By joining the Sunbed Association you can show potential customers that you offer professional advice on tanning safely.
Establishing the level of competition
First of all check out the local competition. Find out how many other establishments in your area offer sunbed tanning. Try to find out:
what type of equipment they have - sunbeds, vertical tanning units, high pressure facial lamps, spray tan facilities
how many appliances they have
what facilities they offer - showers, café area and so on
if their staff are well trained
if they encourage responsible tanning
average session length and price
what discounts are available
when they are open
what other beauty services - if any - they offer
if they sell any products - for example tanning lotions, after-sun moisturisers and so on
It's a good idea to try to find out what sort of local reputation they have. Some centres do not change the sunbed tubes frequently enough so, although they still light up, they do not give the customer a tan. This type of centre quickly establishes a reputation for poor value for money.
Don't forget that market research can be ongoing. Once your business is up and running, talk to your customers. Find out what are their likes and dislikes. Use their comments to help you to develop your business.
Research current trends, plus legal and tax issues
Customer profile
Your market
Your market consists of the people who you hope will use your services. Although many of your customers will be women, more and more men are becoming aware of their appearance and want to maintain a year-round tan. You should make sure your tanning centre does not project an intimidatingly female image. You must not offer tanning sessions to under-18s.
Offering discounts
Because it takes between 10 and 15 sessions to build up a reasonable tan, many tanning centres offer customers a discount if they book a course of sessions and pay in advance. For example, pay for five and get one session free.
You might consider attracting new customers by offering a half price session to an existing customer's friend. If you sell creams and lotions you might offer a discount on a second product.
Some tanning salons have a loyalty card scheme - these give customers points every time they buy a tanning session. Points are then exchanged for a free tanning product or session.
You might decide to participate in Fabyouless, a hair, beauty and fitness discount card scheme. Your tanning salon is promoted on the Fabyouless website and you offer discount card holders an attractive discount.
It is very important that you keep individual customer record cards showing the number of sessions that have been taken. This is also a useful mailing list if you decide to let customers know about new machines, services, special offers and so on. Members of the Sunbed Association can benefit from professionally produced customer record cards.
Number of sessions p.w.
The number of tanning sessions you sell each week will depend on several factors:
your opening hours. Many tanning centres open until late in the evening to cater for after-work customers
the size of your premises. This will affect the number of sunbeds and cubicles you can accommodate. It is usual to site beds in individual cubicles. If a room holds more than one bed it's a good idea to use curtains or partitions to screen them
the type of sunbeds you install and the output of the tubes. A typical session time for a lie-down sunbed is 15-20 minutes while a session in a stand-up booth (vertical tanning unit - VTU) is only between 3 and 8 minutes. You can also install more units because they take up less space than lie-down beds
you might offer a UV-free spray tan service. Spray tans last for up to 10 days on average, depending on exposure to sunlight, before fading and needing a repeat application
your pricing policy. In some areas there is a lot of competition and you may have to price competitively in order to win customers
You are also likely to be much busier at some times of the year than others. From early spring until the autumn is likely to be your peak time, as customers get a pre-holiday tan or keep their holiday tans topped up. This is also the peak period for weddings and many brides (and bridegrooms!) want to build up a tan before their big day.
You will probably have some regular customers who want to keep a good year-round tan. When estimating how many sessions you will sell each week you should bear in mind the following:
it takes between 10 and 15 sessions to build up a decent tan
there must be an interval of 48 hours between the first and second session
after the second session there should be 24 hours between subsequent sessions (at least 48 hours for skin type 2)
after each session there is a 'cooling down' period of about 5 minutes. The bed should be wiped down after each session (and thoroughly cleaned at the end of the day)
Department of Health guidelines recommend that customers take no more than twenty sessions a year. The Sunbed Association Code of Practice specifies that customers must not be allowed to exceed the European Standard of 60 sessions a year. Be aware that your local authority may impose a lower limit, for example, 20, 30 or 40 sessions
many salons are very quiet during the first hour or so of the day - you might consider introducing a 'happy hour' between 9.00 am and 10.00 am to boost attendance
Take these factors into account when estimating the number of sessions you are likely to sell each week. Don't forget that some months are likely to be much busier than others.
Retail sales
As well as offering your customers tanning sessions you might also decide to stock a range of:
tanning accelerator creams
aftersun products
There are a number of other products that you might decide to stock such as:
bath and shower products
cosmetics and nail products
beauty products
costume jewellery
holiday items such as leisure wear, sunglasses, swimwear and so on
You might also decide to make a small charge for protective goggles.
Your tanning facilities
When you're planning your tanning centre, the first step is to decide on what type of sunbed equipment you will install, for example, vertical tanning units (VTUs) or lie-down sunbeds, and how many you can afford and have the space to accommodate. You might decide to invest in a range of sunbeds with different outputs and offer cheaper prices for lower output sunbeds. You might also consider offering customers self-tanning products as an alternative to sunbed tanning.
Health and safety guidelines state that some cosmetics, deodorants and skin preparations can increase sensitivity to UV radiation, so you may want to offer shower facilities to customers so they can wash off anything that might cause an adverse reaction. Your customers will need somewhere to change and store their clothes.
You will need to protect your staff and other customers from UV radiation so sunbeds should be positioned in individual cubicles or partitioned off. Each cubicle needs to be well ventilated so that it doesn't become too hot. You might consider offering customers the option of listening to music while they tan.
Don't forget that you will need a reception area where you can display pre and aftersun lotions, discuss customers' requirements with them and complete individual customer record sheets. You might install a drinks or snack vending machine in this area.
Sunbeds can be operated individually by inserting coins or tokens, or controlled centrally by a reception controller unit.
Other services to consider
You might decide to offer other services to your customers, such as:
vibrating training plate sessions
shiatsu massage chairs
collagen red light therapy
beauty treatments like waxing, manicures and pedicures
Quality standards
No matter how large or small your tanning centre is it is very important that it projects a hygienic and professional image. Make sure that:
the centre is always clean, tidy and welcoming
all sunbeds comply with maximum UV radiation emissions and are professionally installed by a qualified electrician or by the manufacturer
you keep a maintenance record for each sunbed
you replace tubes at the correct intervals
you ensure that customers and staff wear protective goggles when exposed to UV radiation
you keep a record of customer sessions
you monitor the length of customer sessions
you provide clear safety information
your staff are well trained and can give proper advice and help to customers
This will help you to build up a good reputation for providing a professional, safe tanning service to your customers and help you to gain word of mouth recommendations from satisfied customers.
Advertising your services
It's very important to make sure that your potential customers know about you and the services you offer. This is particularly important if you are tucked away in a quiet side street with little passing trade.
You could have a leaflet printed which contains details of your session prices and any discounts you decide to offer. You could draw attention to any special offers and promotions you introduce, such as a half-price session for customers who introduce a friend, a free session for every block of sessions booked and paid for in advance, discounts during the early morning 'happy hour', discounts on skin care products and so on.
Local businesses such as hairdressing salons or travel agencies might be prepared to display details of your tanning centre or stock your promotional leaflets.
Don't overlook the possibility of having your own website. Use it to tell potential customers a bit about safe tanning as well as your services and your tariff - it all helps to create a professional image.
You could think about offering promotional deals on voucher websites, or on beauty treatment booking websites like Treatwell (previously called Wahanda).
Think about using social media like Facebook and Twitter to promote any special offers.
What is UV?
The energy given out by the sun includes ultraviolet (UV) radiation.
There are three bands of UV - UVA, UVB and UVC.
UVA radiation mostly passes through the ozone layer and penetrates deeper into the skin than UVB and can cause lasting damage. UVA was until recently considered to be a safer form of radiation than UVB but research has shown that UVA may act with UVB and lead to premature ageing of the skin and contribute to the development of skin cancer.
UVB radiation is partly absorbed by the ozone layer and the atmosphere, but some reaches the earth's surface where it penetrates the surface of the skin and may cause damage.
UVC does not get as far as the earth's surface because it is absorbed by the ozone layer.
Sunbeds produce a tan by emitting UVA radiation, together with a small amount of UVB.
Since 2009 EU regulations have set a maximum limit of 0.3 watts per square metre on the amount of UV radiation that sunbeds can legally produce.
Guidelines have been produced by the Health and Safety Executive (HSE) for operators of UV tanning equipment so that the health risks to customers and staff are minimised.
Maintenance and tube changing
Both for safety reasons and in order to keep your sunbeds tanning well it is very important that you regularly maintain all your tanning equipment and that you keep a maintenance schedule, showing what is done and when you do it.
It is important that you:
have the sunbeds serviced regularly and keep a record of services done
change the tubes at the correct intervals (for example, this could be every 400 to 600 hours, or every 700 to 800 hours for some models)
check, clean or replace dust filters regularly (for example every week or fortnight)
make sure that the tube, starter and choke combination for each lamp is replaced in accordance with the manufacturer's specifications
check that the filter glass on high pressure facial equipment is not cracked
make sure that timer switches are working properly
check that wires and cables are in good condition and positioned safely so that no-one trips over them
ensure that staff who switch on and check sunbeds every morning wear protective eyewear
Don't forget that you must dispose of your waste sunbed lamps safely to an authorised waste disposal carrier.
You might consider entering into a servicing and maintenance contract with a specialist firm of sunbed engineers. Sun tanning equipment should be tested annually and a sunbed safety test certificate issued.
Buy an existing tanning centre
You might decide to buy an existing tanning centre rather than start your own venture from scratch. Buying a going concern can mean that the products, customers, regular sales, staff, premises and equipment are already in place.
But buying a business can be a hazardous, expensive process unless you have the right skills and experience on your team, including legal and financial know-how. Establish the genuine trading and financial position, so that the price you pay for the business is not too high.
Other matters to consider include:
sunbed tubes need replacing regularly so it makes sense to check whether this needs to be done immediately. It would be advisable to get a qualified electrician to check over the condition of the sunbeds themselves. Don't forget that the legal limit for UV ray emissions is 0.3 watts per square metre - make sure any sunbeds you're taking over comply with this limit
the condition and value of any stock you are buying like tanning accelerator creams or beauty products. Check this over carefully before agreeing a price. Some products may have a limited shelf life or have been damaged in storage
Franchises
Franchising can be a good 'halfway house' between starting out from scratch and buying an existing business. If you purchase a franchise you'll still be setting up your own business, but you should benefit from the experience, resources and perhaps the name of a business that is already successful. There are a number of franchises available in the tanning sector ranging in size from small local operations to larger regional global franchises such as The Tanning Shop.
Although different franchise schemes vary in detail, most feature the following key points:
as a franchise holder, you will remain self-employed but will use the identity (corporate colours, logos, trade name and so on) of the franchisor
in return, you will pay the franchisor a fee - this might be a one-off investment, a monthly charge, or a combination of both
both you and your franchisor will have to fulfil certain obligations and maintain certain minimum standards, for example you may have to purchase and use only the franchisor's machines, tanning creams, lotions and so on in your outlet
Many franchisors will provide you with any specialist training you require, discounts off stock, help with advertising and marketing, and advice and support on a range of business and technical matters.
Details of the above points are set out in the franchise agreement or contract, which both you and your franchisor will sign. The agreement will also deal with other matters, for example any territorial exclusivity due to you and the minimum period for which the franchise will run.
Before entering into a franchise agreement, it is advisable to check the terms carefully to be sure that you are getting a good deal. Go through the contract with your solicitor before signing anything. More information about franchising is available on the Franchise Info website. Information is also available from the British Franchise Association (BFA).