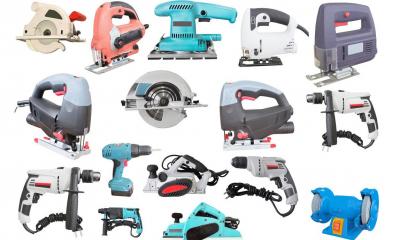 You'll need plenty of capital to buy the range of professional quality tools and other equipment that a tool hire venture needs. Our guide covers the key issues for starting and running your own tool hire business.
Research your tool hire business target market
When you plan your tool hire business it's very important to think about who your potential customers will be and make a realistic estimate of the level of demand. It's also important to find out how much existing competition there is.
Estimating demand
Demand for tool and plant hire is closely linked to the strength of the housing market and the construction industry. The state of the local economy also has a big effect on the hire sector - when people have more money to spend they are more likely to carry out home and garden improvements and so to hire tools - or to engage trades-people who hire tools.
Trade customers
If you intend to target trade customers, remember that these will mostly be firms involved in the building and related sectors. Potential demand will depend on the number of such firms in your area. Before investing in expensive equipment, do some research into the number of businesses operating nearby which could be potential customers. Try checking local trade directories or have a look on Yell.com to get an idea of the number of builders, decorators, landscape gardeners and so on, who are based locally. Larger firms will probably own most of the equipment that they need to use. Smaller businesses may be a better source of trade - for many it makes more sense to hire than spend lots of money on machinery which is only occasionally used.
Domestic customers
Demand from domestic customers is closely linked to the housing market - people moving to a new home are more likely to carry out some alterations or refurbishment. The size of the local population and any new housing developments will have a large bearing on the amount of trade you can expect. Also bear in mind that affluent homeowners are more likely to pay somebody else to decorate or carry out renovations than do it themselves. As a result, upmarket locations may not necessarily be the best bet for a tool hire business.
Save £5 and pay £30 for a year's access to 890 business document templates. Use code SLD7948.S
Other factors
Other things that influence the demand for hire tools include changing fashions in garden and interior design. TV programs have encouraged more people to try refurbishing their homes and gardens. From time to time popular trends emerge - for example garden patios became very popular some years ago, and more recently wooden decking has become fashionable. Inside, polished wooden floors have gained in popularity, increasing demand for sanding machines.
The weather can have an effect too - large parts of the UK have suffered from flooding in recent years, leading to a surge in demand for water pumps and dehumidifiers.
Check out the competition
Having thought about the potential demand locally, you need to consider the level of competition that your business will face. As people are unlikely to travel further than necessary to hire tools, your competitors will be limited to other local firms. These might range from independent hire shops to branches of large chains such as HSS Hire, Brandon Hire, Speedy, Hire Station, or other national or regional chains. Several of the big builders merchant chains offer tool hire, including Travis Perkins and Jewson, as do large national DIY specialists Wickes (in partnership with Travis Perkins) and B&Q (in partnership with Hire Station).
Count how many of these businesses are already offering tool hire in your area. Have a look at the services offered by each of these competitors to establish:
whether they concentrate on domestic or trade customers
what range of tools they offer
whether they hire out plant equipment
if they offer repairs and servicing of customers' equipment
whether they offer tools or other equipment for sale
what prices they charge
if they are members of a trade association
if they are part of a quality standards scheme
whether they specialise in any way - for example in garden or horticultural equipment
what their opening hours are
how knowledgeable and helpful their staff are
whether the premises and fittings are modern and smart
Consider carefully how your new business will compete with any existing tool hire outlets.
Research current trends, plus legal and tax issues
Establish your customer profiles
Before you can estimate demand, you'll need to consider who your customers will be.
Hire shop customers fall into two main groups with different needs - trade customers like builders and landscapers, and private householders. Trade customers will often want to hire larger items - for example, local building firms may need to make occasional use of an excavator, scaffolding tower or other plant equipment. Private householders (and some of the smallest construction businesses - typically self-employed trades-people who work on their own) are more likely to be looking for smaller items to undertake a DIY project at home - for example a floor sander, garden rotavator or electric cement mixer, although they might occasionally wish to hire larger pieces of equipment too.
To attract trade customers you will need the financial resources and space to buy and store large pieces of machinery. Heavy plant equipment is expensive, requires costly maintenance and will need a large yard or covered storage area. Special vehicles may be needed to transport it to and from sites too. As a result, some small hire businesses concentrate on the domestic/small trades-person end of the market as the tools commonly hired are smaller, cheaper to buy and easier to store and maintain.
While private customers may be prepared to pick up smaller items of hire equipment from your outlet, trade customers may expect a delivery service to their sites. They will expect this to be prompt and efficient - and not too expensive.
There is a lot of overlap between the two sectors, however, and you may decide to target a mixture of both trade and domestic customers. Some smaller firms offer small plant equipment such as mini diggers and excavators and, if necessary, will occasionally hire in a large piece of equipment which a customer needs.
Why people choose your tool hire business
You'll want to make sure that enough people will use your business to make it profitable. There are a number of things to consider when trying to attract customers.
The right equipment ranges
You must be able to supply the tools that your customers want to hire. If the tools that people need are not in stock and immediately available, there's a good chance that they will simply try somewhere else.
It is likely that you will be mainly targeting domestic rather than trade customers who require large plant equipment. A lot of your business will come from a range of basic items which are commonly hired, such as concrete mixers and floor sanders. Aim to ensure that you have enough of these to meet demand. Beyond such core items, the range of other tools that you are able to hold in stock will depend on your financial resources and the space available to you. Having a reasonably wide range of tools and equipment will ensure that you can supply most customers with the item they want, but it may be unwise to try to stock everything - there's no point having money tied up in expensive tools that are very rarely hired. Remember that some outlets hire in specialist items when necessary, to re-hire on to a customer - you can consider doing the same should the need arise.
Price and convenience
When hiring tools, many people will simply look for the cheapest rates they can find. Competing with the prices charged by the large hire chain stores will be difficult, but you should try to ensure that your prices are at least broadly competitive with other nearby outlets.
Potential customers will also be greatly influenced by convenience. Location has a lot to do with this and ideally the business will be located on or close to a main road, both for the convenience of customers and to attract passing trade. Adequate car parking will be an advantage. Town centre locations are usually expensive and an out of town enterprise park might offer a suitable alternative. You may not be able to choose or afford an ideal location, but you can still try to make things convenient for your customers - for example by offering a delivery and collection service.
Standards of service
Offering a high level of service and good quality tools will help to attract and retain business. Helpful, friendly advice from knowledgeable staff will greatly enhance people's opinion of your business. Keep the hire shop tidy and well organised and have efficient servicing and checking procedures for returned tools. Use good quality tools and keep them clean, well maintained, and attractively displayed. Concentrating on these aspects will help you to attract customers in the first place and keep them coming back. Joining a trade association quality scheme will demonstrate that your business is run to a high standard and help to inspire confidence in it. You can find out about the SafeHIRE scheme and Hire Association Europe (HAE) membership on the HAE website.
Quality of tools and equipment offered
Remember that all tools supplied for hire must comply with set safety standards. Within these standards there is a huge range of equipment of varying quality, cost and specifications. Customers will be concerned that the tools they are hiring are of a good quality and well maintained. As the tools are likely to have to withstand a lot of wear and tear, it makes sense to use sturdy ones to start with. You should put a rigid servicing and checking system in place to ensure that everything that leaves the shop is safe to use and fit for its intended purpose.
Specialising
You may decide that your business needs to specialise in some way in order to distinguish it from others nearby. You could concentrate on a very specific section of the market, for example hiring out trailers or access equipment. You might decide to focus on plant hire. Alternatively, you could broaden the range of commonly used tools kept in stock to include some specialist items.
Before deciding whether to specialise, consider whether there will be sufficient demand. You don't want to spend lots of money on equipment that is rarely, if ever hired, so you must consider whether the investment will be worthwhile in terms of the extra business brought in.
To attract extra trade you might consider offering some or all of the following in addition to your standard tool hire range:
Garden tools
Interest in gardening has undergone a revival in recent years spurred on by the popularity of garden and home makeover programmes. These have encouraged people to redesign their gardens and have led to increased demand for garden tool hire. The kind of garden equipment you might consider stocking includes items such as mowers, rotavators, log splitters, chainsaws, hedge trimmers and rollers.
Mini diggers
Mini diggers are often in demand as they enable domestic customers to carry out large projects that would not have been feasible before, such as garden landscaping, or digging foundations for an extension. Large excavators and other plant such as loaders or dumper trucks are usually hired complete with an operator on an hourly basis by firms that specialise in larger plant hire.
Cleaning equipment
Commonly hired interior cleaning equipment includes carpet shampooers, floor polishers, industrial vacuum cleaners and steam cleaners, which might be required by private householders, shops, offices or other businesses. You might also consider stocking pressure washers and leaf blowers, pumps and dehumidifiers.
Event hire items
Event organisers often need to hire major items when putting on an event such as an exhibition, show or sports meeting. These items might include crowd control barriers and temporary fencing, portable outdoor lighting and power, large-scale space heating and climate control equipment, marquees and tents, portable toilets (perhaps including larger toilet trailers and smartly turned out 'posh toilets'), and outdoor catering equipment. You will need plenty of space to store these if you decide to hire them out, and the capital cost of stocking them can be fairly high.
Sales, repairs and servicing
Some tool hire shops also offer sales of new and ex-hire tools, consumables (such as sanding discs, dust masks, saw blades or cleaning fluids) and safety equipment (such as goggles, masks, gloves and overalls). You might also consider offering repairs or servicing of customers' own equipment. A workshop will be needed for servicing hire tools anyway, so there will be little, if any, additional cost involved in offering this service to customers.
Price your products
Getting the price right is very important. When you plan your pricing policy, remember that you must be able to cover your costs, overheads and drawings.
Hire charges
Tools are usually hired on a daily, weekly or weekend basis. It's generally cheaper per day to hire a tool for a week than for a single day. For longer-term hire, you might negotiate a significantly reduced rate with the customer. The amount charged generally increases with the size, complexity and initial cost of the equipment - for example, a large floor sander will cost more to hire than a wallpaper stripper. The exact amount you decide to charge will depend to a great extent on the going rate locally, so check to see what your competitors charge. Your customers will not be prepared to pay much over the odds for items that they can easily hire elsewhere. Think about whether you'll charge extra for delivering and collecting large items like cement mixers, and if so how much.
Bear in mind that the hire rate charged for each item must, over time, cover its initial cost, repairs, maintenance and transport if it is delivered and collected. Some items will be regularly hired and so constantly earning money. Other equipment may spend more time in storage than in use - you will have to charge a higher rate for such items if they are going to be worthwhile keeping in stock.
Other things to think about include cleaning charges if applicable and wear charges for machines that come with consumable blades and bits. You'll need to work out prices for other consumables like fluids and abrasives too.
Deposits
When a customer collects a tool, the hire charge is usually paid and a refundable deposit taken. This is returned to the customer at the end of the hire period provided that the tool is brought back undamaged. Credit/debit card details and some proof of customer identity are usually taken as a safeguard against theft. You might decide to offer customers insurance cover against theft or damage of larger, more expensive items. Some hire firms insist on this.
Other services
Consider how you will cost any other services you provide (for example repairs and servicing of customers own tools), how often you will review your prices and whether you will offer discounts such as reduced rates to regular customers, special offers and so on.
Special offers and discounts
You might decide to offer a standard discount as a matter of course to any trade customers. How much discount will depend on your pricing policy and the level of local competition.
Hire businesses which mainly target trade customers often offer special weekend hire deals. These are aimed at DIY customers - while trade customers like builders generally prefer not to work at weekends, this is the time when most DIY gets done. Weekend hire deals might run from Friday afternoon/evening until Monday morning and may be charged for at the same rate as a normal week-day's hire.
Many businesses also give discounts to employees, regular customers, family and friends. A reduced rate could be offered to groups such as pensioners. Check out your local opposition for ideas and keep a close eye on any special offers you do make to be sure that they are working for you. After all, these kinds of promotions might encourage extra business, but they will also affect the amount of profit you make.
VAT
If you deal only with business customers then you may well want to show VAT-exclusive prices. Many of your business customers will be VAT registered and will be able to claim back any VAT they pay on things like hire charges. However, if you also deal with private customers at the same outlet then the law says you need to show VAT-inclusive prices. As most tool hire shops have at least some private customers, the best policy may be to display both prices clearly.
Promote your tool hire business
Think about how you will market and promote your business, and about what messages you want to get across to potential customers.
The right image
People's first impression of your business will be influenced by the way it looks - so it is vital to project the right image. Try to keep your premises smart, clean and tidy. Use signs to indicate what tools are available and any other services you offer.
As well as a storage area, you will need a retail/display area, where customers can look at the tools available and you can offer them help and advice. You may well decide to display some consumables and items like safety equipment for sale in your retail area too. Provide some leaflets or posters about tool use and safety - a range of signs, posters, leaflets and marketing materials is available from the Hire Association Europe (HAE).
If you offer a delivery and collection service, bear in mind that your van can be a highly visible mobile advertisement for your business. Consider having the van sign written with your details and try to ensure that it looks smart and well maintained.
Customer relations
Treating customers in a friendly, helpful and polite way is essential. Be prepared to explain to people how various tools work and advise them which will be the safest and most suitable for them to use. Make sure that people know how to use the tools they are hiring and if there is any doubt, offer to demonstrate. Provide printed safety sheets where appropriate and offer the necessary safety equipment for hire or sale. Make sure that the conditions of hire are clearly explained and there is no confusion over damage deposits or insurance cover if this is offered. A good reputation can only be built over time, but from the outset you should aim to offer a high level of service and ensure customers are satisfied with the service they receive and the tools or other equipment supplied. It may be worthwhile giving your customers a bit of leeway over things like late returns - building up goodwill can pay real dividends when it comes to repeat business, customer loyalty and recommendations. Do your best to deal with any questions or complaints promptly and politely.
Quality standards
Joining a safety and quality accreditation scheme will demonstrate that your business is run to a high standard. Members of the HAE can apply to join the SafeHIRE scheme. This will involve a site assessment and unannounced test hires. Successful applicants earn the right to display a certification plaque and note their status as a member of the scheme in advertising literature. SafeHIRE certified members also benefit from being able to join the Contractors Health and Safety Assessment Scheme (CHAS) register as 'CHAS Accredited' businesses. This is used by many private companies, local authorities, government agencies and so on when shortlisting contractors or suppliers.
Advertising your business
It is important that you advertise your business so that potential customers know about you and the tools and services you offer. There are a number of things you can do to promote your business:
use signs effectively to inform and attract passing trade
advertise in your local newspaper and any local directories
place an advertisement on Yell.com
launch your own website to reach a wider market - particularly relevant if you offer specialist tools not usually stocked by others
place advertising leaflets at local garden centres or builders' suppliers
Members of the HAE are included in their online 'find a member' database. This can be accessed by the public in order to locate companies in a certain area or dealing with a particular sector of the market. You can find out more about HAE membership and the SafeHIRE scheme on the HAE website.
Think about using social media, blogs, business directories and forums to market and promote your business.
Buy an existing tool hire business
You might decide to buy an existing tool hire business rather than start your own venture from scratch. Buying a going concern can mean that the products, customers, regular sales, staff, premises and equipment are already in place.
But buying a business can be a hazardous, expensive process unless you have the right skills and experience on your team, including legal and financial know-how. Establish the genuine trading and financial position, so that the price you pay for the business is not too high.