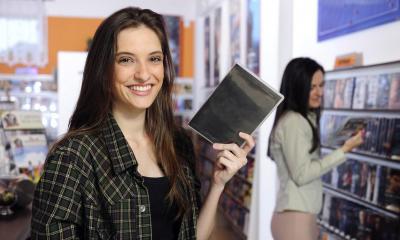 This sector has largely disappeard, but this information may still be useful for start ups with similar issues. The internet has changed the way people access films and many rental outlets have branched out into selling games. Some specialise in foreign language videos. Our practical guide will help you start up and run your video/DVD rental business.
Research your target market
When you plan your video/DVD rental business you will need to make a realistic estimate of the likely level of demand, particularly in the light of the steep decline in the market as on-demand streaming services edge out physical video/DVD rental.
Your first priority should probably be to make sure that a DVD rental business is viable in the area. For example, if you think that it will be popular because local internet (and mobile data) connectivity is generally poor, take steps to find out which areas have good and bad internet access and how densely populated they are. Also try to find out how likely connectivity is to improve in the near future - are there any plans to upgrade the local communications network and infrastructure, for example? Perhaps you're planning to target holidaymakers staying in self-catering accommodation - once again, take steps to find out about the availability of on-demand subscription services, internet and WiFi, and fast mobile data access in holiday cottages and other self-catering accommodation options within the area. Bear in mind that by the late 2010s nearly 90% of UK households were equipped with a broadband connection of some sort and this is growing, although more slowly than in the recent past.
If you're planning to focus on renting out titles that may be difficult to obtain - for example obscure arts-house films, foreign titles, 'bollywood' movies and vintage films - think about how strong demand is likely to be. This type of business is probably more likely to succeed in a large and cosmopolitan city than in a smaller rural town.
It's important to make an assessment of the amount of competition - this will depend in part on the range of titles you intend to offer. For example, if you're planning to focus on obscure films you'll need to find out how easy it would be for your customers to obtain them elsewhere. There may not be any other DVD rental shops in the local area, but find out whether the types of title you're intending to stock are available from streaming providers or postal rental specialists. Check their prices too - perhaps you intend to undercut them.
If you're going to go head to head competing with the streaming services then you'll need to think very carefully about why customers will choose your outlet. You won't beat them on convenience, but there are some ways in which you may feel you can offer an advantage. These could include:
better selection within certain genres
better quality - high-definition physical formats like Blu-ray are still much better quality than streamed video
friendly, personal service - and the ability to give knowledgeable recommendations
informality - no need for customers to sign up to a subscription service or pay regular monthly amounts whether they watch anything or not
complementary retailing - perhaps you will also stock snacks like popcorn, sweets and ice cream
Research current trends, plus legal and tax issues
What to sell
One of the first stages of planning your new venture is to decide not only what range of items you will stock but also which titles you will offer for rental. Take into account your local customer profile that your market research has helped you to establish.
It is important that you offer:
copy breadth - that is, a wide range of titles to appeal to different types of customer
copy depth - enough copies of popular titles and new releases so that you benefit from the peak period of demand when they first become available
The main film categories are:
comedy/romantic comedy
action/adventure
drama/thriller
musicals/dance
crime/gangster
children/family
sci-fi
horror
bollywood
There's also a wide range of different titles that fall within the special interests category, such as sport, keep fit, music, documentaries and so on. Other categories include arts-house films, foreign cinema, and vintage titles. Altogether you'll probably have at least 1,500 rental titles in stock.
As well as offering titles for rental you might also decide to offer:
new DVD sales
sales of secondhand ex-rental titles that there is no longer enough demand for
games rental and new sales
sales of soft drinks, ice cream and confectionery
New titles are released every month and it can be difficult to decide which ones to stock and how many of the major titles (or 'blockbusters') you should buy. Your wholesaler may be able to give you some help with this but you should also keep up with which titles have been big cinema box-office hits. You can also find helpful information on the British Association for Screen Entertainment website.
Video sales have been steadily falling year on year, even though spending on entertainment has been increasing since 2013 after the worst of the financial crisis was over. But this fall in sales has been offset by strong growth in sales of video games, which has more than made up for the fall in video sales.
You might offer customers a conversion service whereby you transfer their old VHS tapes onto DVD or computer file. Alternatively you could keep a stock of films in VHS format that have never been released as DVDs - and rent out a video player so customers can view them.
Estimating income
Your rental income will be affected by:
how many new titles you stock each month
demand for each of your titles - known as 'utilisation'
the rental charge for each title
It is normal in the industry to have different charge bands for titles, depending on how new and popular they are.
When a new title is released it is likely to be very popular for two months or so, during which time it can be priced in the top charge band, for example, £3.00 or £4.00 per night. Once it becomes a little older and less in demand you might drop the price and also extend the rental period - for example you might drop the price to £2.50 and allow a five day rental period. Over a year old and you might reduce it still further, to £2.00 or even lower.
Some films are never charged at the top rate, for example children's films are often cheaper as are 'support titles' which are not as popular as blockbusters.
According to industry sources, the 'shelf-life' of an average title is between 15 and 24 months, depending on whether or not it is a major film. The shelf-life refers to the period during which people will want to watch it, not the physical condition of the DVD.
To calculate your rental income you will need to estimate:
the number of new releases you will stock each month
the amount of times each will be rented during the year
the price at which it will be rented
Rental income for one popular title might follow the following pattern during the first year after release:
month 1: 5 hirings per week at £4.00 per hiring = £80.00 for the month
month 2: 15 hirings for the month at £3.00 per hiring = £45.00 for the month
months 3 - 12: 2 hirings per month at £2.50 = £40.00 for the eight month period
Total rental income for the year = £165.00
(Figures used are for illustrative purposes only)
As well as income from the new releases that you buy each month you will probably have a large stock of back-catalogue titles. These are films which are several months old but which still enjoy a certain amount of demand. You can buy back catalogue titles at a discount.
You are also likely to have special offers and promotions from time-to-time when you give customers a discount for taking out two or three films and keeping them for up to a week.
You may also have some income from games rental and sales of new titles, accessories, snacks, confectionery and so on.
Buy an existing business
You might decide to buy an existing video/DVD rental business rather than start your own venture from scratch. Buying a going concern can mean that the products, customers, regular sales, staff, premises and equipment are already in place.
Do be aware though that the high street Video/DVD rental market is in steep decline thanks to huge competition from on-demand digital streaming, so you'll probably need to have something very special up your sleeve to turn around a failing business.
But buying a business can be a hazardous, expensive process unless you have the right skills and experience on your team, including legal and financial know-how. Establish the genuine trading and financial position, so that the price you pay for the business is not too high.