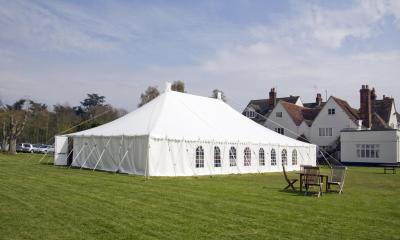 Event hire businesses supply a wide range of equipment used for corporate events, weddings, parties, festivals, sports events and other functions. Our guide gives you the essentials for starting up and running your own event hire business.
Research your target market
Estimating demand
Demand for event hire in your area will depend on a variety of factors. You need to consider the number of potential trade and private customers, which will be influenced to a large extent by the nature and size of the local population. If you have decided to specialise (for example, in supplying audio-visual equipment) this will have a bearing on the types of customer you can expect to attract. Demand is also linked to the strength of the economy as a whole and in particular the state of the local economy. To estimate demand in your local area, you may need to do some primary market research that could involve going out and talking to prospective customers.
Save £5 and pay £30 for a year's access to 890 business document templates. Use code SLD7948.S
Businesses and organisations
Consider what types of business and organisation would use your services. These might include schools, the local authority, clubs, charity organisations or churches holding shows, conferences, exhibitions or fetes. Pubs or garden centres might have occasional promotional or family days, especially during the summer months. Motor dealers or other large retailers might attend trade shows and need exhibition equipment. Potential demand from these types of businesses and organisations will depend on how many of them there are in your area. Before investing in expensive equipment, it's a good idea to do some research into the number of potential customers nearby. Try looking on Yell.com, other online directories and local print directories to get an idea. Larger firms and local authorities may own most of the equipment that they need to use. Smaller businesses may be a better source of trade - for many it makes more sense to hire than spend lots of money on items which are only occasionally used.
The business events market is significant and growing and is made up mostly of conferences and meetings (more than 50% of all business events) and exhibitions and trade fairs (a further 25% or so). The remainder is made up of sporting events, music events, incentive travel, festivals and cultural events, corporate hospitality and outdoor events.
Domestic customers
Demand from domestic customers will depend on the size and nature of the local population. Affluent homeowners are more likely to have the space (both indoors and in the garden) to host large parties or other events that might involve hiring entertainment equipment. Bouncy castles for children's parties will be in most demand where there are lots of young families - the number of primary schools nearby might give you an indication about this as well as the nature and density of local housing.
Other factors
Demand for event hire will vary throughout the year, with more outdoor events such as shows, fetes and concerts taking place in the summer months. The most popular time for weddings is from Easter onwards throughout the summer, and demand for barbecues, patio heaters and other items such as bouncy castles used for outdoor parties will also be greatest during the warmer months. Particularly bad weather in summer can therefore lead to a fall in demand for a wide range of items - large shows and outdoor events may be cancelled and people will decide against holding garden parties and barbecues. Large sporting events that are held once every few years (for example international football or rugby tournaments) can lead to a surge in demand for large screen TVs from pubs and clubs. Similarly demand for PA systems, lighting and so on, may increase around the Christmas party season.
Generally speaking, apart from public exhibitions and indoor events which are held year round, there is considerable seasonality in events. The peak times for trade exhibitions are February to June and September to November, with the greatest number (about 20 per cent) held in March and April. By contrast, December is not considered a good month for events, with only about 3 per cent being held then. The outdoor events season runs from April to September.
Check out the competition
Having thought about the potential demand locally, you need to consider the level of competition that your business will face. As people are unlikely to want to travel further than they have to in order to hire items, your main competitors will be other local firms. These might range from independent hire shops to branches of national or regional chains.
Count how many of these businesses are already offering event hire in your area. Have a look at the services offered by each of these competitors to establish:
if they concentrate on indoor equipment, outdoor equipment, or offer both
what range of items they hold in stock
whether they offer a delivery service
whether they offer equipment for sale (new or used)
what prices they charge
if they are members of a trade association
if they are part of a quality standards scheme
whether they specialise in any way - for example in supplying catering equipment
what their opening hours are
how knowledgeable and helpful their staff are
whether the premises and fittings are modern and smart
Consider carefully how your new business would compete with the existing outlets.
Research current trends, plus legal and tax issues
Establish your customer profile
Your business might deal with various types of customer depending on your location and the range of items offered for hire. Potential customers include private householders, local businesses, schools, sports teams, charity organisations and local authorities. Many of your customers will be locally based, but if you offer unusual items or specialist services you may find that you attract customers from a wider area. If you offer equipment servicing and repairs, this too can be a good source of work.
Special offers and discounts
You will probably offer a discount from your list price as a matter of course to any trade customers. How much discount will depend on your pricing policy and the level of local competition.
Many businesses also give discounts to employees, regular customers, family and friends. A reduced rate could be offered to groups such as pensioners or charity organisations. Check out the opposition for ideas and keep a close eye on any special offers you do make to be sure that they are working for you. After all, these kinds of promotions might encourage extra business, but they will also affect the amount of profit you make.
Your target customers
Before you can estimate the level of demand for your business, you need to consider who your customers will be. Bear in mind that many are likely to be based nearby - people will generally prefer the convenience of a local outlet. For larger items such as bouncy castles and marquees, you will probably offer a service that includes delivery, setting up and collection, in which case, you may be looking to attract customers from further afield. However, you need to think about how far you are prepared to deliver and whether you will make an additional charge for this service. It may be possible to use a courier to deliver larger items outside of your local area if they don't require any specialist skills to set up.
Different types of customer
Potential customers fall into various groups, including:
trade customers
commercial or voluntary organisations
schools and colleges
local authorities
private householders
These groups are likely to want to hire very different types of equipment and so the type of customer you attract will depend on the range of items you offer. For example, trade customers might include local firms wishing to provide corporate hospitality at a sporting event, or pubs wanting to hire entertainment equipment for a talent night, a large screen television to show a sporting event or a bouncy castle on a bank holiday weekend. Commercial or voluntary organisations might need indoor conference equipment such as projectors and a PA system, or outdoor equipment such as portable toilets, marquees, trestle tables and so on if organising a show or exhibition. Members of the public might wish to hire a large barbecue or other catering equipment for a birthday party, or perhaps a marquee, tables and chairs for a wedding reception.
Satisfying all these different types of customer would require sufficient financial resources and space to buy and store a very wide range of equipment. This is rarely practical and many businesses decide to focus on a particular sector of the event hire market. For example, some firms specialise in supplying audio-visual equipment for conferences or entertainment events. Others concentrate on supplying catering and bar equipment. If plenty of space is available larger items might be stocked, for example tables and seating, marquees, staging and portable toilets for outdoor events. Bearing in mind your location, the resources you have available and your personal skills and interests, consider to what extent and in which area of the market you will specialise. Will you attempt to make links with other hire businesses that offer different types of equipment to try to cater for a larger customer base.
Remember that you can, if necessary, hire in pieces of equipment that a customer needs from other hire businesses. This might be worthwhile in certain situations - for example a customer wishing to organise a fashion show might ask you to supply staging and a catwalk in addition to the lighting and sound system that is your usual area of business.
Why will people choose your business
Attracting customers
For your business to succeed you need to be able to attract a sufficient number of customers. There are certain things that you can do to make your business as appealing as possible to people who haven't used your business before and to encourage existing customers to return.
The right equipment
It's essential that you're able to supply the items that your customers want to hire. If the items that people need are not in stock and immediately available, there's a good chance that they will simply try somewhere else.
Unless you have decided to specialise with the aim of targeting a particular niche market, a large proportion of your business is likely to come from a range of core equipment that is commonly hired, such as sound systems, lighting and display screens for indoor events, or marquees, inflatables, portable toilets and so on for outdoor events. Try to make sure that you have enough of these to meet demand. Beyond such core items, the range that you are able to hold in stock will depend on your financial resources and the space available. Having a reasonably wide range will ensure that you can supply most customers with the item they want, but don't try to stock everything - there's no point having money tied up in expensive equipment that is very rarely hired. Remember that some businesses hire in specialist items when necessary, to re-hire on to a customer - you could think about doing the same should the need arise.
When thinking about what equipment to stock, bear in mind that the most popular items are staging and structures, portable buildings and sanitation, which account for between 50 to 60 per cent of the market. Other items which are very commonly hired include audio-visual equipment, equipment for power generation and climate control and interiors. Of increasing importance to ensure compliance with health and safety regulations, organisers require items for traffic and crowd control, security, signage and portable access solutions.
Price and convenience
When hiring, many people will simply look for the cheapest rates they can find. Competing with the prices charged by the large hire chain stores may be difficult, but it's a good idea to make sure that your prices are at least broadly competitive with other nearby outlets.
Potential customers are also greatly influenced by convenience. Location has a lot to do with this and ideally your premises will be located on or close to a main road, both for the convenience of customers and to advertise your business to passers-by. Adequate car parking will be an advantage. Town centre locations are usually expensive and an out of town enterprise park might offer a suitable alternative. You may not be able to choose or afford an ideal location, but you can still try to make things convenient for your customers - for example, by offering a delivery and collection service. (This may be essential if you offer large items such as marquees and inflatables, which may also need to be set up for the customer.)
Standards of service
Offering a high level of service and good quality equipment will help to attract and retain custom. Helpful, friendly advice from knowledgeable staff will greatly enhance people's opinion of your business. Setting up outdoor equipment has already been mentioned, but you may also find that customers need help setting up audio-visual equipment hired for events such as conferences or shows. Providing help and advice in these situations makes a big difference to people's impression of your business.
Keep the hire shop tidy and well organised and have efficient servicing and checking procedures for returned items. Use good quality equipment and keep everything clean, well maintained, and attractively displayed. Concentrating on these aspects will help you to attract customers in the first place and keep them coming back.
Joining a trade association quality scheme will demonstrate that your business is run to a high standard and help to inspire confidence in it. The SafeHire scheme is operated by the Hire Association Europe and is an industry recognised safety and quality accreditation scheme. It encourages professional standards and high quality safety procedures throughout hire businesses. From 1 January 2018 gaining Safehire certification will be a requirement of membership of the Hire Association Europe (HAE). Visit the HAE website for more information.
Quality of equipment offered
Remember that goods supplied for hire must comply with set safety standards. Within these standards there is a huge range of equipment of varying quality, cost and specifications. Customers will be concerned that the equipment they are hiring is of a good quality and well maintained. As items that are hired out are likely to have to withstand a lot of wear and tear, it makes sense to buy sturdy ones to start with. It's essential to put a rigourous servicing and checking system in place to ensure that everything that leaves the shop is safe to use and fit for its intended purpose.
Specialising in a particular sector
Consider whether your business will specialise in some way. This might be to meet a particular demand that your market research has identified, or simply because of practical considerations - limited space might force you to concentrate on audio-visual equipment, for example, rather than more bulky furniture or outdoor items. Another reason to specialise in some way is that it can be a good method of distinguishing your business from others nearby. You could concentrate on a very specific section of the market, for example hiring out and setting up marquees for weddings, corporate hospitality or festivals. Alternatively, you could keep a range of commonly used equipment in stock, but broaden this to include some specialist items. The most commonly hired items include staging and structures, portable buildings and sanitation. The next most frequently hired items are audio-visual equipment, equipment for power generation and climate control and then items for crowd and access control.
Before deciding whether to specialise, consider whether there will be sufficient demand. You don't want to spend lots of money on equipment that is rarely, if ever hired, so you must consider whether the investment will be worthwhile in terms of the extra business brought in.
Some areas you might consider specialising in include:
Audio-visual equipment
Audio-visual equipment hire is an important sector of the event hire market for shows, meetings, conferences and parties. Commonly used items include projectors, television and video, big screens, lecterns and PA systems for conferences, and specialist lighting.
Bar and catering equipment
This is usually hired for weddings, large parties, hospitality events, or for catering at any large gathering. Commonly hired items include kitchen equipment, large charcoal or gas barbecues, catering urns, gas rings, cutlery and crockery, glassware, glass washers and ice making machines.
Indoor and outdoor furniture
Dining furniture such as dining tables and chairs or outdoor seating and trestle tables is often hired for large events. Some hire firms also offer office furniture, staging and catwalks.
Marquees
Marquees are often hired for corporate hospitality, exhibitions, weddings, festivals or parties. They can include interior lining and decoration, carpeting and flooring, dance floors, lighting and sound insulation. Heating and air condition systems are sometimes installed too. Setting up the marquee is a skilled and time-consuming job, and is included as part of the hire arrangement.
Inflatables
Bouncy castles and large inflatable slides are popular children's attractions at all kinds of events including local fetes, large carnivals, sports events and agricultural shows. Businesses such as pubs, garden centres and caravan sites might hire them during the summer months or over bank holiday weekends. Smaller bouncy castles and other inflatables may be hired by members of the public to put up in the garden for a child's party.
Sales, repairs and servicing
Some hire businesses also offer sales of new and ex-hire items. You might also consider offering repairs or servicing of customers' own equipment. You may well have a workshop for checking and servicing your own equipment anyway, so there will be little, if any, additional capital cost involved in offering this service to customers. Don't forget that if you offer a disposal service for other people's items then you'll need to register with your environmental regulator as an upper tier waste carrier (or equivalent in Scotland).
Pricing policy
When considering your pricing policy, remember that you need to charge enough to be able to cover your costs, overheads and drawings.
Hire charges
Equipment is usually hired on a daily, weekly or weekend basis. For longer-term hire, you might negotiate a reduced rate with the customer. The amount charged generally increases with the size, complexity and initial cost of the equipment. So for example, an amplification system, video projector and screen for a conference would typically cost more to hire than a barbecue. If the hired equipment needs setting up for the customer then this too should be taken into account when deciding on the hire charge. The exact amount you decide to charge may be dictated to a large extent by the going rate, so check to see what your competitors charge. Your customers will not be prepared to pay much over the odds for items they can easily hire elsewhere.
Bear in mind that the hire rate charged for each item must, over time, cover its initial cost, repairs, maintenance and transport if it is delivered and collected. Some items will be regularly hired and so constantly earning money. Other equipment may spend more time in storage than in use - you will have to charge a higher rate for such items if they are going to be worthwhile keeping in stock.
You might find it useful to make your customers aware of the Hire Association Europe's 'hire versus buy' online calculator to see which option makes the most financial sense.
Deposits
When a customer collects or takes delivery of a piece of equipment, the hire charge is usually paid and a refundable deposit taken. This is returned to the customer at the end of the hire period provided that the equipment is undamaged. Credit or debit card details and some proof of customer identity are usually taken as a safeguard against theft. You might decide to offer customers insurance cover against theft or damage of larger, more expensive items. Some hire firms insist on this.
Other services
You should also consider how you will cost any other services you provide (for example repairs and servicing of customers' own equipment), how often you will review your prices and whether you will offer discounts (such as reduced rates to regular customers), or special offers.
Promote your business
The right image
People's first impression of your business can be very important - so it is vital to project the right image. If you operate from a shop or office try to keep your premises clean and tidy and if necessary, consider re-painting to brighten things up. Using signs to indicate what items are available and any other services you provide will clearly communicate to customers exactly what your business offers. As well as a storage area, you will need a retail/display area, where customers can look at the equipment available and you can offer them help and advice. It's also a good idea to provide some leaflets or posters about equipment use and safety - a range of signs, posters, leaflets and marketing products is available from the Hire Association Europe (HAE).
If you are specialising in large items such as inflatables and marquees you will probably offer a delivery, setting up and collection service and may not necessarily have a shop or office that customers visit but instead rely on your website to promote your business to potential customers. In this case, your website will act like your shopfront and your delivery vehicle will be a highly visible advertisement for your business. Make sure that your website looks good and functions properly on screens of all sizes and that your vehicle is smart and well maintained.
Customer relations
Treating customers in a friendly, helpful and polite way is essential. Be prepared to explain to people how pieces of equipment work and advise them which will be the most suitable for them to use. Make sure that people know how to use the items they are hiring and if there is any doubt, offer to demonstrate. Provide printed safety sheets where appropriate. Make sure that the conditions of hire are clearly explained and there is no confusion over damage deposits or insurance cover if this is offered. A good reputation can only be built over time, but from the outset you should aim to offer a high level of service and ensure customers are satisfied with the service they receive and the equipment supplied. Try to make sure that employees responsible for delivering and setting up equipment are always friendly, polite and smartly dressed - you could consider providing them with some form of uniform. Finally, do your best to deal with any questions or complaints promptly and politely.
Quality standards
Joining a safety and quality accreditation scheme will demonstrate that your business is run to a high standard. Members of the HAE can apply to join the SafeHire scheme (and from 1 January 2018 gaining Safehire certification will be a requirement of membership). This will involve a site assessment and unannounced test hires. Successful applicants earn the right to display a certification plaque and note their status as a member of the scheme in advertising literature. For a further fee they can also opt in to be entered on the CHAS database (the Contractors Health and Safety Assessment Scheme). Those that opt in are listed as 'CHAS Accredited'.
Advertising your business
It is important that you advertise your business so that potential customers know about you and the equipment and services you offer. There are a number of ways to do this:
use external signs to inform and attract passing trade
advertise in your local newspaper and any local directories
launch your own website to reach a wider market - particularly relevant if you offer specialist equipment or services not widely available
advertise in an online directory
Members of the HAE are included on the Association's searchable website database. This can be accessed by the public in order to locate companies in a certain area or dealing with a particular sector of the market.
Buy an existing business
You might decide to buy an existing event hire business rather than start your own venture from scratch. Buying a going concern can mean that the products, customers, regular sales, staff, premises and equipment are already in place.
But buying a business can be a hazardous, expensive process unless you have the right skills and experience on your team, including legal and financial know-how. Establish the genuine trading and financial position, so that the price you pay for the business is not too high.