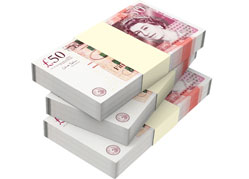 When running a business there are two key things you must always try to do. Firstly, you always need to be improving. Secondly, you should always be trying to test yourself.
We knew our business, TreatmentSaver, was going well, because our customer base was growing in line with our revenue. It took us a number of attempts to find the best business model, but we knew right away that online appointment booking was a winner for both clinics and our site visitors. Clinics benefited from acquiring new customers and our visitors got to save money on treatments such as laser eye surgery and Botox. From this point onwards, it has always just been a case of trying to scale up the business.
We figured we needed both investment and exposure, so going on Dragons' Den was potentially an opportunity to kill two birds with one stone. As well as this, we saw it as a great way to test ourselves and take us out of our comfort zone.
Initially we applied to appear on Dragons' Den more than a year ago and having gone through a number of online and phone interviews we had to do an audition. This basically involved going to the BBC studios in Manchester and doing a mock pitch and interview in front of a BBC producer.
Everything went well and we were consequently chosen to appear on the actual show. After a few months of due diligence by the BBC (basically to check we were who we said we were), we were invited to film for real.
The whole day was surreal – it was certainly the first time I'd ever worn makeup. Once we were ready, having met the producer, etc, we spent about five hours in the green room, basically biting our fingernails until we were summoned in front of the Dragons.
When our time came to meet them, the adrenaline was definitely pumping. By far the worst bit is when the lift doors open for the first time and you see all five of them in front of you. It was a relief to get the pitch done, because for me this was the most nerve-wracking part. From then on it just became a Q&A with the Dragons, with a few curve balls thrown in for good measure.
After a fairly heated battle, unfortunately we did not manage to secure investment, but we gave it our best shot. After the initial disappointment had died down, we started to reflect on what a great experience it had been and how we could bounce back.
Ironically, being turned down was a shot in the arm for our business. It gave us the motivation and determination to prove the Dragons were wrong not to invest in us. Since the show was recorded we've doubled the traffic on our site and increased the number of clinics and offers on the site, while saving our customers more than a million pounds when booking online through our website.
But for me it's some of the less tangible benefits that the whole experience has brought us that are more valuable. It has helped to reinvigorate our business, given us the extra drive to succeed and the confidence to seek out investment elsewhere. We will prove the Dragons wrong!
Blog supplied by Dr Ganesh Rao of TreatmentSaver. You can read about his first business steps here.