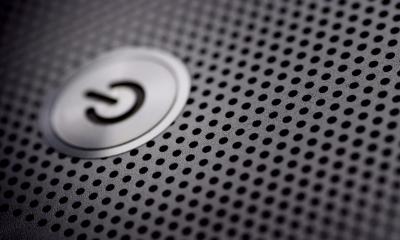 Information technology (IT) is at the heart of every business. Software, systems and apps let you create reports, manage your accounts, communicate with suppliers and customers, and connect with the outside world through email, messaging and communication app and online.
You don't need to be a specialist, but every business owner should understand the basic IT systems, software and solutions that you use.
1. The basic ingredients
Desktop computers used to be the default choice, but today most businesses use a combination of fixed terminals, laptops, tablets and smartphones
Each employee will need their own device to access your network and systems.
Personal computers (PCs) running Microsoft Windows are highly popular for office-based companies. They're cheap to buy, and simple to set-up.
Laptops enable employees to work in the office and remotely, carrying the software they need with them. Laptops can also be hooked up to a monitor, mouse and external keyboard if required.
Many businesses also use mobile devices for work, including smartphones and tablets. They provide instant access to information, from almost anywhere. They can keep your team in contact, particularly if your employees are mobile or working remotely.
Mobile apps enable staff to access your existing software and services remotely, from their mobile phone or tablet.
You can save money on equipment by operating a 'bring your own device' (BYOD) policy, where staff use their own mobile devices for business purposes. This can introduce security risks, so you must be careful.
You could also save money on equipment by purchasing refurbished technology at a much lower price than new.
Some businesses choose Apple Macs. The technology and peripherals are more expensive than PCs, but users welcome the simplicity of use and the durability of the computers.
Desktop computers are the cheapest option. Tablets, smartphones and laptops offer more flexibility.
Buying entry-level tech devices is usually a false economy. Cheap computers will have slow processers, limited internal memory and small amounts of storage. They may run slowly, or not be powerful enough to run the software and systems you need.
Choose good quality peripherals such as keyboards, mice and monitors. Ensure they are comfortable to use and get the largest monitors you can afford.
Your system's capabilities depend on the software and cloud services you use
Most solutions can be built from standard software. Employees are more likely to be familiar with popular software such as Windows and Microsoft Office.
If your business requires specialist software, ensure that it will run on your current hardware before purchasing it.
There are significant advantages to using cloud computing services instead of traditional software. You always have the latest edition, the upfront cost is low and you can add users or cancel subscriptions at any time.
Most popular software is available as a cloud service or in app form.
You are likely to need a printer and other accessories
Laser printers are fast and reliable. A printer with a network connection or wi-fi connectivity allows everyone to share it.
The running costs of your printer (including the cost of consumables such as ink and paper) will be higher than the purchase price over the lifetime of the device.
Inkjet printers are good for printing photos, but are more expensive to run than laser printers.
You may require a photocopier and scanner. An all-in-one device conveniently combines printing, scanning and photocopying in a single unit.
You may need extra equipment as part of your IT security.
Some businesses require specific technology to run their business. For example, a retailer may need point of sale terminals and a chip and a card reader to take card payments.
Integration and communication makes IT far more useful
Your business will need a fast and reliable internet connection. Businesses that operate more than one computer are likely to benefit from a network.
Integrated information systems that share data across your devices and network can make collaboration seamless. For example, sales information can be configured to automatically flow into your accounting system, enabling all employees to have access to up-to-date information.
Ensure your systems are compatible with your customers and suppliers. For example, you might want to produce files that they can use or be able to link your systems online.
Voice over IP (VoIP) telephone systems using the internet can be more flexible and cost-effective than traditional fixed-line phone systems (which are being switchd off in 2025).
Get the right tech for your new business
2. Software
The operating system is the basic software that runs a computer
The most common computer operating system is Microsoft Windows. PCs usually come with Microsoft Windows pre-installed.
Servers require operating systems, too. This is a more specialised area, with several options.
Android and iOS are the most popular mobile operating systems and are used on most phones and tablets.
You will need to regularly update your operating system to ensure that it functions properly and provides protection from attacks and viruses.
An office suite allows you to work with common business documents and files
Most companies use Microsoft Office. It's highly likely your employees will be familiar with this software.
There are free alternatives such as OpenOffice and LibreOffice. These may not always work with Microsoft Office files.
Web browsing software lets you access the internet
Web browsers are free pieces of software that enable you to access the web. Popular browsers include Google Chrome, Microsoft Internet Explorer and Mozilla Firefox.
You need an internet connection to use a browser.
Email software lets you send and receive emails
Many companies use Microsoft Outlook to send and receive emails.
You will need an email service as well. Although you can run an email service in house, most businesses find that using a separate email provider is more cost-effective and reliable.
Email services are available from web hosting companies, local IT suppliers and cloud email providers.
The company that provides your email service may offer Outlook - or other email software - as part of the package.
Other software applications handle different business activities
For example:
accounting software can help with financial management and tax returns;
payroll software makes paying staff easier, automating repetitive and difficult calculations;
CRM software tracks customer details and your contacts with them.
Mobile apps and cloud services have largely replaced traditional software
Most software providers have mobile apps that run on smartphones and tablet computers.
Cloud services are based online rather than being installed on your computer.
3. Cloud computing
Cloud computing services are replacing traditional software in many areas of business IT. They could help you be more flexible and get the IT system you really need - while keeping your initial costs low.
Cloud computing services are accessed over the internet
Instead of installing software onto your computer, you sign in online.
Most cloud services charge a monthly fee instead of a one-off charge. Fees are typically based on the level of service and number of users you have.
They are cheaper upfront, but overall costs are broadly the same as purchasing a standalone piece of software.
Cloud services tend to be very flexible
Cloud services can be accessed online from any suitable device. Users aren't tied to a single computer so they can access software whenever they want.
You pay a subscription charge for each user. You can purchase additional licenses immediately, and in most cases, cancel just as quickly.
Most cloud packages include maintenance and support
Cloud software is regularly updated by the provider.
In many cases, software updates are automatic, meaning you're always using the latest – and safest – version. This can reduce your IT maintenance burden.
Cloud software providers usually offer online support where you can ask questions and get answers. You may also find helpful articles, FAQs and videos that can help you get the most from the packages you are using.
Cloud services store your data on servers owned or operated by the cloud provider
You must be confident that the cloud software provider you choose will protect your data and that of your employees.
Only buy software from cloud providers that are well-established and with a strong track record.
You need an internet connection to access cloud services
Check that any cloud provider offers a guaranteed level of uptime.
If your business relies on cloud services, you may also need to upgrade your internet connection. You want a stable connection if you are transferring large amounts of data between individuals and accounts.
4. Your network
A network allows you to connect your computers and other devices
You can:
get all your computers and devices online;
easily share files and other data;
collaborate on documents;
share resources such as printers.
If you have fewer than five employees, you can create a simple network
A router is at the centre of your network. These are included with most broadband internet packages.
The router normally connects to the internet, and all your devices connect to the router.
Most modern devices allow you to connect wirelessly. Older devices may only offer connection via Ethernet cables. Running cables in an office can be tricky and you may require professional support, particularly if your office is on two (or more) levels.
If you have more employees, you may need a more complex network
Think about how many devices you need to connect and how you will connect them.
You might need additional routers, access points and other equipment for your business to run smoothly.
Larger businesses often build their network around a server
A server is a dedicated computer that manages your network and stores files.
A server allows you to run centralised applications, such as a customer relationship management system.
Servers require some technical knowledge to install, configure and operate, and significant ongoing maintenance. Speak to a trustworthy IT provider who can advise you of a suitable solution.
Cloud servers are increasingly used by businesses to store their data. This can be more flexible, allowing you to add or remove capacity as required - but you will need a reliable internet connection.
A wireless network ('wi-fi') can provide extra flexibility
Most mobile devices can only connect wirelessly to the internet. All new tablets and laptops have wireless capabilities built in.
Wi-fi connections are convenient, but they may not be as fast, stable or secure as a wired connection.
Many businesses use wired connections for permanent desks, and rely on wireless connections for other parts of their building.
To set up a wireless network, you need a wireless router or wireless access point. You may need more than one access point to cover a larger area.
You will need to ensure your wi-fi network is secure and that the password is changed regularly.
You may want to provide remote access to your network
For example, if employees work from home they can securely access files and folders wherever they are.
It is difficult to provide remote access to your data unless you have a network server or use cloud services.
5. Getting online
Decide what type of internet connection suits you best
Fibre optic connections are fast, reliable and are available in 99% of the UK. 97% of the UK has access to superfast broadband (at least 30Mbps). You can purchase standard fibre optic broadband from a range of suppliers, including BT.
If fibre broadband is not available in your area, you can still use ADSL. This tends to be slower as data is delivered over a standard phone line.
Larger businesses may require a dedicated leased line from a specialist supplier. These usually cost more but offer greater capacity and a guaranteed level of service.
Make sure your connection is sufficiently fast and reliable
Some cheaper services offer limited speeds or usage limits. Broadband packages designed for businesses can deliver reliable services at guaranteed speed. You may also receive better customer support.
If you use cloud services extensively, you may require a fast connection.
If you need to upload large files (for instance, to a cloud storage service), consider paying extra for faster upload speeds.
If you plan to use VoIP for telephone calls, you will need a fast and reliable connection or you may experience issues with calls. To maintain good call quality, some businesses have a second connection dedicated to VoIP.
If you depend on your internet connection, get a package offering guaranteed service levels and priority support.
6. IT security
The information you hold on your IT system is valuable. You may experience data loss through malicious attacks (such as malware and hacking) and by accident (like hardware failure or human error).
Physically protect computer equipment
Loss of theft of equipment is one of the easiest ways for someone to get hold of your data.
Design your network with security in mind
Restrict access to your systems by insisting every user has strong passwords.
Control access levels and ensure people can only view and edit data they need for their roles.
Use firewalls to protect your systems from online attacks. You should have a hardware firewall at the point where your network joins the internet (this may be built into your router) and a software firewall on each individual computer.
Use encryption to protect data that is stored on mobile devices or is being transmitted wirelessly or over the internet.
Run security software on every device
Choose a reputable virus protection package.
Ensure the software runs automatically and is kept up to date.
Create a robust backup system
Establish up a procedure for taking regular backups.
You can back up to the cloud, or to physical storage such as a removable hard drive.
If you're using a cloud-based backup provider learn where the data is kept and check out all security credentials before entrusting them with your data and information.
If you're using a physical storage solution, maintain at least one set of backups off-site. Keep them away from heat, moisture and magnetism.
Ensure employees understand the importance of following security procedures
Make security part of employees' contracts.
Create robust IT policies covering the creation of passwords, the sharing of data and the importance of updating all software immediately.
Make sure you know what to do in the event of a problem
Create a file containing key information.
Mobile devices pose a particular risk as they can easily be lost or stolen
Ensure sure employees know what to do if their device is lost or stolen.
Install tracking and software that enables you to remotely wipe all software and data on your mobile devices.
Encrypt all data stored on mobile devices.
Consider installing mobile security software.
7. IT management
Depending on your level of in-house expertise, you may need extra support to help manage your IT system effectively.
You may need new equipment or software to be installed and customised
For example, you may need help to:
install cabling and set up a network server;
customise more complicated software such as a customer database;
integrate new software with existing systems.
Employees often need training and support, particularly for new software
On-site training can be convenient and useful, but can be expensive.
Software support often includes access to a helpdesk, online or by phone, and online resources. Check the costs and read user reviews to learn about others' experiences.
Your employees are more likely to be familiar with popular software, and these packages tend to be better supported.
A good IT supplier should tailor a support package to fit your requirements.
You may want a maintenance contract
Complex items like servers can be particularly demanding in terms of maintenance.
New equipment may include a guarantee and a period of free technical support.
You can arrange maintenance from your equipment supplier or an independent maintenance company.
Establish the quality of the service. For example, whether their engineers work to ISO 9000 standards, how qualified they are, and whether they use officially licensed parts during repairs.
For a critical system, you may want a maintenance contract which guarantees a rapid repair or replacement. The details should be described in a service level agreement (SLA).
Ensure that the basis on which you will be charged is spelt out.
Only work with companies that are familiar with your devices. Unauthorised, or poor-quality work could invalidate any warranties you may have.
Most smaller businesses find it best to outsource support services
If you can find a good IT supplier, you can build a strong relationship, allowing them to really understand your business and deliver the services you need.
Outsourcing your support and maintenance will allow you to focus on your business, rather than the day-to-day management of your IT system.
Although outsourcing support can be costly, the consequences of system failure can be much worse.
Larger businesses may find it cost-effective to invest in in-house support. An IT specialist can deal with routine enquiries and maintenance, provide advice, and anticipate problems, as well as taking action in case of system failure.