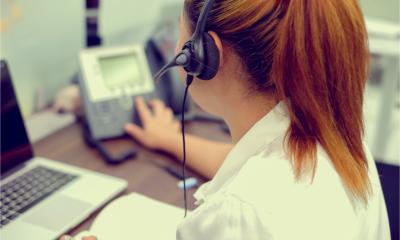 Despite the growth of email and social media, the option for clients, customers – and crucially staff – the ability to pick up the phone and have a chat is vital. All companies should have a dedicated phone number and a phone system that provides the features, functionality and flexibility they need to do business successfully.
Whether you're upgrading an existing business phone system or investing for the first time, here's how to choose the right telephone system for your business.
Understanding business phone systems
Until a decade ago, installing an expensive fixed-line telephone system and paying a monthly rental and call charges was the only option. Like so many other ways, the internet has changed business telephone systems forever – providing greater flexibility at a much lower cost.
Business telephone systems can be split into three types. Here's what they are and how they work.
A traditional PBX (private branch exchange) phone system that uses fixed lines through hard phones.
An IP-PBX (Internet Protocol private branch exchange) system with SIP-enabled hard phones that uses VoIP to make and receive calls.
A cloud-based telephone service that utilises VoIP technology to make and take calls through an app or the internet on your computer.
PBX phone systems
A PBX phone system uses telephone lines and traditional phones to make and take calls. You'll need to house a PBX server somewhere on your premises. PBX phone systems are safe and secure and don't need an internet connection to work. But, they are more expensive to install and maintain than virtual systems, with ongoing costs higher too.
Installing a PBX system from scratch is expensive and costs can ramp up if you need to add additional users, as you are limited to the number of internal and external lines and internal extensions. You'll also need to budget for the installation and maintenance of the system.
However, if your premises already has phone lines installed or you're happy to pay a premium for the security and stability of PBX business phone systems, then it can be worth spending the extra.
Self-hosted VoIP systems
Instead of fixed phone lines, IP-PBX phone systems use VoIP to connect calls. The communications server can be located on your premises, or in the cloud. Every user will need a specific type of phone called a SIP-phone, which will be provided by your business phone system supplier.
IP-PBX systems work in the same way as PBX phone systems but rely on a stable and speedy internet connection to function correctly. One key benefit is that it's much cheaper to add users to an IP-PBX system, so it's perfect for cost-conscious businesses that are planning to expand rapidly.
Cloud-based VoIP systems
A cloud-based VoIP system uses an app provided by your supplier or your internet browser or smartphone for calls. Cloud-based VoIP systems will manage your exchange virtually, routing calls to your business and acting as a virtual exchange.
VoIP business phone systems are incredibly flexible, offering greater control over all aspects of your phone requirement. Most come with smartphone apps that allow you to make business calls on your mobile device. Call costs are incredibly low – and in many cases completely free - but you will need to pay a monthly fee per-user. Like IP-PBX systems, you'll need a reasonably good network connection for it to work effectively.
Five steps to selecting the right business phone system
If you're considering a new phone system for your business, here are five steps that can help.
1. Identify what works and what doesn't with your business phone system
If you're a start-up, you can skip this step, but if you're an established business with an existing phone system, list what's currently wrong with your set-up.
Cost is a common issue for businesses of all sizes, and you can make significant savings by choosing the right supplier. Other reasons to change may be that you're moving offices or the company is growing quickly, and your current set-up isn't fit for purpose. Before scrapping your system, detail the size of your current system, including how many active users you have and how they use the system.
Having a clear description of your current issues can make it easier to search for a solution and engage constructively with your current provider and potential new suppliers.
2. Test your internet connection
IP-PBX and cloud-based VoIP systems require a secure and fast internet connection to function correctly. If your connection is weak or intermittent, you could find calls are glitchy and drop in and drop out.
Access to high-speed connections is increasing across the country, but in some areas, coverage can still be patchy. You can use freely available speed checkers to assess your download and upload speeds. Before speaking to a supplier, test your connection at various times during a working day to provide a realistic average speed.
If your connecting speed is weak, then speak to your provider or landlord before discounting a VoIP system.
3. Consider how your business uses its telephone system
Do you have a high volume of incoming calls, or does the phone rarely ring? Do you make many international calls? Do staff call each other or do they prefer to use different methods to stay in contact, such as instant messenger?
The way your business uses its phone system will have a significant bearing on your choice of new supplier. If you are dealing with high call volumes or making large numbers of outgoing calls, then an analogue phone system could offer the most stable platform.
If you work flexibly, are expanding or want the greater degree of control you get with VoIP – and the costs savings too – then an IP-PBX or cloud-based system could suit you better. Spending time on investigating how your business uses your system will provide vital information when you make your choice.
4. Set your priorities
Cloud-based VoIP systems offer a level of flexibility and control of your business phones that supports modern ways of working, but do you really need all those features?
Set out what you want from a new system, listing the key functionality your new system must deliver. Separate the useful functions from the essential ones.
If you operate a traditional, 9-5 business from an office or other premises, then managing and maintaining fixed infrastructure may appeal. If your business operates flexibly, with staff working at all hours of the day from multiple locations, then a cloud-based VoIP system could be more suitable.
Modern cloud-based VoIP systems come packed with features and functionality that can improve business efficiency – and save you money too, but only if you use them.
5. Speak to staff
Before engaging suppliers, ensure that you've spoken with your staff and understood their requirements from a new phone system. Discuss with them the options and describe the features available.
If you're asking staff to use their own devices, make sure they're comfortable doing so.
Changing a phone system is a small, but disruptive change, so taking staff with you from the beginning is crucial to unlocking the benefits.
Can a new business phone system save me money?
Cost is likely to be a key consideration when investing in a new phone system – and the good news is that you are likely to be able to save money on your current bills with VoIP.
Before engaging suppliers, be clear about your budget and what you hope to achieve with it. If you're interested in a PBX phone system or a self-hosted VoIP system, you will need to engage with suppliers to get quotes. Cloud-based VoIP providers are transparent with their prices with most providing monthly costs on their websites.
When you begin to consider budgets, make sure to plan adequately for additional costs, such as installation and ongoing maintenance costs associated with PBX and self-hosted VoIP systems.
Choosing the right business phone system
Modern VoIP systems – both self-hosted and cloud-based – offer significant cost savings over traditional fixed-line infrastructure. PBX systems are more robust and secure, but may not offer the flexibility your business and staff require.
By answering the questions above and calculating a realistic budget, you can begin to speak to suppliers. One key piece of advice is to invest in the system you'll need tomorrow – not today. The way we work and do business is changing. By planning for the future, your telephone system can accelerate growth rather than inhibit it.