Moving premises could save you time and money - not just on your premises but on all the related services that go with it. And that means you could be investing more in growing your business. Rachel Miller reports
Downsizing offices is fast becoming the norm - but it's not about downsizing ambitions. Flexible working and cloud computing have revolutionised the way we work, so we just don't need as much space anymore.
With ongoing economic uncertainty, many firms are finding the need to control costs is still an imperative. More and more businesses that want to cut costs without damaging their prospects are rethinking their location.
The commercial leasing market has changed. Long-term leases with onerous dilapidation clauses are becoming a thing of the past. Anyone shopping around for leased business premises today is in a buyer's market. The options are cheaper, more flexible and more attractive all round.
By moving premises, you can save money now and keep saving it. Here are seven ways to save money on your office overheads.
Move to a new office
If you've been covering all the costs of your leased premises - from water and power to broadband and cleaning - a move to a serviced office could save you money. It's a highly competitive market so you can shop around and find a good deal.
A serviced office also removes the prospect of having to spend a large amount of money returning a property to its original condition upon leaving. If you have to do this in order to move from your current premises it can be daunting, but in the long term, it could be a price worth paying.
If you do choose a conventional leasehold office, make sure you get a schedule of condition. Take photos and document the condition of the building so that the state of repair is clear from the start. This could stop your landlord from putting in a big dilapidations claim when you leave.
Stay where you are - but renegotiate
Another option is to renegotiate your lease. You could well get better terms. It's also worth trying to agree a shorter lease with break clauses. If you have spare space within your existing premises, you might be able to reduce your outgoings by sharing your office with another like-minded business. If you are coming towards the end of your current lease then now is the time to take control of the renewal process.
Move to a cheaper area
Many small business owners could relocate in order to cut costs. A move from any expensive city centre to the suburbs, to an out-of-town business park or even to another part of the country could save your business thousands every year.
Downsize your office space
If you are unsure about moving or downsizing, ask yourself:
Are all of your people in the office all day every day? If your staff spend time on the road or often work from home, consider having shared desk spaces. Flexible working not only saves you money on premises but can also boost productivity and staff loyalty.
Are you storing years' worth of paperwork? You can sort and shred a lot of your old papers and scan the rest. You may well need less office space as a result.
Do most of your staff bring their own devices to work? Think carefully about how much kit - and the desk space to house it - you actually need.
How often do you use your meeting room? Paying for your own meeting space makes little sense these days. There are so many more flexible options - from cafes to business centres or video conferencing apps that you can use from the comfort of your own desk.
Could you work from home? It may feel like a backward step if you started off in a home office. But if you are a micro-business, there are real cost advantages of having an office at home.
Use a virtual receptionist
Having someone to field calls and be the voice of your firm is vital - but you don't need to pay for a full-time receptionist. If you want to make sure customers never have to listen to an automated message, it's worth using a call answering service such as Moneypenny. Aimed at small firms and entrepreneurs, services like this provide a dedicated PA that can handle all your calls for far less than the cost of a full-time employee.
Save money on business rates
It's worth appealing against your business rates bill if you think that the rateable value of your property is incorrect or if your building is being affected by outside factors - such as building work or even flooding.
As a small firm you may be eligible for small business rate relief if you have a property with a rateable value of less than £15,000. A sliding scale of relief applies to properties with a rateable value between £12,001 and £15,000, but below £12,000 you won't pay any business rates. Special rules apply if you have more than one property.
In addition, if your property has a rateable value below £51,000 you're considered a small business. Your business rates will be calculated using the small business multiplier instead of the standard one. Contact your local council to find out more.
Cut the cost of your services
Unless you check and compare prices regularly, there's a good chance you are paying more than you need to for services such as business broadband, telephone, gas, electricity and business insurance. You can compare rates on all of these services at sites like Uswitch and MoneySuperMarket.
---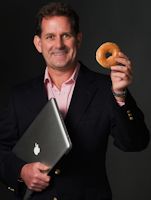 How we saved thousands by moving office
Rory MccGwire, chief executive of Atom Content Marketing (publishers of the Donut websites):
"We opened a new office in 2000 at the top of the market. The only place we could afford was a listed building on four floors - not the open plan offices we were hoping for. We also had to sign an onerous lease for ten years with a dilapidations clause that meant when we did move we had to pay a big bill. That was just how it was at that point.
"We delayed moving until 2013 - rents were falling and we waited until we found a really good deal. And I am absolutely delighted that we did. We managed to find a lovely, sunny, open plan office near the station and, best of all, the rent was much lower.
"We used to have to worry about things like servicing the alarms and the fire extinguishers. Now everything, including utilities, building insurance and broadband, is included in the price. So it's not just cheaper, there's far less admin to do as well."