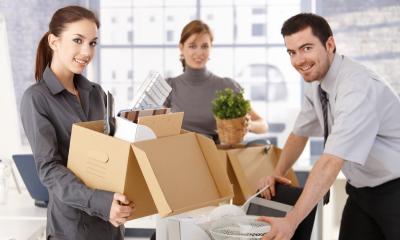 Moving premises can be highly disruptive. It's important to plan the move so you can resume work with a minimum of fuss and time lost. Here's what to consider
Start planning well in advance - at least six months before the move if possible. Plan to move during a quiet period with no other major disruptions.
Create a small move team, with a nominated move co-ordinator in charge who can delegate specific tasks to other team members.
Create a business-as-usual team to maintain customer service and key operations during the move. Make contingency plans in case of unexpected problems.
Involve a removal contractor from an early stage and confirm exactly what they will do; check that they have suitable insurance.
Arrange any specialist help needed for relocating and reconfiguring IT and telecoms systems (and any other complex equipment).
Prepare an outline programme to control the move and identify the lead time for each task, set target completion dates, and allocate responsibility.
Progress and complete legal transactions to dispose of the old premises, make any reparations and acquire the new premises; arrange any permissions required.
Give suppliers, customers, the authorities and other contacts advance notice of your change of address; use it as a marketing opportunity.
Organise updated stationery and marketing materials. Don't forget to update your website too.
Arrange to transfer and terminate services and utilities, including phone lines and broadband. Redirect mail and phone calls. If necessary, arrange new local suppliers.
Notify your insurers of the move to ensure continuity of cover.
Prepare a detailed plan of your new premises; arrange any alterations, cabling, decoration and so on.
Label everything to be moved, with a code showing where it will go in the new premises; clear out and dispose of unnecessary clutter.
Involve, consult and update employees throughout the moving phase. Consider how any relocation will affect them and what their contractual rights are.
Keep a back-up of your IT system and a copy of the contact details for all suppliers, customers and employees in case of any problems in getting your system back up and running.