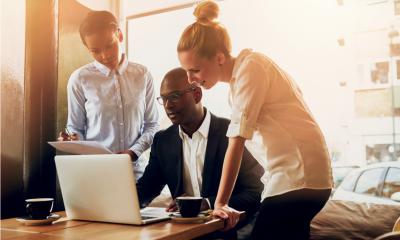 Sitting on both sides of the investment table has taught James Oakes of ZEAL Investments how to recognise growth potential. He explains the seven steps to creating an investment-worthy business
Starting up successfully is no easy feat. It takes a lot of blood, sweat and tears to develop a desirable product and take it to market. The product's eventual launch is an important milestone, and worth some congratulatory moments, but now the hard work really begins. However, many start-ups reach this point and simply plateau.
A common issue among small businesses is that they fail to scale. Instead of focusing on growth, they fixate on their product - and lose touch with their end users. I know this first-hand; some years ago, I co-founded my own start-up. While the idea was solid and we had investors on board, we didn't keep our customers front and centre, and our business stopped growing.
Here are my top tips on how to nurture your growth potential and become investment-worthy.
1. Have a clear goal
Prospective investors want to know what your start-up is going to bring to the world. This may sound lofty, but you need a big, blue-sky mission statement that can be summed up in a couple of sentences.
Ask yourself: why does my business exist? It's crucial that your start-up has a purpose and that you can communicate it clearly to potential investors.
2. Maintain laser focus
Your start-up's success depends on so much more than your big idea. Time and money are critical resources - both of which will be in short supply. You need to be extremely disciplined about how every second and every penny is spent.
Build a ruthless priority list. Push any task, project or idea that doesn't help you solve your biggest problem - staying relevant to customers - down to the bottom. Investors are impressed by hungry entrepreneurs who are on the ball.
3. Launch fast, start small, scale slowly
Don't drag your feet and delay launching until your product is perfect. It never will be. The truth is, your start-up is worth much more in practice than it is in theory.
Also, don't try and be everything for everyone from the outset. Define a small market, get it onto the market sooner rather than later, test it, collect feedback in real time, tweak and grow slowly.
With a niche audience, it's much easier to build your business model, adjust your offer and deliver a personalised service. This will enable you to build a data-driven picture of progress and growth - one that will attract interested investors to your door.
A small, loyal customer base is also harder to lose to the competition - and can act as a valuable marketing tool, winning new business through word-of-mouth.
4. Don't fall in love with your product
Your start-up's success depends on your customers - not just your brilliant business idea. Always put your end users, not your product, first.
To attract the right investment, you need to show that you know your market and your customers thoroughly. What are their preferences, pain points, and buying patterns? How much would they pay for a product like yours? Armed with this information, you can tailor a specific solution for them.
Lose sight of your customers and you're faced with one very likely outcome: no users and no business.
5. Keep pushing forward
You can't stop working on your business once it's launched. It needs your help now more than ever. Keep testing and refining your offer. Look for other ways to grow, and investigate other markets or customer segments you can target.
Don't sit on your laurels for one second. How can you keep challenging the status quo and expand your offer to serve under-developed markets? This will keep you competitive - and worth investing in.
6. Have a good team behind you
An investment-worthy business is one that attracts - and retains - the right employees. Investors are assessing you and your team, not just your product and business model. They are looking for a start-up run by people they can build a rapport with. It doesn't inspire confidence if you hire the wrong people, or try to manage everything on your own.
7. Choose investors carefully
As much as an investor is assessing you, you need to assess them in return. It's very easy to get excited by a potential deal, but before you sign, make sure you know who you're partnering with. A successful partnership really does take two - so if they're not a good fit, your business will suffer.
Becoming an investment-worthy business is crucial to your start-up's success. The seven steps above can help you attract the right investment - rather than just any investment - and secure your future.